How to streamline your planning and measurement of integrated digital marketing using RACE
Smart Insights created RACE as a practical tool to help marketers and business owners plan, manage and optimize their digital marketing using a more strategic, structured, and data-driven approach.
Our RACE Growth System for improving marketing effectiveness has two parts which we will introduce in this article through two different visuals:
1. The RACE Planning Framework: defines the essential activities and measures businesses need to master to survive and thrive in today's marketing world.
2. The RACE OSA improvement process: defines the three steps needed to build and implement your growth plan – either for your overall marketing plan or for an individual channel, such as organic search, social media or email marketing.
Use our free, planning template downloads to get started with using RACE to grow your business. These will help you create a 90-day prioritized plan to improve your results from digital marketing. We recommend 25+ key marketing activities across RACE that are essential for businesses to compete by improving their digital marketing maturity.
Why use RACE?
We created RACE as a simple framework to help small and large businesses alike take the best advantage of the fantastic low-cost opportunities available from digital marketing.
In our research, we have found that, shockingly, many businesses don't have a digital marketing strategy. When creating a digital marketing strategy, knowing how to structure it and where to start is sometimes the biggest challenge!
There are so many tools and tactics available that it's difficult to know where to start. RACE gives a structure to help you review and prioritize when there are so many options, but some options work better than others.
Here are five reasons why we recommend modern marketers use RACE and why it has been widely adopted around the world – Smart Insights have premium Starter and Pro  members in over 100 countries who use our digital learning and templates…
1. RACE is practical and action-oriented: It focuses on tactics you can implement in your digital marketing communications channels and on your website.
2. RACE is customer-centred: It follows the established customer lifecycle of relationship building or marketing funnel from creating awareness; generating leads from new prospects; converting prospects to sale (online or offline) and encouraging loyalty, repeat sales and advocacy.
3.  RACE integrates all modern marketing activities: RACE covers all the many paid, owned and earned inbound marketing activities available from digital marketing. It covers always-on digital marketing activities across the customer lifecycle which are sometimes neglected in favor of the still-important campaign-based activities for launching new products and promotions. Plus, it also integrates traditional offline marketing activities.
4. RACE is multi-channel: Many businesses still rely on offline touchpoints to acquire and retain customers, you will see these are built into RACE, particularly as part of the 'Convert' stage where offline interaction is often needed to make a sale.
5. RACE is commercial, based on a data-driven performance improvement process: It encourages a data-driven marketing approach that defines KPIs that digital marketers should include at each stage for setting targets, reviewing results using analytics and summary dashboards and continuous optimization. For Business Members, we offer an interactive monthly reporting dashboard based on the RACE Framework using the Google Analytics API to rapidly create monthly reports using Google Data Studio.
Part 1. The RACE Planning framework
Our popular infographic summarizes the 5 steps of the RACE Marketing Planning Framework which is a classic marketing funnel aimed at improving marketing effectiveness.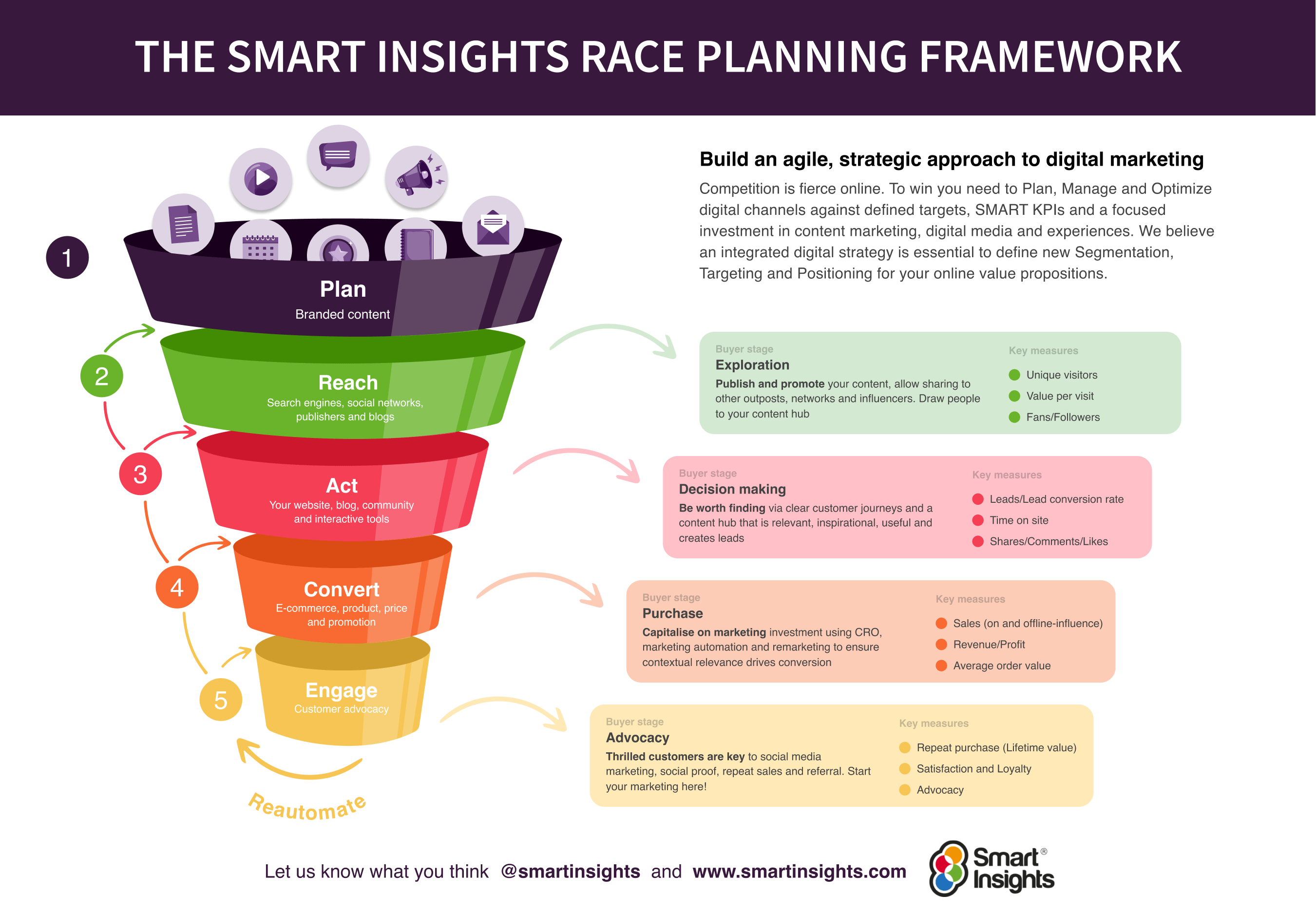 The Smart Insights approach to improving digital marketing maturity is data-driven, so the infographic recommends some of the key measures that should be used to set targets and improve performance at each stage.
Our free planning template recommends what to review to improve results from marketing in more detail.
Why and when was RACE developed?
The co-founder of Smart Insights, Dr. Dave Chaffey, created the RACE framework in 2010, when we launched Smart Insights, since we found that many businesses don't have a well-formed digital marketing strategy and implementation plan. Our research shows this is still often the case.
The aim of the RACE framework is to highlight which digital marketing activities you need to focus on to improve results from digital marketing. You can learn more about 16 key digital marketing techniques in our post explaining What is digital marketing.
Which types of businesses can RACE be used for?
We designed RACE so that it can be customized and applied to all sizes and types of B2B and B2C businesses from small businesses and startups to larger organizations working on digital transformation. Our Business Members apply the RACE Framework to their marketing planning and strategies in all sizes of businesses across many different sectors. RACE is growing in popularity today due to its practical nature and flexibility in supporting a variety of business aims and objectives.
The templates and digital learning available as part of business membership were originally developed from 2000 onwards as part of digital marketing consulting and training projects led by Dave for large international brands including 3M, BP, Barclaycard, Dell, HSBC, Mercedes-Benz, Microsoft, M&G Investment, O2, Royal Canin (Mars Group) and many smaller retail businesses and startups like Arco, Confused.com and Euroffice.
What does the RACE Framework stand for?
The RACE mnemonic summarizes the key online and multichannel marketing activities that need to be managed as part of digital marketing. RACE covers the full customer lifecycle or marketing funnel from:
(Plan) > Reach > Act > Convert > Engage
There is an initial, vital phase of PLAN, which involves creating the overall digital marketing strategy or transformation plan, and KPI selection for objective setting and performance review. The planning phase will ensure that your digital communications are aligned with your business and marketing strategy.
Sometimes members call the framework, PRACE, but we prefer RACE Planning for simplicity…
We have defined four steps of engagement across the customer lifecycle, since in online marketing there is a major challenge in gaining interaction, participation with prospects and creating those all-important Leads after the initial customer touchpoint.

These interactions, covered in the Act step can take place over several channels and touchpoints such as web, mobile, social media and email contacts, so these leads need separate management from final conversion to online or offline sale through techniques like retargeting and assisted selling.
The RACE Framework consists of these four steps or online marketing activities designed to help brands engage their customers throughout the customer lifecycle.
1. REACH. Reach involves increasing website visits and building awareness of a brand, its products, and services on other websites and in offline media in order to build traffic by driving visits to different web presences like your main site, microsites or social media pages. It involves maximizing reach over time to create multiple interactions using different paid, owned and earned media touchpoints.
2 ACT. Act is short for Interact. It's a separate stage since encouraging interactions on websites and in social media to generate leads is a big challenge for online marketers.  It's about persuading site visitors or prospects take the next step, the next Action on their journey when they initially reach your site or social network presence. For many types of businesses, especially, Business-to-Business, this means generating leads, but it may mean finding out more about a company or its products, searching to find a product or reading a blog post. You should define these actions as top-level goals of the funnel in analytics. Google Analytics Goals can include "Viewed product", "Added to Basket", "Registered as a member" or "Signed up for an enewsletter. Act is also about encouraging participation. This can be sharing of content via social media or customer reviews. The specific goals and dashboards need to be defined for each business.
3. CONVERT. This is conversion to sale – either online or offline. It involves getting your audience to take that vital next step which turns them into paying customers whether the payment is taken through online Ecommerce transactions or offline channels.
4. ENGAGE. This is long-term engagement that is, developing a long-term relationship with first-time buyers to build customer loyalty as repeat purchases using customer communications on your site, social presence, email and direct interactions to boost customer lifetime value. It can be measured by repeat actions such as repeat sale and sharing content through social media. We also need to measure the percentage of active customers (or email subscribers) and customer satisfaction and recommendation using other systems.
Structure your marketing plan around a funnel proven to boost performance. Join Smart Insights as a Free Member for instant access to our free digital marketing plan template to hone your skills and drive the results you need.
Part 2. The RACE OSA improvement process:
To make the RACE planning framework actionable, OSA gives a simple process to create your overall strategy and improve the results of individual channels such as search, social media and email marketing.
OSA stands for Opportunity > Strategy > Action
The RACE OSA growth process is designed to help our members improve their results from marketing, customized to their needs based on the size and type of business, their personal experience and needs.
So you can make an instant impact, we recommend you start by creating a 90-day prioritized plan and then create a longer-term annual plan and roadmap.
OSA has three simple parts which integrate with our planning templates, learning paths and other tools: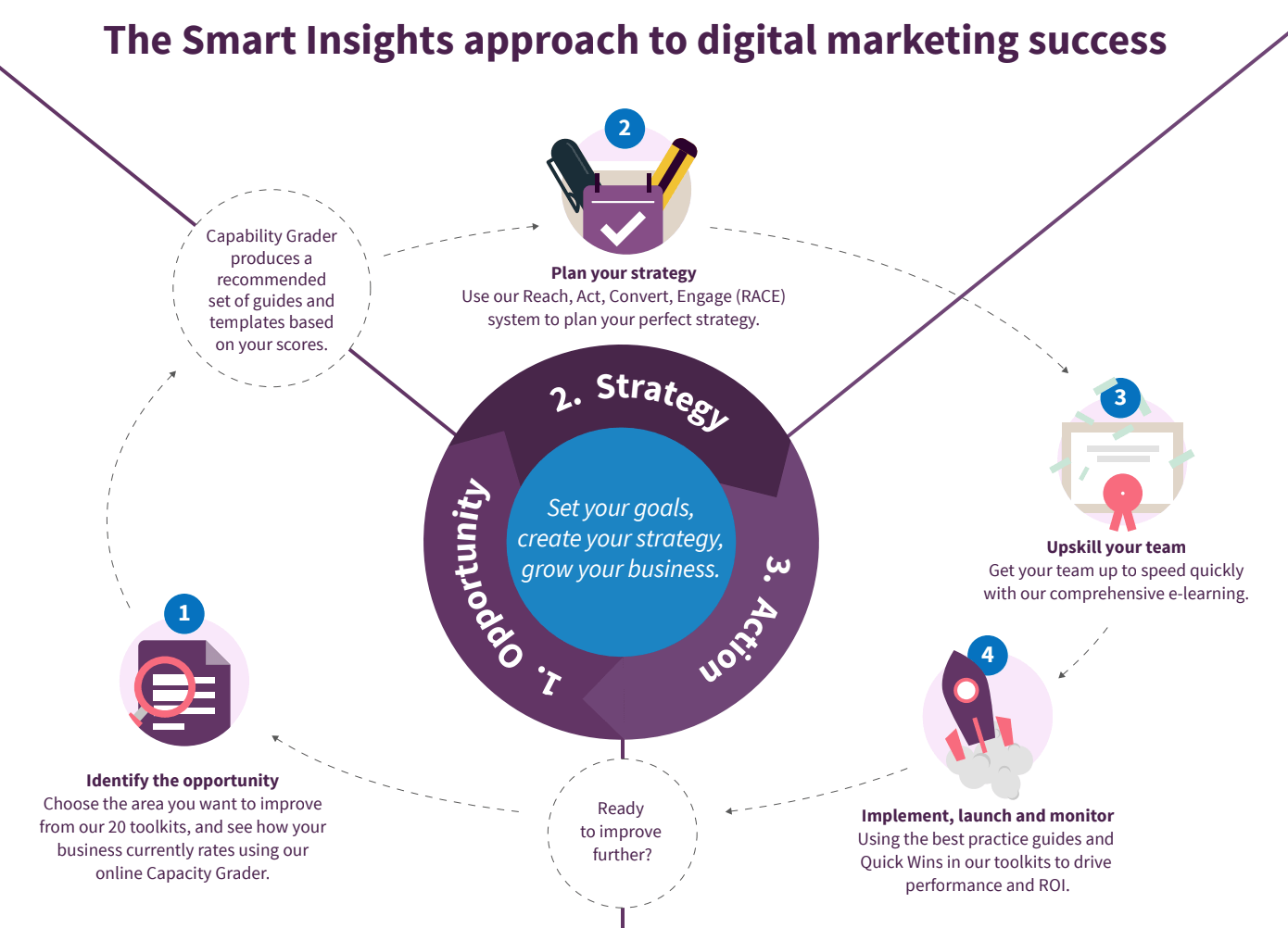 In your first 90-days with Smart Insights, our system will quickly help you decide where you need to prioritize to achieve your business and personal needs by using our learning paths, tools and templates to create your learning and action plan.
You can then continue improvement using our 90-day planning template.
What are the key activities in each part of OSA?
You can apply OSA to different marketing activities from creating a growth plan for the next 3 months, creating an annual plan or improving your marketing campaign process. It also works well for driving results from individual channels like the website, organic or paid search, social media or email marketing. You can also apply it to your personal learning and skills development.
Opportunity
Audit performance
Review marketplace
Key issues summary
Set objectives
Strategy:
Review marketing and digital strategy options
Assess budget / business case
Prioritize and select strategic initiatives
Action:
Plan 90-day activities
Implement plans
Review results
Use our free planning templates to get started with using RACE to grow your business. These will help you create a 90-day prioritized plan to improve your results from digital marketing. We recommend 25+ key marketing activities across RACE that are essential for businesses to compete by improving their digital marketing maturity.
Credits
I also like to credit the REAN (Reach > Engage > Activate > Nurture) framework for web analysts which influenced my thinking back in 2010. It was originally developed by Xavier Blanc and popularised by Steve Jackson in his book Cult of Analytics of which I was a big fan.
We devised RACE since we wanted to develop our own approach for improving digital communications and we feel Step 2 is more about initial interactions with a brand and in step 4, customer engagement is a longer-term process for developing customer loyalty.
Through 25+ years of advising marketers through Smart Insights, my books, consulting and training I've found that busy people seem to like frameworks and mnemonics to structure their actions. And finally, it's why we're called SMART Insights – we believe the best marketers compete and win by a data-driven or insight-driven approach to marketing.