Discover how to use our customer journey mapping template to create actionable insights to improve your marketing
In today's digitally connected world, customers have a myriad of choices when it comes to connecting with brands and businesses. There are many benefits to this, such as greater reach and more touchpoints to connect with customers, but there are also some drawbacks.  When looking at customer journeys, there is rarely only one route available, making understanding how your customers find and interact with you more challenging. 
Consider the London tube map. Let's say you want to get to Oxford Circus. You know you can always get the Central (red) line, but you could also get the Bakerloo (brown) line or the Victoria (blue) line, depending on where you are coming from. Each journey is slightly different, and will give you a particular type of experience.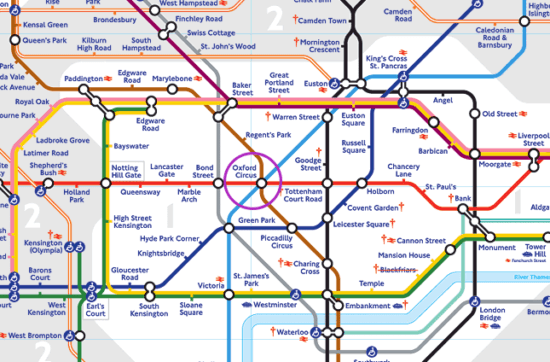 We can apply this thinking when analyzing digital customer journeys. One customer may find you through Google search, whereas another may see an advert on social media, or through an online event. According to Salesforce, it takes 6-8 marketing 'touches' to create a viable sales lead. The complexities of these interactions can seem overwhelming to navigate, but with a customer journey map you can use this information to improve user experience across all touchpoints.
What is a customer journey map?
A customer journey map is a visual model that shows you how your customers behave at each touchpoint with your business. This technique, also known as "touchpoint mapping", is aimed at reviewing how digital experiences and content support customer decision-making across a multi-channel journey.
As customers navigate touchpoints in different ways, enhancing your omnichannel experience across different platforms is essential for improving the success of your marketing. McKinsey.com claim that offering a compelling omnichannel experience is no longer a nice-to-have, but a "requirement for survival".
What are the benefits of creating a customer journey map?
Put simply, customer journey maps help you understand your buyers' behaviour. You can use them to quickly identify any possible snags in your digital journey, and any barriers to sale. They can also show you what areas of your marketing funnel are strong or need developing.
Customer journey mapping helps you get into the mind of your customers and consider their needs at each touchpoint, and as a result better predict future behaviour, wants and needs. You can then use this information to solve their pain points with your product/brand by implementing strategic marketing tactics.
But how do you get started?
Knowing your personas
Before you can start customer journey mapping, it is helpful to know your key customers and how they operate across your digital touchpoints. The best way to do this is to use your key customer personas as the basis for your customer journey maps.
New to personas? Here is a useful definition:
"A persona is a fictional character that communicates the primary characteristics of a group of users, identified and selected as a key target through use of segmentation data, across the company in a usable and effective manner".
If you need help identifying the key personas for your business, we recommend downloading our persona guide and template to help you get started. You'll want to use a range of data sources and real customer feedback to create the most accurate personas for your business.
Once you have your customer personas identified, you can begin creating your customer journey maps. We recommend creating one map per persona, so you can be clear on your different buyers' behaviours.
Customer journey mapping with RACE
As customer behaviour differs at different stages of the customer journey, we created a handy customer journey mapping template to help you map out customer interactions at each stage of Smart Insights' RACE funnel.
Using your persona data, share what actions, touchpoints, thoughts and emotions are involved at each stage of the customer journey, and plot this across each RACE stage: Awareness, Evaluation, Decision, Retention.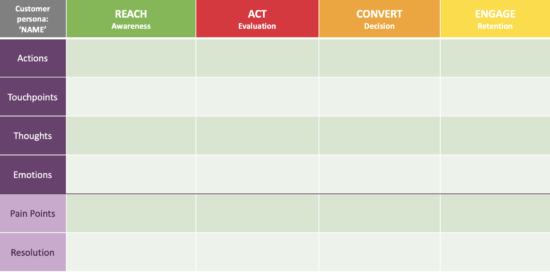 You can access and create your own editable RACE customer journey map by downloading our customer journey mapping template. It includes a useful video which explains how to complete each stage of the map. 
Top tip: When completing your template, you are looking at how your persona navigates across touchpoints currently, not how you would ideally like them to! This is an important distinction as we are using the map to look for areas we can optimize and improve the customer journey.
The most actionable element of this template is the bottom two rows for each column. This is where we identify the pain points and resolutions for each stage of RACE.
B2C persona example: 'Wendy'
Let's say our persona is Wendy, and in this example Wendy is looking for a new outfit to wear to a friend's wedding. In the Reach phase, she searches for 'wedding guest outfits' on Google. The pain point for our example B2C brand here could be that we are not ranking organically on Google for 'wedding guest outfits', so it is likely that Wendy will go to a competitor's site that is higher up in her search results. That's bad news for us as it means we miss out on acquiring a new lead.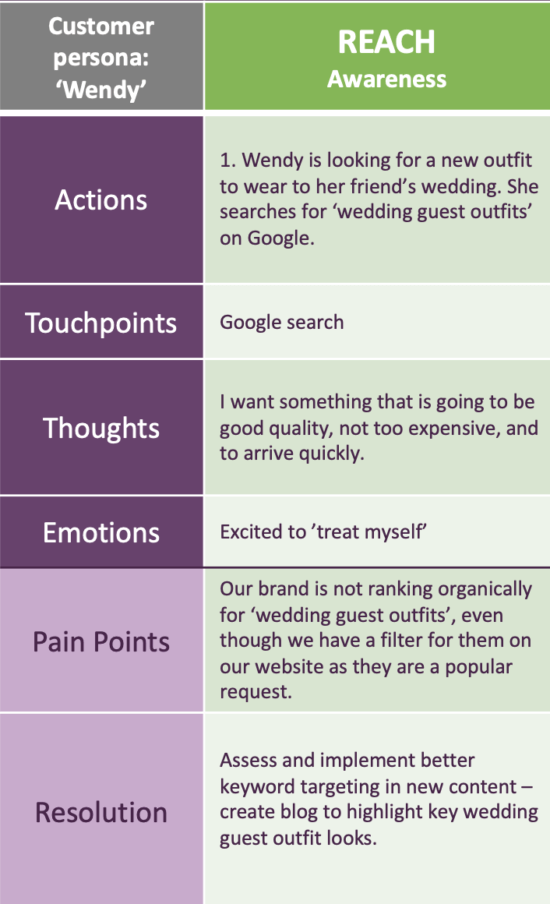 Underneath the Pain Points box we have a Resolution box, so you can easily consider how to solve this problem to improve the customer journey for Wendy (and your brand!) For this problem, our example company could assess and implement better keyword targeting in new content/blog articles to highlight key wedding guest outfit terms to improve ranking over-time. Long-term, this will help boost the brand's position and visibility in Google for key search terms that their persona uses.
You can use these boxes to highlight blockers that stop your persona moving along the RACE funnel, and what actionable steps you can take to resolve them. In turn you'll also get a better understanding of key decision points for your customer. 
To see the full, completed example of 'Wendy's' customer journey map and how to use the template, download our customer journey mapping template.
Turning insights into action
It's easy to complete a customer journey map, be fuelled with inspiration to change, and then leave it in the 'to-do' pile that never surfaces again. Customer journey mapping gives you a chance to identify snags in your existing customer journeys and space to create resolutions to resolve them. However if this information is not integrated with your marketing strategy, it won't end up getting actioned and your improvements will never fully come to fruition.
It is important that you integrate the resolutions you devise with the RACE template into your overall marketing strategy, so you can work on improving your customers' journeys at each critical point of the funnel. Consider your persona's goals alongside your marketing objectives – what are you looking to achieve? Then you can turn these insights into action by planning what marketing tactics you will use to improve user experience and elevate the omnichannel experience for your customers.