Website personalization, product, offer, and content recommendation services to help retailers and other businesses personalize their proposition to nurture prospects toward conversions
The website personalization tools we recommend in this article enable you to segment visitors and then deliver personalized messages of the 'next best product' or 'next best content' within containers on your website as with the classic Amazon personalized recommendations (read their published methodology from this fascinating whitepaper from back in 2003).
I originally wrote this post in 2010 when there were fewer personalization options. I have updated it annually since with recommendations provided via social media – do get in touch if you have a suggestion. The latest update includes the new Google AI Recommendations framework that was introduced in January 2021. A serious new competitor has entered the market to disrupt competition and perhaps reduce fees for retailers.
This is the latest update where we compare the full range of options from free personalization tools to low-cost and enterprise services across these five categories:
1. Analytics tools based personalization
2. Retail personalization
3. Content or commerce management system personalization
4. B2B website personalization as part of marketing automation
5. Personalization code libraries and modules (covers new 2018 announcement from Amazon)
Defining personalization
The opportunities for applying personalization are now much wider than the initial retail product recommendations.  This definition of personalization from my Digital Business and E-commerce management book shows the opportunities for applying personalization in all types of business.
"Digital experience personalisation is the dynamic serving of customised content, product or promotional offer recommendations to website visitors or app users based on their characteristics and intent behaviour to support conversion and long-term engagement goals".
Although many of us will have experienced personalization through retail product recommendations like those from Amazon, the definition shows the relevance of personalization to all types of businesses. For example, even B2B companies that don't sell online can use personalization to recommend relevant 'next best content' offers to sustain prospects' interest in a business and so nurture them toward a sale. Use our website personalization module to find out more.
Core Module
Web personalization
Part of the Digital experience management Toolkit
Learn how to provide more personalized website content and experiences to your customers
The four categories of website personalization and recommendations services
Category 1. Web personalization integrated with web analytics
When web personalization services first appeared, they were part of expensive analytics solutions only available to the largest businesses, but today there are many services suitable for small businesses. These are two of the original services which are available today in a new guise and then a completely 'new kid on the block'.
Category 2. Website Personalization Software as Service (SaaS) for E-commerce
The second category we review here is specifically for e-e-commerce search and merchandising giving automated product placements using aggregated behavioural data (those that viewed this, also viewed that) and personal recommendations (you previously bought this and might like that).
These options can be considered the top retail personalization services that should be on your long-list for comparing if you're looking for a service that is separate from your e-commerce or content management solution.
If you're looking for a structured comparison between personalization services, I recommend this table-based feature comparison of personalization services from agency Freshegg.
Our advanced Learning Path module helps Business Members learn how to apply Conversion optimization to their own businesses.
Advanced Module
Conversion optimization
Part of the Digital marketing strategy and planning Toolkit
Learn about the principles and best practices for setting up a simple AB test and a broader CRO programme
Category 3. Personalization online features available as part of CMS or Commerce management systems for your website
According to the comment from Damien of Digicon, Sitecore, Kentico and Adobe with Target have built-in tools to personalize content based on various rules, such as geolocation, search terms, referrers, lead scores and also provide more advanced personalization based on user behaviour and profiles.
Episerver has an interesting approach to personalization which they describe as 'No-rules personalization: more intelligence, less-work'. Rather than traditional rules-based personalization used by many of the specialist services, this applies machine learning and statistical analysis to visitor behavioral data to tailor category and product pages without the need for rules configuration.
The open-source e-commerce solution Magento also has personalization extensions available such as Product Personalization, Commerce Stack.
Category 4. B2B, marketing automation, and publisher website personalization tools
Evergage is recommended as a tool that fits best in this category that has a wide range of options for serving personalization for content marketing in different placements on a site. Other alternatives for B2B personalization or non-retail consumer personalization are:
In the same way that content management systems now integrate personalization, marketing automation systems have now started to include this option. These include:
HubSpot – includes a 'Smart Content' feature to provide relevant content. They explain: ' With Smart Content you can deliver content specifically tailored to where a prospect is in the buying process, or content targeted to people the very first time they visit. Smart Content lets you target content based on anything you know about your contacts which are known as personalization tokens'. It also offers personalization of calls-to-action.
Marketo – Marketo has rules to convert the majority of anonymous visitors to a site based on previous interactions with site content. It also offers account-based marketing targeting of key accounts.
Salesforce – This service uses the 'Einstein' AI feature for personalization to deliver the next-best product.
Category 5. Website personalization code libraries and modules
At the end of 2018 Amazon made their Amazon Personalize service freely available, as part of Amazon Web Services. It's billed as 'Real-Time Personalization and Recommendation for Everyone'.  As part of this initiative, Amazon have made their internal Machine Learning developer courses available as have Google. Today, their courses cover the fundamentals of machine learning and deep learning as well
Email personalization services
Of course, personalized recommendations aren't limited to websites only, as you will know from Amazons' newsletters. To learn more, I recommend this article explaining the inner workings of email marketing recommendation engines which reportedly boost click rates by 50-400%. It shows what to look for when finding the right tool to serve the recommendations inside your newsletter.
An infographic by freshrelevance demonstrates the combined effectiveness of email and web customization for their clients in 2019.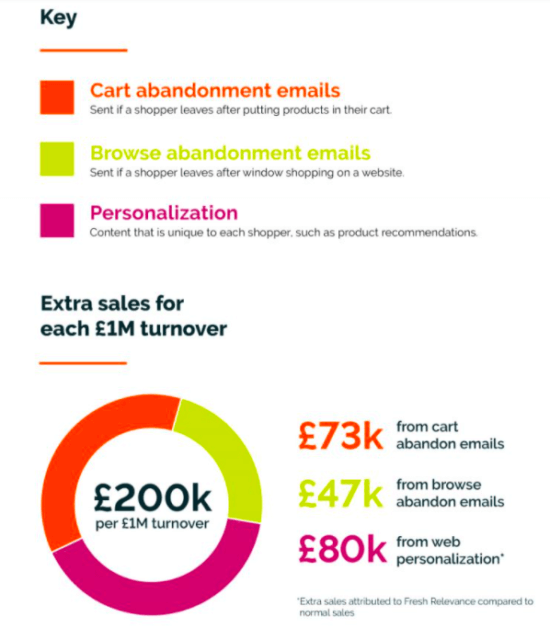 Thanks for all the comments sharing options in the post so far, please share others you recommend to build this list via our Twitter @Smartinsights. Or, join us as a Free Member to keep up to date on the latest developments.