How to research and optimize strategic brand development. Creating a strong omnichannel brand identity based on research
Brand identity is often misunderstood as simply picking a color palette and a logo. In reality, this is just one element of brand development strategy.
With every market bulging with competitors, carving out a strong brand identity is critical to differentiation and achieving cut through. The concept of building a strong brand identity is therefore grounded in research, and based on a clear understanding of the business, market, competitive landscape, and brand positioning.
It's more than simply coming up with a name and plastering a logo across collateral. It is a strategic approach to designing an identity that truly reflects the business. It requires a deep understanding of the business values, what it does, and how it wants the world to perceive it.
What is brand identity?
Brand identity is a collective term for all of the elements that portray the desired image to a customer. It is the set of tools that a company uses to resonate with the target audience. It isn't 'branding' or 'brand image', although these are often used interchangeably.
The elements that fall under the umbrella term of 'brand identity', stem from the foundations of the brand. The company's mission or promise, the value proposition, goals, competitive position, and relevance to the needs of the customer.
The brand identity then describes how this framework is communicated in a meaningful way to the end-user or customer.
At every step of the RACE framework, brand identity is significant:
Reach – The goal may be to grow, or pivot. Whatever the objective, it might be the first interaction between a prospect and a brand. The brand identity must outsmart the competition but also speak to them to convey a clear value, and address their needs.
Action – Brand identity builds credibility. By presenting a sincere and relevant proposition, customers are more likely to take action to explore a brand.
Convert – At the point where a customer is indecisive, or a repeat buyer, if the brand identity is positioned correctly, it provides reassurance throughout the conversion process.
Engage – The brand identity defines the experience so that the customer believes that the product or service has fulfilled their need. This is the element that will keep them coming back.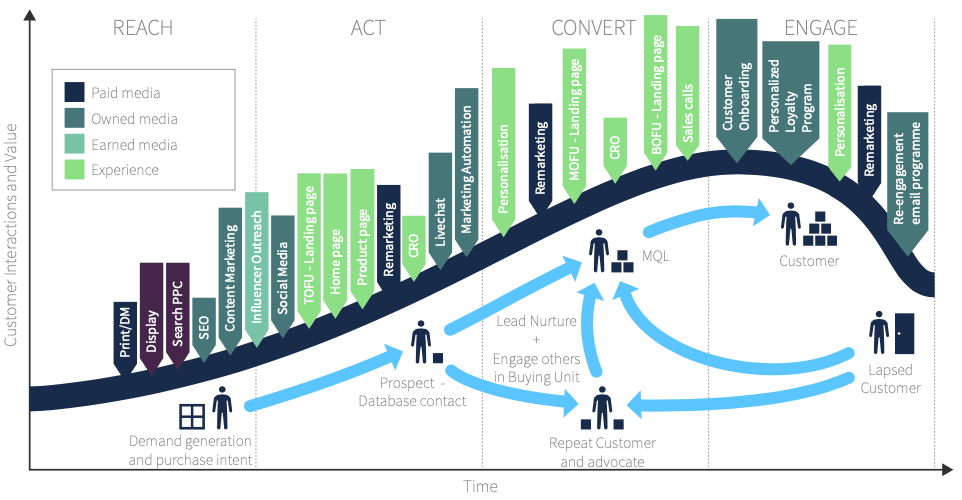 Our strategic marketing solutions for consumer branded goods are integrated across our acclaimed RACE Framework planning structure. So you can ensure your marketing is performing at every stage of your customers' experiences of your brand.
Not sure where to start? Try our simple 5-step free digital marketing plan template. Join Smart Insights as a Free Member and start integrating a data-driven marketing funnel to improve performance and drive the results you need.
Forming a strategic brand identity
To create a successful brand identity, the strategy must be designed to not only reflect the business at the current time but also support it as it grows. To do this, research is a must. In doing so, the brand will be clear on its heart, essence, messaging, audience, value proposition, and competition.
This can then be cascaded through all channels, for a truly omnichannel experience.
With our Business Membership, you can access the Digital Branding Toolkit, step-by-step practical advice on developing a brand strategy.
Our simple OSA model helps marketers, managers, and business owners identify challenges and opportunities in their current situation, inform their strategy, and take action. At all stages of the brand development strategy, it can be useful to refer back to these 3 stages of strategic planning for marketing leaders.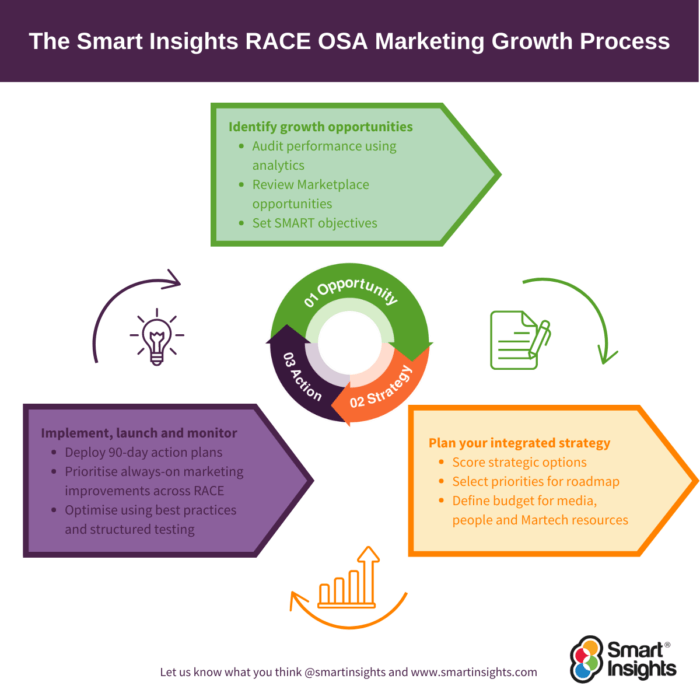 The OSA model is key to empowering your brand's identity. Discover opportunities to improve your brand's performance and achieve your business vision with strategic digital marketing. Create a roadmap to plan, manage and optimize your marketing strategy. Apply a data-driven approach to key channels and platforms to drive the results you need.
Take steps with Smart Insights to ensure your consumer branded goods marketing is working efficiently and effectively to convert and engage your customers with our free digital marketing plan template.
Brand discovery
Brand discovery is a method used by businesses to discover opportunities for their brand.
Start by asking questions to break down the business goals, and use the outcomes of the research phase to answer each.
Ask:
What are the core values of the brand?
What problem or pain-point do we solve for our customers or clients?
Which products or services are the most profitable for us, and do these fit with the preferred direction?
How do we measure success?
Through garnering insight, a brand can understand:
Who the main competitors are
What their offerings/experiences are
How their offering differs from yours
How their brand is cascaded through digital channels
Where the customers are
What they look like
What they say about our brand
What we want them to be saying
How to measure success
Tools that can be used during brand discovery
Surveys – Collect customer information, wants, needs and opinions
Social media – Analyse the abundance of data available to build profiles and assess engagement
Social listening – Review what customers and prospects are already saying
Focus groups – Both in-person and online
In-depth research – Analyse reviews and comments through feedback websites
Read about how to create a best practice market research brief.
Brand positioning
A well-positioned brand gives customers or clients clarity on what to expect. The objective is to establish the brand image or identity so that consumers perceive it in a certain way e.g. budget, luxury, bespoke etc.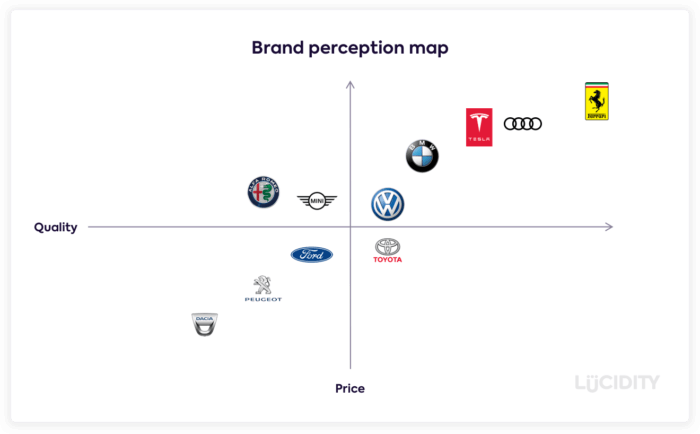 Brand positioning understands where a brand sits within a competitive market and defines what they stand out and become known for. Essentially, it gives a consumer a reason to choose one brand over another.
Examples of brand positioning:
Product attributes e.g. being the fastest, smallest, a new colour etc (Apple).
Price e.g. cheapest, most competitive, high-end etc (IKEA).
Quality e.g. associating with high-quality product or service (John Lewis).
Product use e.g. to save time, replace a task etc. (Hello Fresh).
Competition e.g. challenger, better than competitors etc. (Virgin Atlantic).
Elements of a verbal identity
Building a verbal identity is a key element of the overall brand identity.
Verbal identity refers to the linguistic components of how a brand articulates itself through specific and focused language. Once agreed as part of a branding strategy, it can be used at all opportunities for reach, action, engagement, and conversion.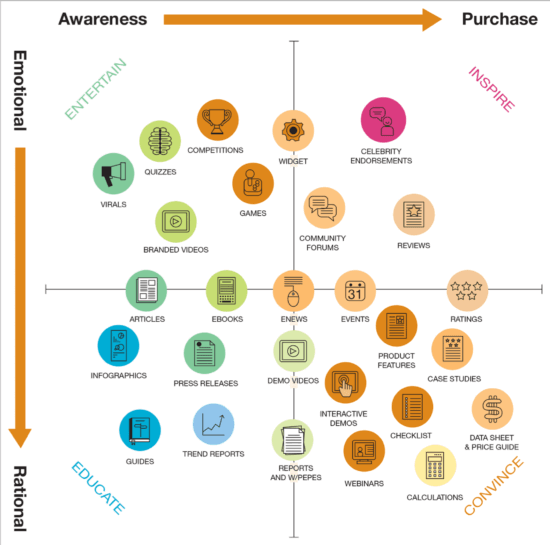 Brand messaging
Brand messaging is the underlying value proposition that is conveyed through the language used in marketing collateral. It is about creating a strategic narrative that connects with the audience to bring the brand to life and help the business achieve its objectives.
Gym fashion brand, Pop Fit gym wear addresses the pain points of all women, such as different body shapes, wanting pockets, and transparency. Though advertising, the product range and brand messaging, it has become known for inclusivity, representation, and body positivity.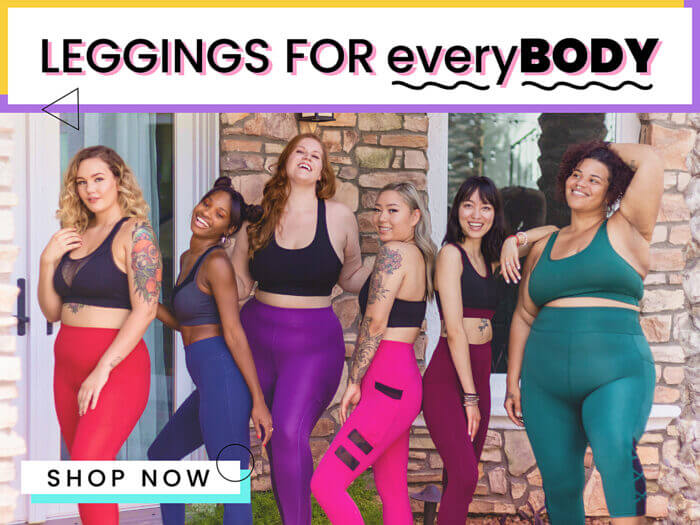 Brand naming
Many companies make the mistake of picking a name and trying to fit the identity around it. Whilst a catchy name does play an important role in branding, it doesn't substitute a good reputation, product, service, or help to differentiate in a saturated market.
The name has to reflect the clear meaning of the brand and what it represents.
There are several approaches to naming when building a brand identity:
Be descriptive. Simply describe what the company does e.g. We Buy Any Car or Burger King.
Be suggestive. Pick a word that delivers a mood, metaphor, or analogy that the audience understands e.g. Uber or Dove.
Be abstract. Go down the creative route and make up a memorable word to take on its own meaning if established e.g. Google or Bing.
Stick with a legacy. Include the founder's names, nicknames or acronyms e.g. M&S, H&M or Bang & Olufsen.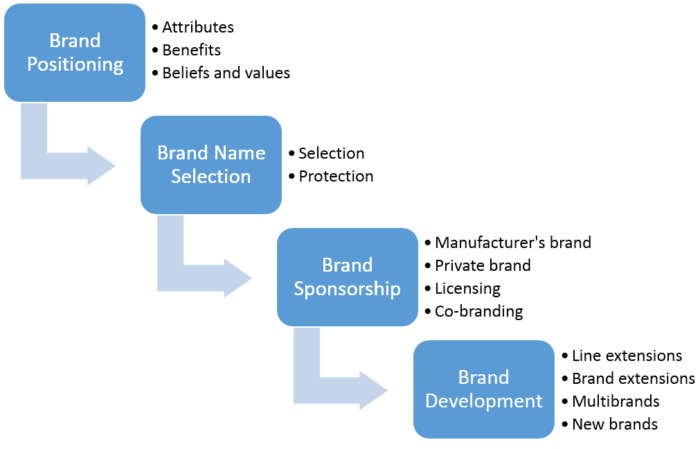 When agreeing on a brand name, always check that there are no existing businesses or products using the same, or similar variations already in operation. This will not only ensure there are no copyright issues, but also that it will not be confused with other businesses.
Look at social media to ensure that a consistent and memorable social media presence can be built. For example, check that the chosen brand name profiles are available across all major social media platforms.
Use namecheckr to quickly research domain and social username availability.
Brand Story
A brand story isn't simply the history of a business, or dialogue that is created for content purposes. This is 'brand storytelling'. Whilst that is important, a brand story is much more significant to the brand identity.
It is a narrative that includes the emotion and inspiration created by the business. In a succinct and understandable way, it describes how a brand was conceived, how it identifes the problem, why and how it exists to address it, and the mission. All in a simple, truthful and digestible manner.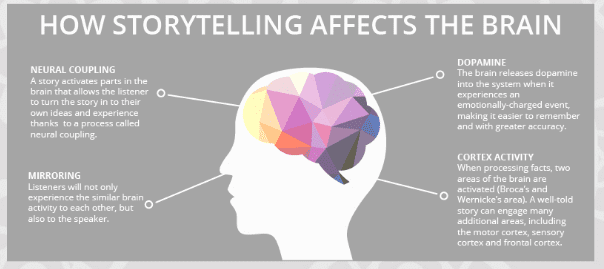 Telling an authentic brand story is not simply advertising. It's about eliciting an emotional reaction, and one which rings true with the consumer.
In a lot of cases, this exists without any explicit input from the brand. It can be created by the consumer. For example, an e-commerce website that 'has the most amazing packaging', or an IT service with 'the most helpful support'. These are things that the brand can create, and be known for, but not use as part of its messaging.
Brand Voice
'Brand voice' refers to the unique way in which a company presents itself to the world in written word. It is the brand personified.
Establishing a clear, unique brand voice that is consistent across all channels is absolutely essential to creating a strong overall brand identity. It will sets a business apart from the competition and effectively communicate the message to the right audience.
No matter the platform or customer touchpoint, a brand voice should be familiar, consistent and attractive to your target audience. It is unchanging across channels.
There are two key considerations for creating a brand voice:
3 words that describe the brand's personality? Do those words appeal to the demographic? If not, revisit the core values and offerings.
What is the competition doing? Make sure that the brand sounds completely different. By mimicking another brand's voice, the lines are blurred and it'll be had for the audience to tell the difference.
It's also important to remember that voice and tone are different elements. A tone may vary depending on the use e.g. more fun on social media.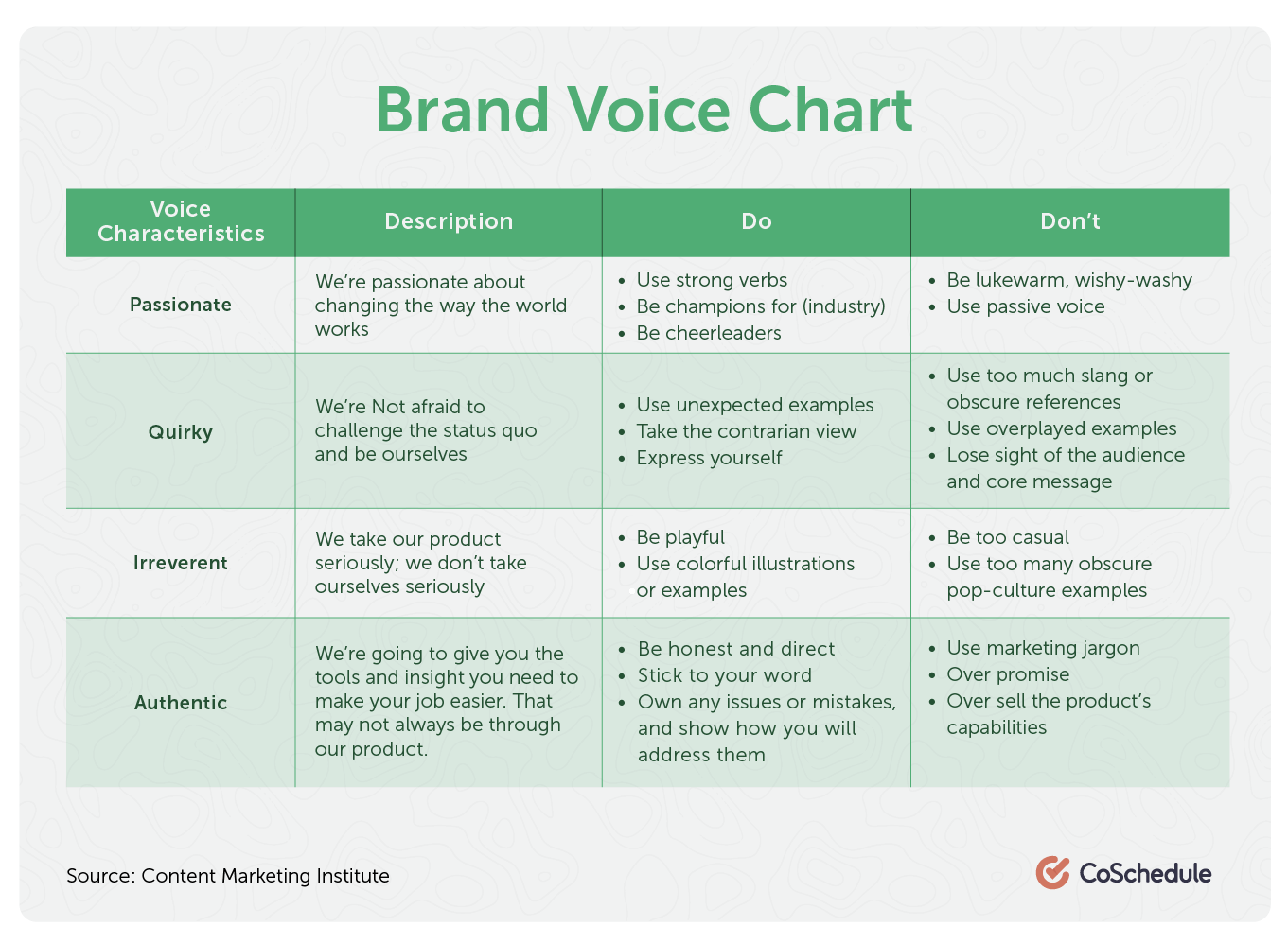 Visual identity
The final step in the brand identity process is to think about the visuals. As I mentioned at the start of this blog, this is often where brands begin, without the strategic thinking.
This element is however, simply the visual execution of your brand strategy. Therefore, we won't go into the specifics of designing a brand.
By conducting the necessary groundwork in the process of designing a strategic brand identity, the visuals should help to bring the brand to life.
Build a brand identity that's all about your customers
As a Smart Insights Business Member, you'll apply customer insights, behavior analysis, market research, and sector best-practice to inform your consumer branded goods marketing strategy.
Our platform, packed with marketing tools, templates, and training, is designed to put you in the drivers' seat when it comes to making the best decisions for your company, and generating the results you need. Get started today.
Design elements of a brand identity
Visual identity encompasses the imagery and graphical representation of the strategy to differentiate it from the competition. It's everything a consumer will see, across all channels.
Typically, visual identity considers:
Graphics – logos, imagery, icons, illustrations, animations etc.
Typography – fonts used on all branding
Colour palette – specific hues, shades and tints to appeal to the audience e.g. scarlet as opposed to 'red'
Imagery – photos and videos
All of these factors should stem from the foundations of the brand, incorporating feedback from the discovery research. The visual identity must support the objectives, offering an immediate interpretation of the messaging and story.
The visuals must therefore fit with the underlying values of the brand to reach and engage with customers. It must complement the brand voice to provide a consistent digital experience. After all, the digital channels are where the customer will interact with the brand.
The brand visuals should also adapt with the company, but remain true to the fundamentals.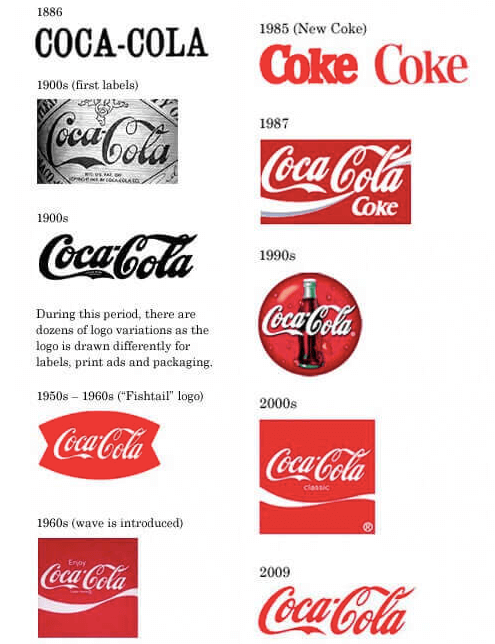 Implementing the RACE Framework in branding
We recommend the RACE Framework for all brands creating or developing their brand strategy. This step-by-step process empowers marketers to apply data and best practices to optimize their key marketing activities that influence their customers' experiences of their brand, and benchmark their competitors.
At each step of creating a strong brand identity, both the RACE and OSA models are relevant and should be planned for.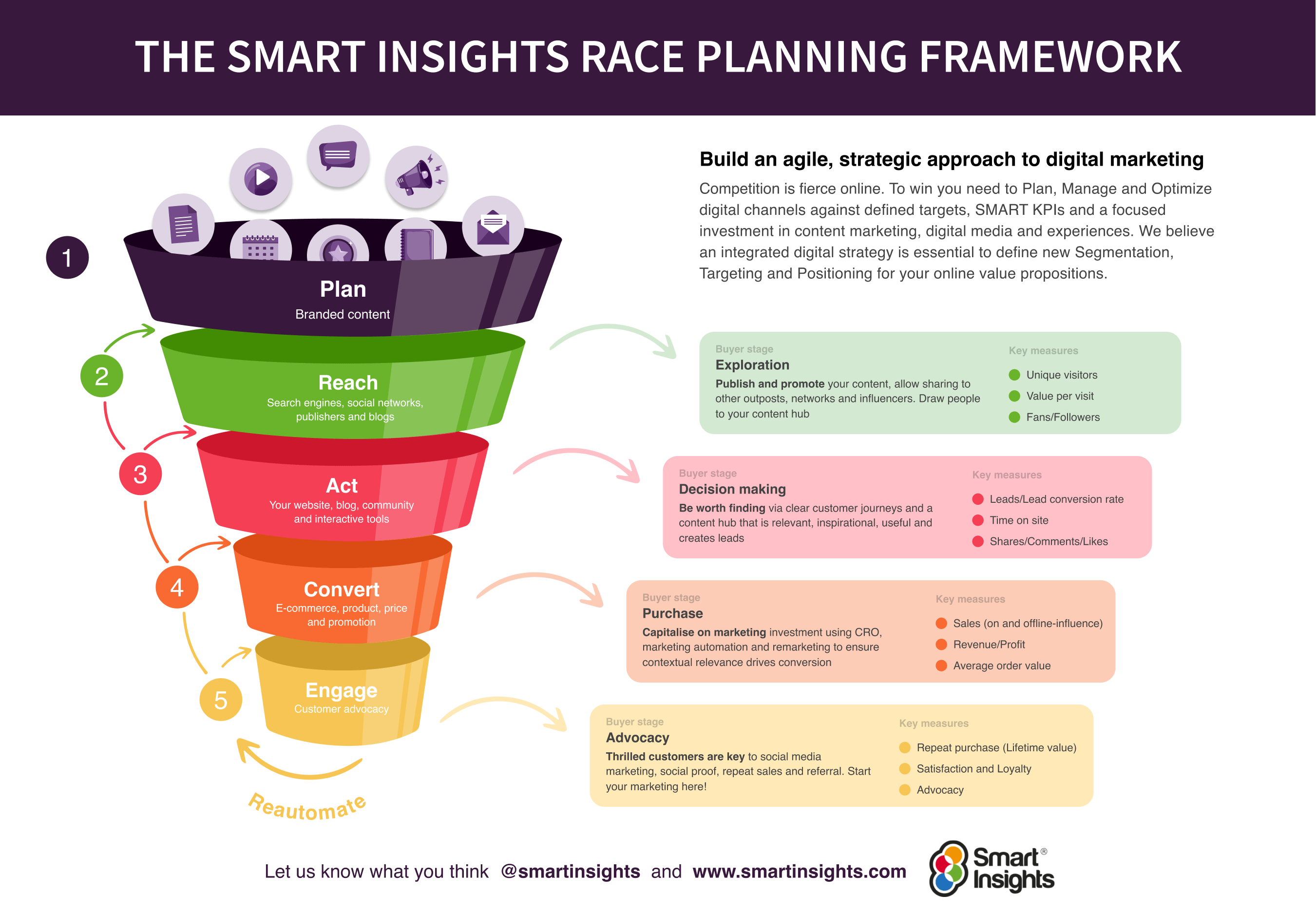 Unlock brand identity tools and templates to achieve your business vision
Smart Insights members have access to a wealth of best-practice advice, real-life case studies, plus tools, templates, and training to upskill themselves and their marketing team. Find out more about how your brand can benefit from membership. Get started today.