How to structure your software go-to-market strategy using Smart Insights' Opportunity Strategy Action framework
When planning to go live with a new product or service, it's important to have a clear idea of how and when you will launch.
This is particularly true for software marketing leaders, planning their go-to-market strategy in a growing and competitive marketplace. Software as a service (SaaS) spending worldwide is estimated to reach $10 trillion by 2030.
When you also take into account that up to 45% of product launches are delayed for different reasons, the importance of having a clearly defined go-to-market strategy becomes even more stark.
Delayed product launches may mean your software won't be received in the same way as it could have been at your anticipated on-time product launch. In some instances, missing the boat here could significantly impact your product's financial viability, despite costing the same amount to set up. This is called 'delay cost'.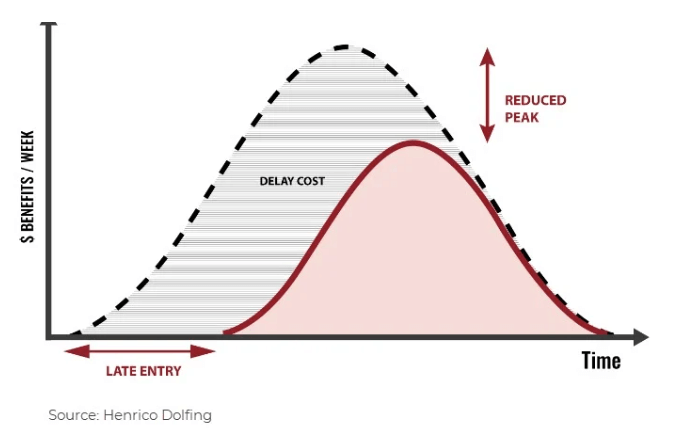 What is a go-to-market strategy for software?
A go-to-market strategy can mean different things to different people. For some, it may be a simple plan that outlines the various steps you'll take to launch a product, for example selecting the right media, creative, and channels for promotion. For others, a go-to-market strategy is much more holistic, taking into account product design, value proposition, target audience(s), and measurement/ analysis.
Within this post, I'm going to look at a go-to-market strategy that sits somewhere in the middle: an overarching plan but one that's designed to launch a product and demonstrate to stakeholders the different stages from strategy to execution, through the eyes of software and SaaS marketing.
The software development company ByteAnt provides a neat summary of the differences between different types of marketing plans and how a go-to-market fits alongside each: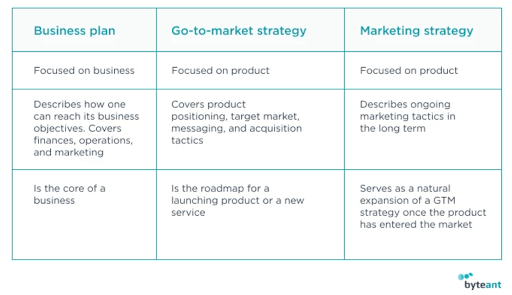 At its core, a go-to-market strategy is a plan for how a product will reach its target audience and defines the following:
Your target audience

– who is your ideal customer and why?

Your value proposition

– what specific value are you offering your target audience?
Your promotional mix – what channels will you use to attract and retain customers? 
The benefits of a go-to-market strategy
The overarching benefit of a go-to-market strategy is that it enables you to manage risk and allocate the right resources (time, budget, people) for your product launch. A clear plan will help ensure you have the right route to market and serve as guidance for everyone involved, from the sales and marketing team to agencies and partners who may support the product launch.
Other benefits of a go-to-market strategy include:
Identify the right product/ market fit
From the outset, you must have a clear view of the market you're going into. Ansoff's matrix provides a guide to different approaches depending on how new your product is versus the market you're targeting: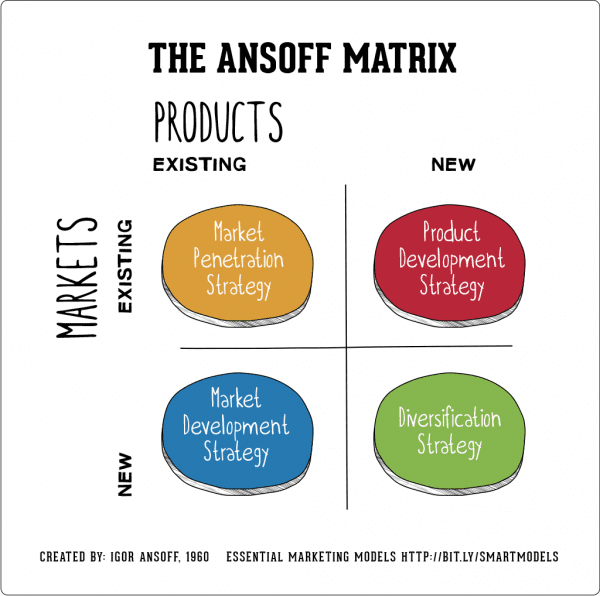 Limit mistakes
A go-to-market strategy will help reduce risk by giving you a defined plan for how and where you will launch. A set of objectives, timeframe, and budget will give you the disciple to focus on a clear goal/ outcome and avoid taking unnecessary steps.
Manage expectations
A go-to-market strategy will give you, your management team, and wider stakeholder group the right expectations for what you can expect after the first day, week, month, and year after the launch.
Developing your go-to-market strategy using the Opportunity > Strategy > Action framework
Using Smart Insights' Opportunity -> Strategy -> Action model will give you a framework to structure an effective go-to-market strategy for your software/ Saas product launch: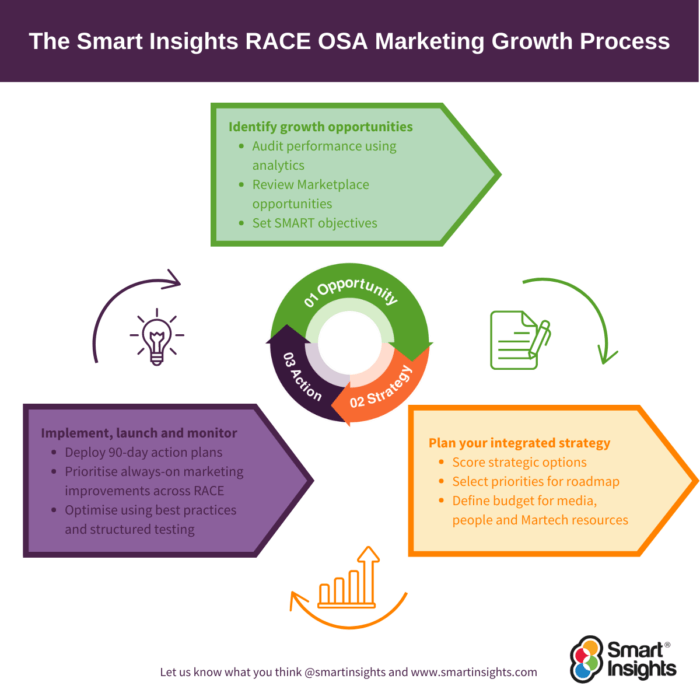 Let's look at each stage of the model separately and some of the different elements that can be applied to a go-to-market strategy:
Opportunity: Define your software go-to-market strategy target audience and value proposition
This stage is about evaluating the product/ market fit and where your product will add value for the target audience.
Define your software's target audience
Instead of trying to sell to everyone, create a specific target audience to tailor the media, creative and timing of your campaign. One way to do this is through the creation of a customer persona, which is a fictional character used to communicate the primary characteristics of your key customer group. 
Start building personas using the following information:
Demographics

– this will include age, gender and social groups, and more specifically for B2B this might include members of buying unit, company size and sector

Psychographics

– these include job roles, personality, specific needs

Webographics

– when, how and where are customers online and they using smartphones, tablets, desktops or any particular web browsers that could influence messaging
Personas can help improve your campaign so it's based on the psychology, needs and media consumption patterns of your audience. In short, it makes campaigns more customer-centric.
Create your software's value proposition
Your value proposition is a statement that describes the benefit of your offer, how you solve your customer's needs and what distinguishes you from the competition. Your value proposition should appear prominently across customer touchpoints, including websites, social media, and app stores.
The value proposition should be clear, concise, and easy to communicate. Key factors include:
Our target audience

The problem(s) to solve

Benefits to the customer

Differentiating factors vs. the competition

Customer and market insights, i.e. data that supports our proposition and raison d'être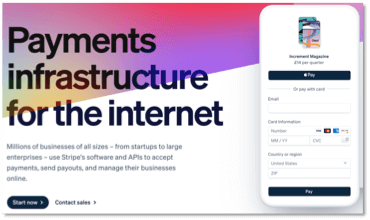 Looking for new opportunities to optimize your software go-to-market strategy?
Smart Insights has the tools, templates, and training you and your business need to identify your strengths and weaknesses, scan the marketplace, and discover solutions that will drive your marketing strategy forward to reach your goals. Find out how your company could benefit from our popular Business Membership.
Strategy: Content, creative and channel selection for your software go-to-market-strategy
This stage involves outlining the steps you'll take to reach your primary objective(s). For a go-to-market strategy, this will include your channel and communication selection depending on which stage of the sales funnel is most appropriate for your product and brand.
Planning a go-to-market strategy for software and SaaS using the RACE Framework
The RACE Framework is a streamlined, practical marketing framework which can be scaled up or down according to your business goals.
The benefit of this approach is that you can start to see results from your marketing activities instantly, and you can use data and insights to adapt your plan to meet your objectives: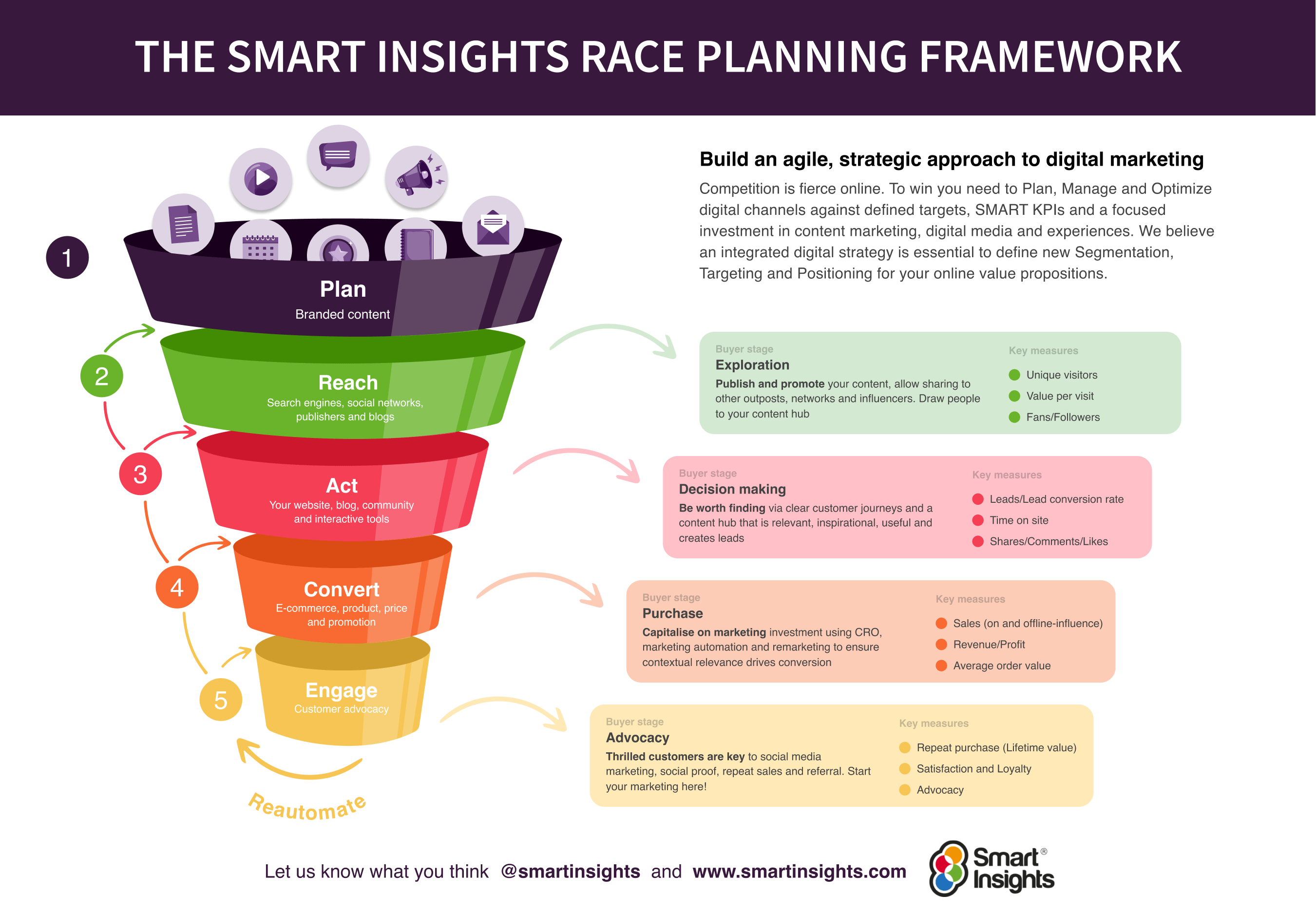 Activation across channels
For software or SaaS brands bringing a new product to market, there may be a requirement to balance Reach, Act and Convert to build awareness and consideration whilst also pushing for sales.
Les Binet and Peter Field's excellent research into the balance of long-term brand building and short-term activation provides some useful guidance on which channels to focus on.
Here is a summary of their research from Tom Roach's blog post on the Greatest Hits of Binet and Field:
Historically, share of voice has driven share of market. If share of voice is greater than share of market the brand tends to grow, whereas is their share of voice is less than share of market the brand tends to shrink.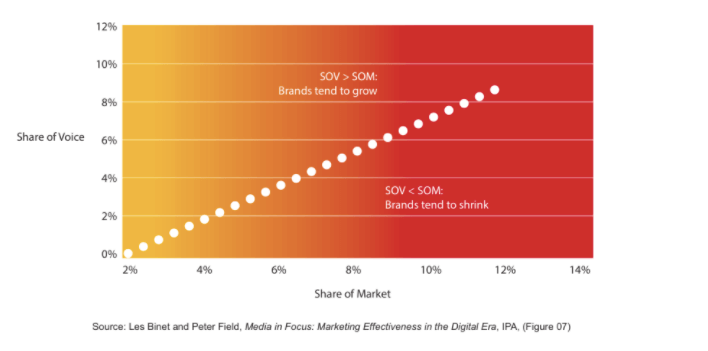 A long-term brand building focus can generate bigger paybacks on the long term, while short term sales activation, for example engaging existing customers has narrower but earlier effects.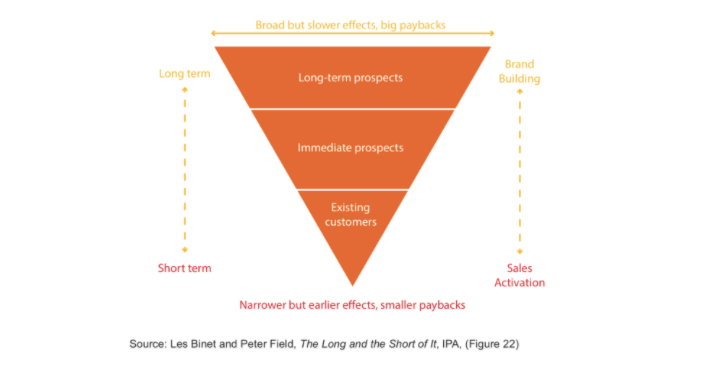 Clearly, brand-building and sales activation work over different timescales. The short-term sales objectives generate uplift over the base while brand building generates long-term growth. When planning your go-to-market strategy, it's essential to generate sufficient sales in the first 6 months of launching to secure your continued development.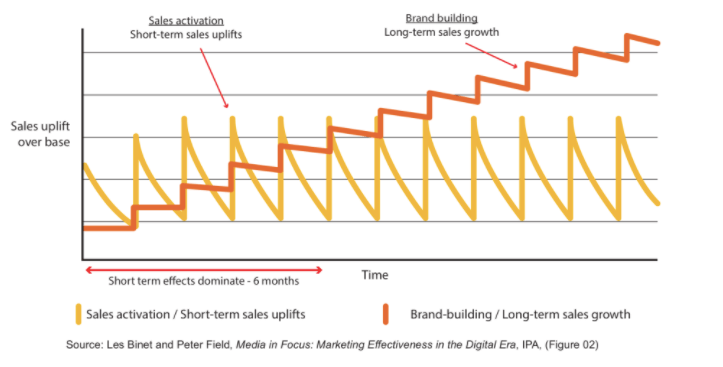 Marketing channels can be utilized towards sales or brand goals – or both, in some cases. Marketers investing in inserts and DRTV report large activation effects, whereas those investing in sponsorship and PR report large brand effects. Email, social, and digital media sit in the middle ground.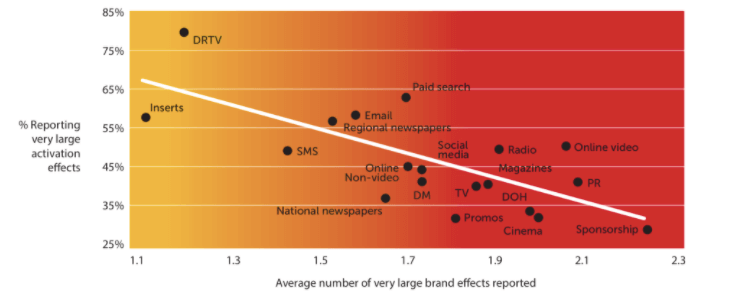 You can use the RACE Framework to plan your top of funnel (eg reach), mid-funnel and bottom of funnel (eg conversion and engagement) marketing activities.
This 5 step scalable plan helps startups, enterprises and multinational teams alike strategize their brand building, sales activation, and every step in between, with ready-to-go tools, templates, and individual/team training.
Find out more in Dr. Dave Chaffey's free explainer blog: 'Introducing the RACE Framework'.
Action: How to plan and deliver a successful go-to-market strategy for your software or SaaS business
This stage is about bringing your analysis together to create a practical action plan. Once you have a clear view of your target audience, value proposition and approach to media and creative, the action plan sets out exactly how you will execute over a given time period.
High-level go-to-market plan
This type of plan will often be built by a combination of an agency planning and digital team, usually within a media agency, although creative agencies may also produce something to demonstrate how their different ideas will be executed to launch new products or services across digital channels and media.

Executional delivery plan
This plan is where you can zoom in on all the specific elements we saw in the high-level plan above. It's common practice to look at each channel in precise detail (separate plans for paid, owned, earned media etc.) so that those running the go-to-market campaign have a clear view of exactly how each element will be executed. This is important so that media and creative can be signed off and bought.
Structuring your channel planning across paid, owned, and earned media will give you a launchpad to plan an effective go-to-market strategy for your software/ Saas product launch. You can see examples of media to consider across each category below.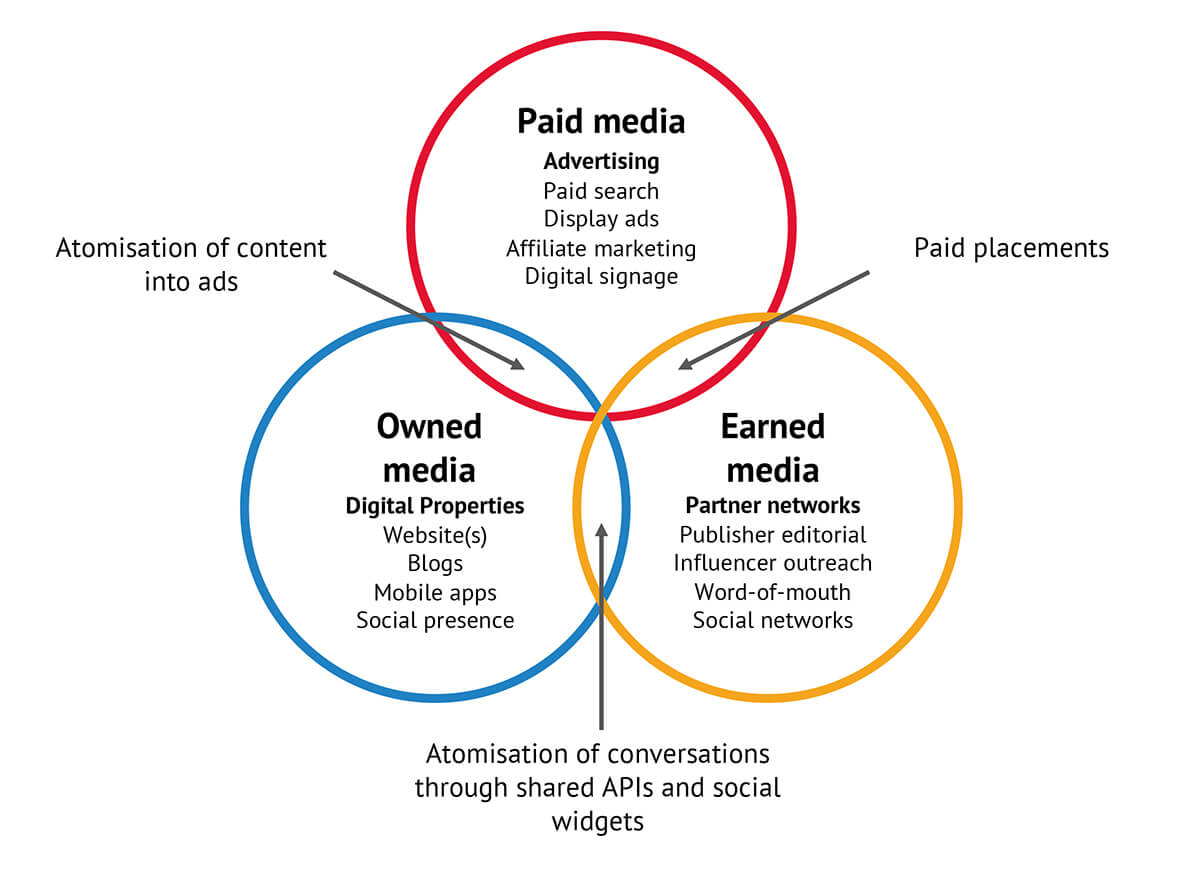 A paid search campaign, broken down into campaigns, ad groups, and keyword recommendations. This will also incorporate expected impressions, clicks and results (e.g. conversions, % of video viewed etc. depending on the metric of success).