What does omnichannel mean in Pharma? And what does digital disruption mean for this increasingly complex industry?
Omnichannel Pharma does not exist in a vacuum. Many industries launched large-scale omnichannel transformations years ago, and consumers are experiencing the benefits.
Of course, digitization has been gradually occurring for customers across many sectors, as the percentage of users who are willing/expecting to make digital purchases increases.
However, pharmaceutical companies have typically been lagging behind other industries in providing an omnichannel experience, since face-to-face communications are seen as beneficial as part of service delivery.
Pharma marketing notoriously relies on complex customer journeys. This has never been the case more than now, with customers' increasing digital expectations. That's where Omnichannel Pharma comes in.
If you're still deciding whether to create a digital/omnichannel marketing strategy for your Pharma business, or you're trying to get more digital buy-in, don't miss my free explainer blog 10 reasons you need a digital marketing strategy.
What is omnichannel marketing?
At Smart Insights, we define omnichannel marketing to include both managing customer
experience and marketing communications:
"Planning and optimizing always-on and campaign-focused marketing communications tools across different customer lifecycle touchpoints to maximise leads and sales – all the while delivering a seamless customer experience to encourage customer loyalty".
The number of online and offline channels that need to be orchestrated is shown by our RACE customer lifecycle visual.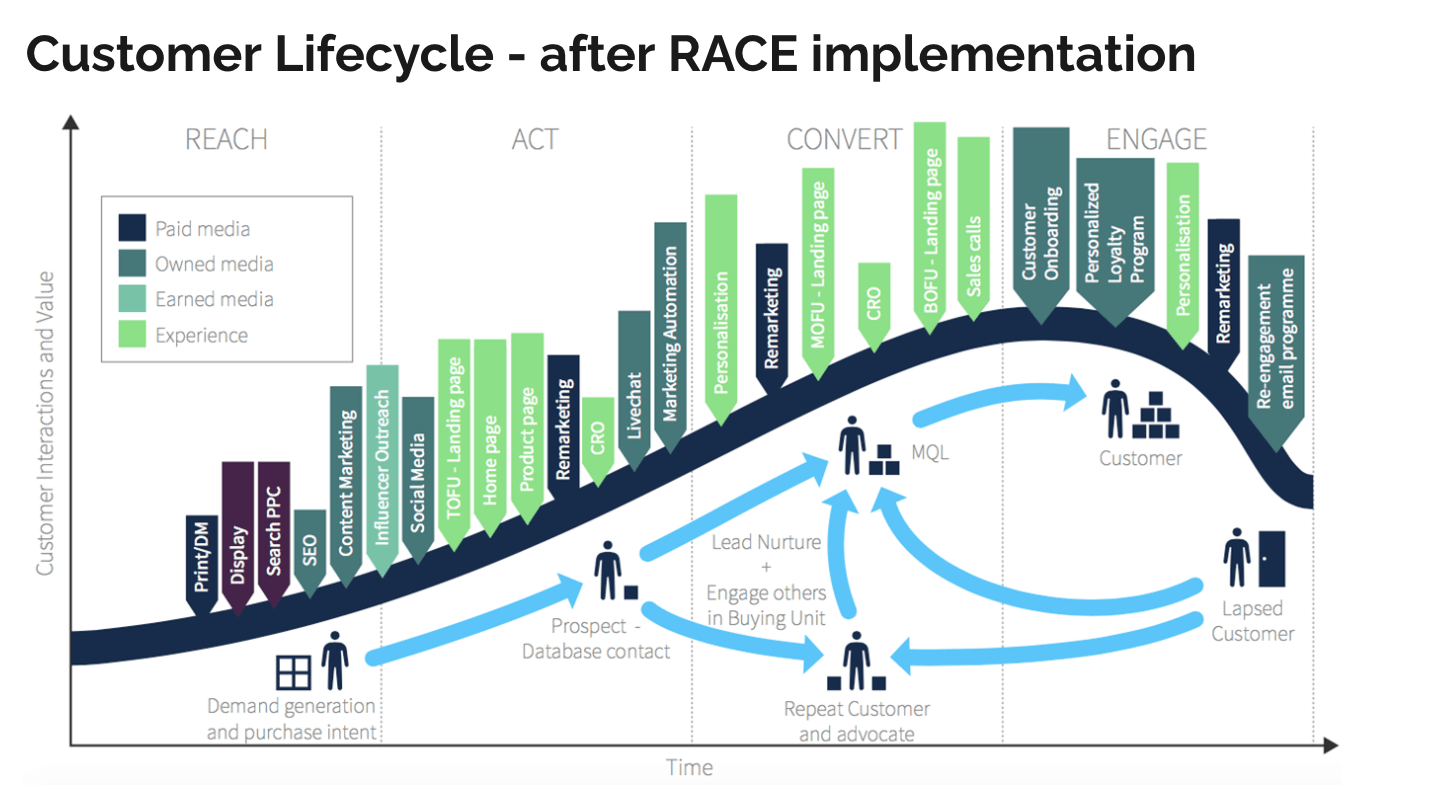 The state of omnichannel Pharma today
Marketing leaders within the Pharma, healthcare, medical, and all patient-facing and medical-professional-facing marketing sectors have seen first-hand the effects of digital disruption on business as usual.
Viseven describes the movement from multichannel to omnichannel within healthcare as a
process that results in the connection of all channels through the customer journey as shown in this diagram.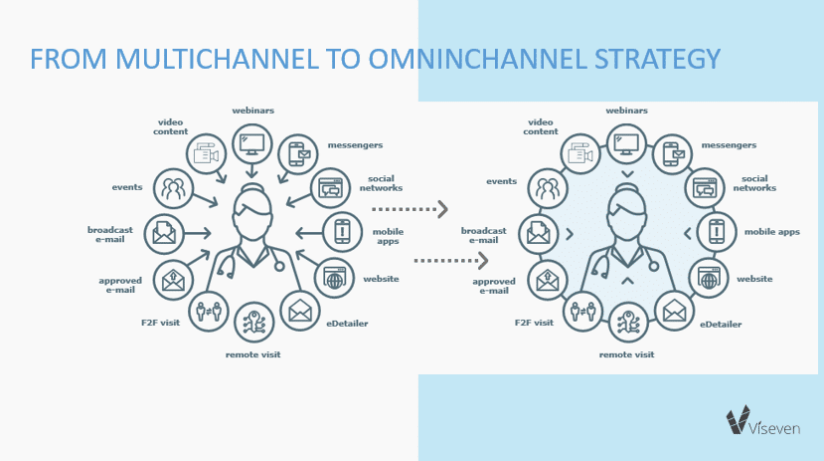 The examples above demonstrate the traditional B2B, B2C, and D2C business models. However, some patients and medical buyers are clearly navigating very complex customer journeys, and we can see that these are already becoming more blurred.
The benefits of omnichannel Pharma marketing
One of the key drivers for the shift to omnichannel marketing activities is the recognition of the benefits to be had from adopting a patient-centered approach. This has been met with skepticism in its ability to drive actual business growth.
To understand this better, The Aurora Project, a global benchmark survey comprising 2,346 pharma industry respondents from 84 countries identified five key activities to take patient focus and profitability to the next level.
1. Engage patients
While some respondents believe pharma is doing enough to engage patients, others feel more needs to be done.
Specifically, patients bring unique insights based on their experience with a drug and its current therapeutic environment.
They can highlight areas of unmet need that clinicians may have underestimated.
2. Budget/resources
An appropriate budget to act on patient-focused ideas is vital with a focus on early investment in patient engagement and interaction.
In the long run, spending money on those things that help patients in the short and long-term DOES lead to better business results as prevention measures or vaccinations do in real health care.
3. Measurement
It was felt that the power of big data can be harnessed to assess whether patient adherence and treatment persistence have improved in order to develop more direct relationships with patients and is an area with room for significant improvement.
4. Training
Something to keep in mind is that every mistake from any company will affect trust in pharma as a whole – and thereby limit the possible success for all others.
For this reason alone it is important that sufficient training is given to employees on how to behave in a patient-focused manner.
Ultimately, pharma can't afford to make mistakes that might reduce patient trust and, therefore, better training in patient focus is fundamental.
5. Focus across all departments
The general consensus is that everyone should be doing their part to engage in patient-focused efforts, thus embedding patient focus across an entire company.
It is only through the integration of different functional expertise and methods can you gain a comprehensive patient understanding and approach.
When looking at each business or experience metric, you can see the interdependencies that exist.
Voice of the patient
Being patient-centric is necessary for companies that truly believe in the concept of making a positive impact in the lives of their customers. Business growth will happen because of it.
By taking into account patient opinions on key decisions companies are able to build strong connections.
One example is the voice of the patient, which is a game-changer in pharma, from product development, to regulatory approval, and commercialization. Customer needs evolve over time and it is our duty to remain relevant.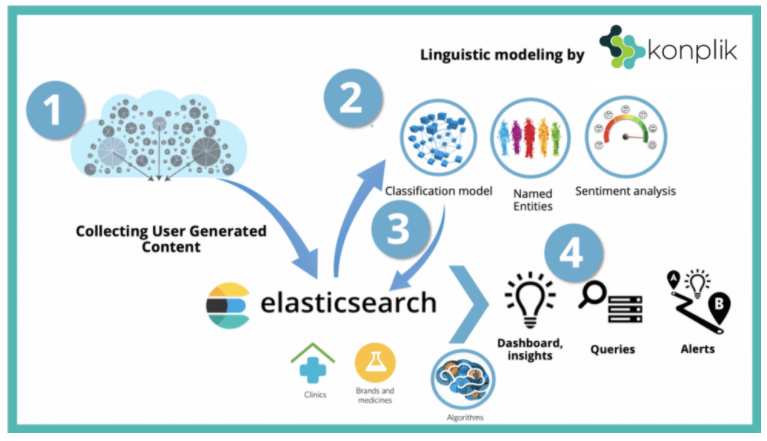 What is an omnichannel plan?
We recommend planning your Pharmaceutical marketing communications using the RACE Framework. This integrated step-by-step framework helps marketers and managers plan their digital media and experiences across the customer lifecycle of reach, act, convert, and engage.
The Smart Insights approach to improving digital marketing maturity is data-driven, so the infographic also recommends some of the key measures that should be used to set targets and improve performance at each stage.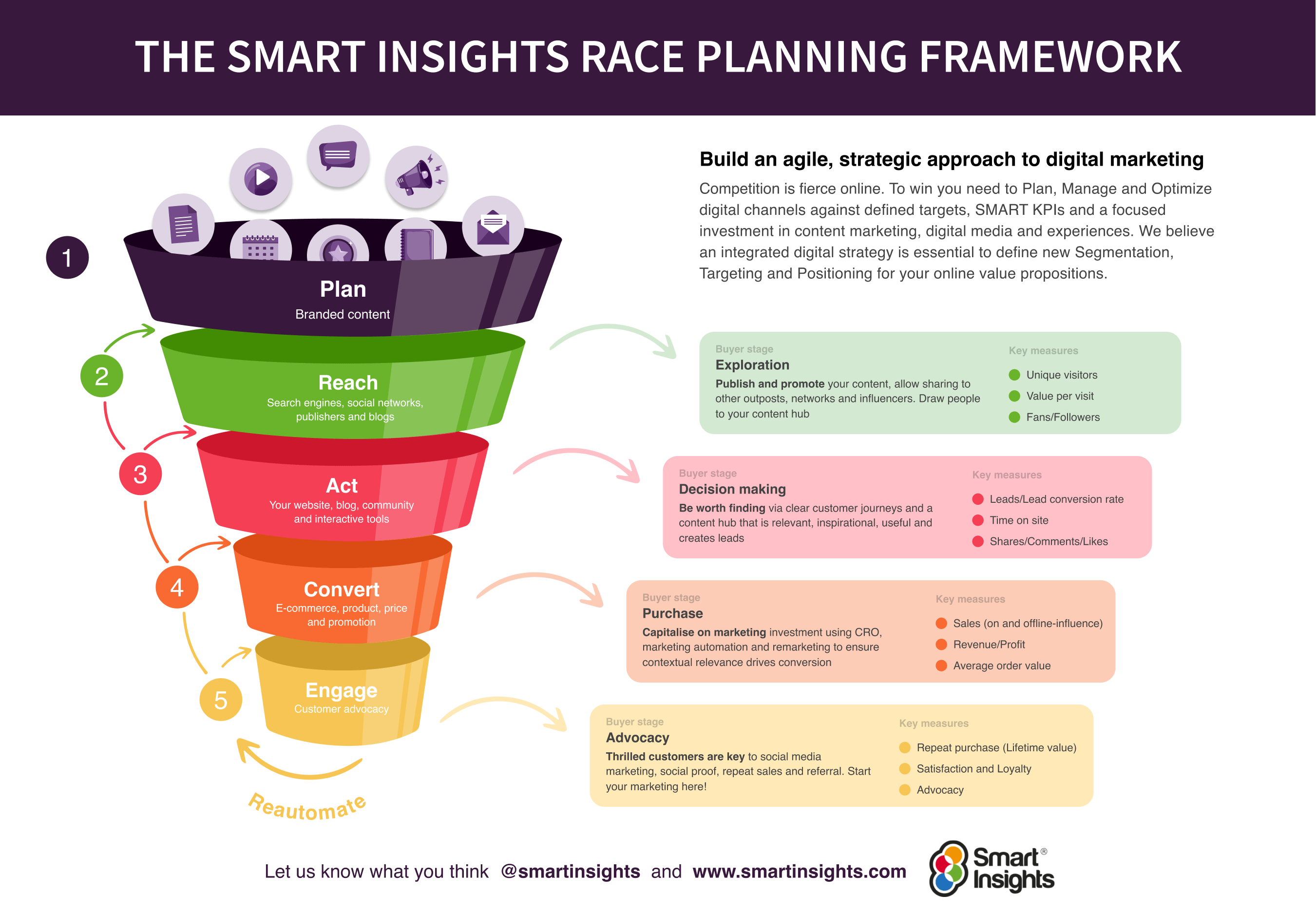 1,000s of Smart Insights Business Members are already using our RACE Framework and integrated tools and templates to plan omnichannel marketing strategies for their businesses.
Sign up today for access to modules such as 'Structure a plan using Smart Insights' RACE', which is a short, interactive explainer to the RACE planning process.
Core Module
Structure a plan using Smart Insights' RACE
Part of the Digital marketing strategy and planning Toolkit
Learn how to structure a comprehensive omnichannel marketing plan, using Smart Insights' RACE
Recommended Pharma marketing channels
The growth in social channels such as Snapchat, Instagram, and TikTok may seem like an ocean of opportunity.
However, in Europe, many of these channels are too risky or inappropriate for pharma communications given the potential for reputational damage and because of the risk of industry guidelines.
For example, UK Prescription Medicines Code of Practice Authority (PMCPA) guidance should be followed and the cases brought under PMCPA highlight the type of breaches that can occur in ads or within consumer sites.
An ad by Vifor Pharma was ruled in breach of the following clauses of the Code:
Clause 2 – Bringing discredit upon, and reducing confidence in, the pharmaceutical industry
Clause 7.2 – Making misleading and inaccurate claims
Clause 7.3 – Making misleading comparisons
Clause 8.1 – Disparaging a competitor product
Historically, pharma's channel tactics tend to be more conventional. The Multichannel Maturometer from Across Health reveals the most widely-used tactics include:
eDetailing (84%)
pharma-owned websites (71%)
direct marketing (58%) and email marketing (57%)
web banners (52%)
web conferences (41%)
online medical education (40%)
HCP self-service portals (36%).
Activities such as marketing automation, adherence tools, social media monitoring/ marketing, and quantified self/self-tracking devices are a long way from becoming standard practice but they are increasing.
The reality is that although channels and opportunities are growing in number, it's neither
possible nor sensible to invest in everything.
Success requires understanding the right channels for a particular audience and integrating them to create a consistent experience across them all. You can get started today by downloading our free digital marketing plan template.
Optimize your Pharma marketing strategy to benefit from Omnichannel
To summarise, the principle at the heart of understanding the difference between multichannel and omnichannel Pharma is to be selective.
The goal should be not just to use 'many' channels (multichannel), but in such a way that there is a seamless experience across the most appropriate channels for your customers (omnichannel).
Without an Omnichannel mindset, you may be missing out on crucial opportunities to improve your brand experience across all channels, at every stage of the buying funnel.
We've got marketing tools, templates, and training designed to help Pharma marketers make the best decisions for their businesses, and inform their marketing strategies to win more customers. Find out how your company could benefit from Business Membership.