Keep up to date in the ever-changing digital landscape by integrating these 5 trends in Financial Services digital marketing into your 2024 marketing strategy
Financial Services is both a highly competitive and highly regulated sector. Cost per customer acquisition is high, and encouraging customer loyalty in digitally savvy audiences is challenging given that new challenger banks, neobanks, and aggregator services encourage switchers to seek better deals.
In 2024, Financial Services marketers must continue to tweak their digital marketing strategies according to customers' emotional motivations for their financial transactions.
If you haven't got an integrated digital marketing strategy, or you're struggling to get buy-in, don't miss my explainer 10 reasons you need a digital marketing strategy.
All the trends listed below offer new opportunities for marketers to tap into known customer concerns. You'll want to sense-check the below, asking the questions about your target customers:
'What are their biggest pain points?'
'What are they looking for in a financial product at the moment?'
'What are their digital expectations?'
Understanding the marketing communications trends at play in the Financial Services sector is imperative for all existing businesses and offers great opportunities to new startups and challengers. To help you keep on top of the latest developments, I'm summarizing these 5 trends below.
1. Omnichannel Financial Services marketing
At Smart Insights, we define omnichannel marketing to include both managing customer
experience and marketing communications:
"Omnichannel means planning and optimizing always-on and campaign-focused marketing communications tools across different customer lifecycle touchpoints to maximize leads and sales – all the while delivering a seamless customer experience to encourage customer loyalty"
The focus here is ensuring that different online and offline marketing activities are integrated and complement each other in working towards the dedicated marketing objective at that stage in your customer journey.
The number of online and offline channels that need to be orchestrated is shown across our RACE customer lifecycle visual featured here: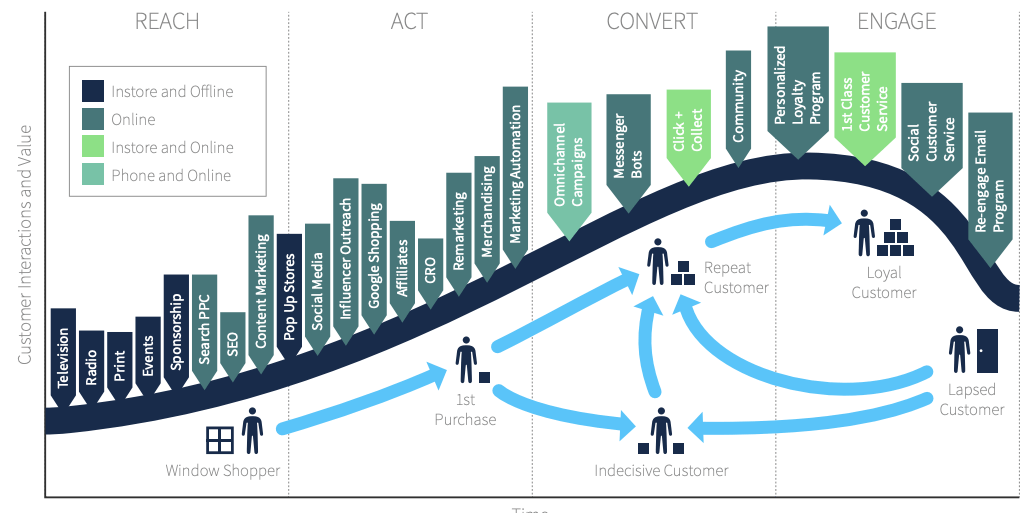 The rapid digitization of Financial Services to create convenience and more touchpoints with consumers requires intimate digital marketing planning and understanding of this lifecycle if businesses want sustained growth in the digital space.
The difference in customer expectations is summarized by this visual which shows customer expectations in traditional vs digital Financial Services.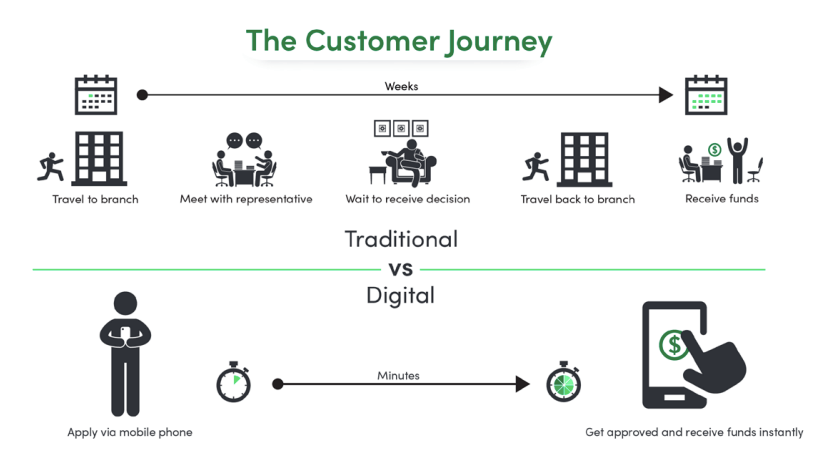 Benchmarking the service experience compared to competitor banks can highlight the
difference in expectations as this research from Built By Mars shows.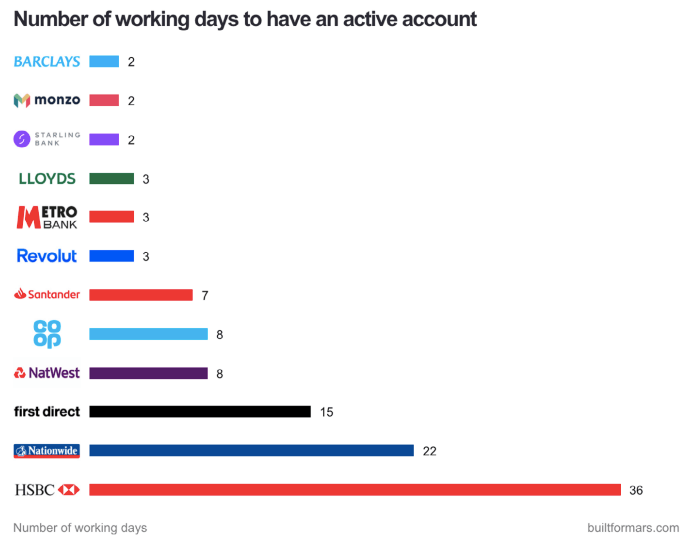 However, in order to meet these expectations, a structured approach to omnichannel will be critical to your success.
A recent McKinsey article, The balancing act: Omnichannel excellence in retail banking, highlights the value of focusing on omnichannel marketing in retail banking. The authors explain:
"As banks continue to make progress in digitizing the customer experience, they must also remember that omnichannel includes the critical human side of the equation.

To maximize sales, banks must effectively combine digital and human channels to create a seamless omnichannel offering."
This movement towards creating services and offers that are more personalized and more in tune with customers means that being at the forefront of digital marketing trends is more important now than ever.
Our free digital marketing plan template helps digital marketers plan, manage, and optimize a customer-centric digital marketing strategy.
2. Seasonal content marketing in Financial Services
Research from Google determined that there were significant patterns over a calendar year
when people were more engaged in certain financial products at certain times of the year.
The underlying implication is that while money may be on everyone's mind for most of the year, there are times when they are likely to be more interested in specific products or offers.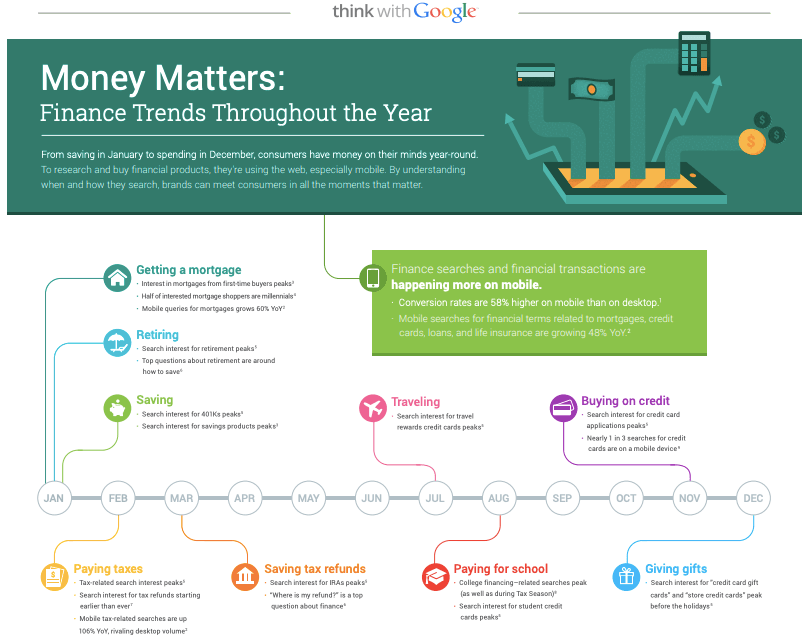 Equally, Financial Services marketers will do well to identify trending topics in their target markets and plan content that can tap into this.
For example, digital content about 'inflation', 'early retirement payout' and other topical themes have seen increased search interest according to Google.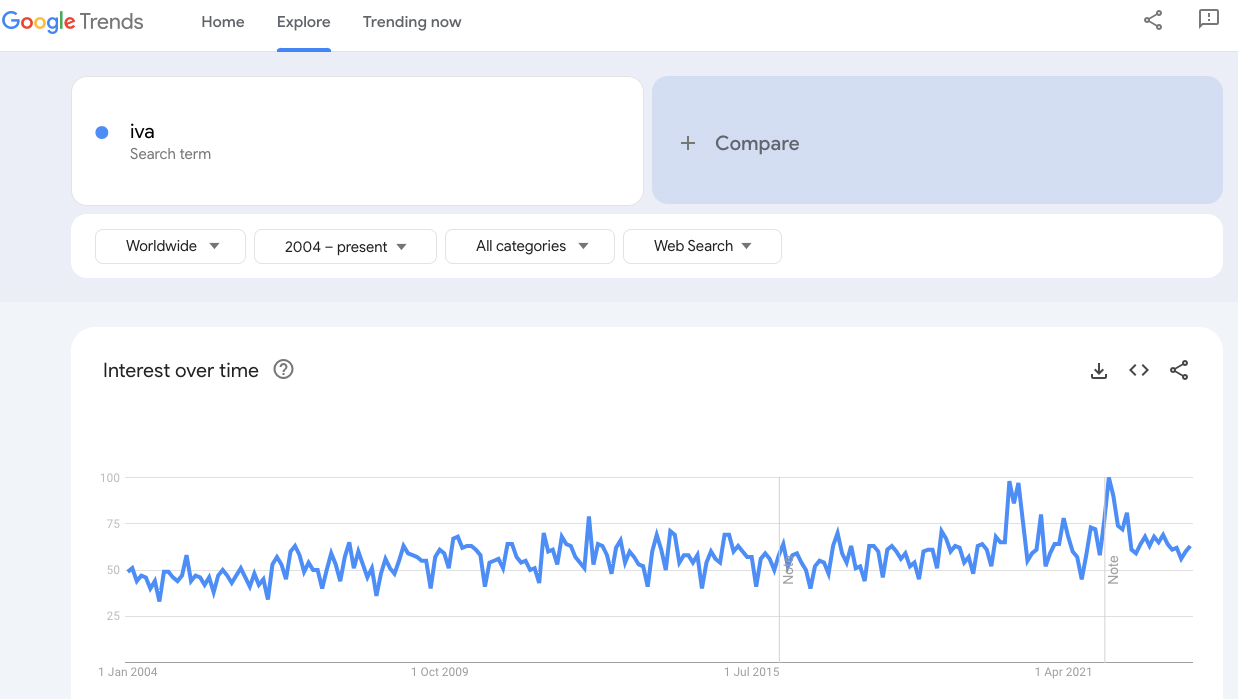 The search giant gives the following advice on what this means for search marketing:
"As we're collectively worried about the economic outlook and personal finances, it's important to provide real value to your customers and the business as a whole.

Consumers expect brands to be helpful and they will also place more importance on companies showing their value, for example with special offers and discounts."
So, by moving your content marketing strategy to be more in line with what consumers expect and demand, and employing an optimized strategic approach, you will be able to grow your brand at a local and global level. Business Members can complete our interactive Learning Path module to find out more.
3. Conversion Rate Optimization in Financial Services
A/B testing imagery and copy variants as part of conversion rate optimization can make a significant difference in trust, but for some highly rate-led propositions such as credit cards, interest rates may have the biggest impact on a number of applications.
Looking towards 2024, we expect the continued trend of putting more resource into Conversion Rate Optimization (CRO), which combines A/B testing, AI personalization, and more, to improve digital assets/experiences.
For example, US Digital bank, Chime has implemented predictive personalization on their homepage, where they use machine learning insights about factors that influence conversion such as location, device and time. They then tested the best creative for these segments. They tested 21 different ideas and 216 different versions of their homepage over a three-month period. You can see that there are significant differences in conversion: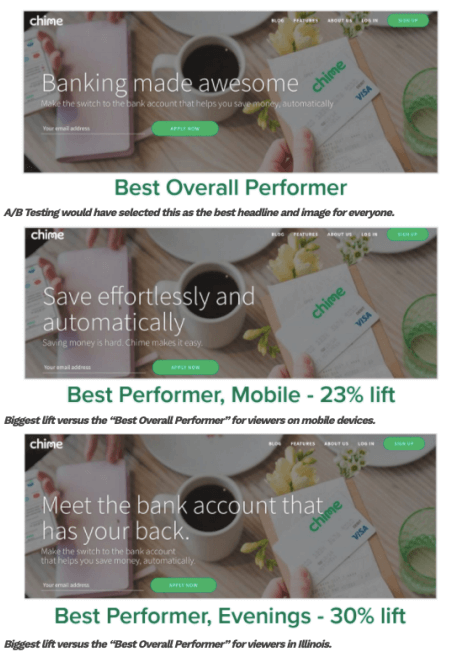 At Smart Insights, we define CRO "a structured testing and optimization process aimed at improving key performance indicators for a website". These may include audience engagement, conversion rates to lead and sale or revenue and profitability.
Many sites are only occasionally updated, but companies who are serious about getting the best returns from their websites have a structured programme of testing. Business Members can complete our interactive Learning Path module to find out more.
4. Conversational engagement through marketing
We use the term 'conversational messaging' to encapsulate any technology that empowers brands and consumers to interact with each other, such as chat or messaging, voice assistance and other natural language interfaces.
Simply put, conversational engagement uses natural language to interact with customers during their buying journey by providing them with personalized help and recommendations while nurturing long-term relationships.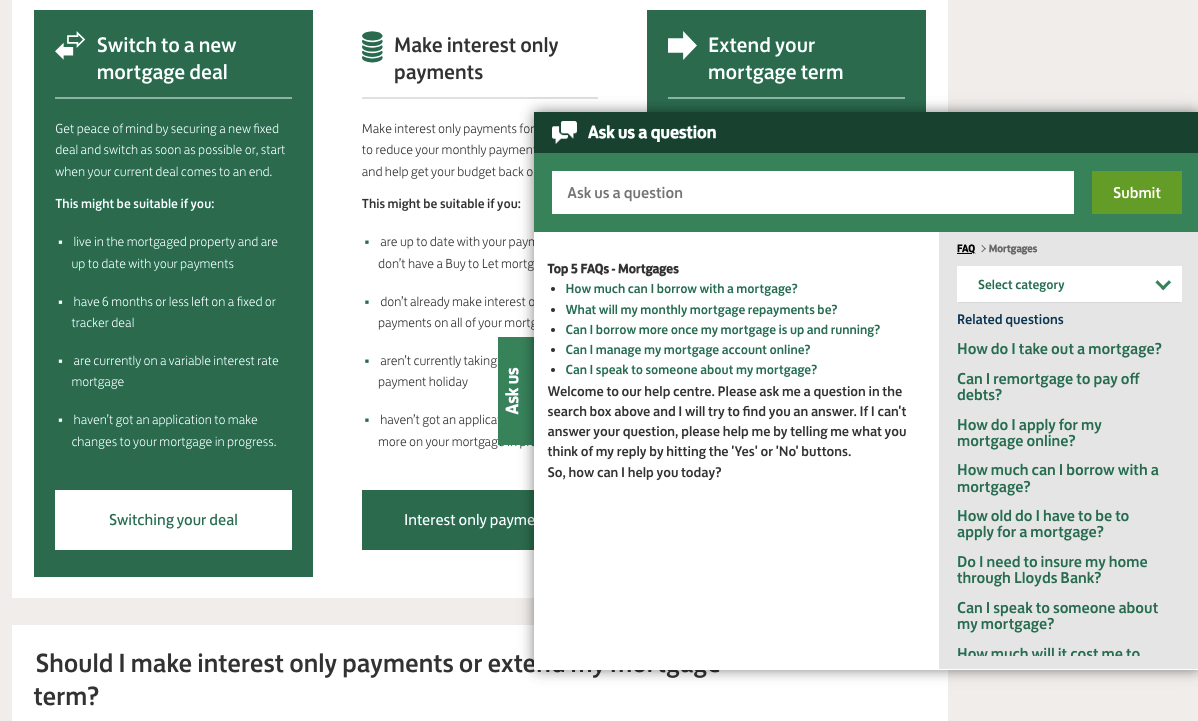 While retailers have used chatbots, many of these with Artificial Intelligence, for many years, their application within Financial Services has only just begun to become commonplace.
According to a report on conversational commerce, the average conversation rates in stores range from around 20-30%, whereas online, that rate drops down to sub 10% depending on the brand strength. The obvious reasons for that could be the rich, visual, and tangible experience that customers get when they physically visit a store.
However, another reason is the instant customer support and service that they receive within the stores, making it essential for online platforms to be able to compete with that level of customer service.
In the Financial Services sector, where decision-making can be complex, and the need for personalized recommendations is even more important, conversational messaging enables Financial Services marketers to engage their customers online.
Our 'online customer service and customer care' module includes expert guidance for managing people-supported customer service processes including:
Inbound email response via contact-us forms
Use of web self-service (FAQ and Knowledge bases)
Live chat
Web call-backs
Chat bots
Social media customer care (proactive outreach and response)
This interactive module, which sits within our Social Media Marketing Learning Path will help Financial Services marketers monitor and improve their conversational engagement strategies.
5. Financial Services customer/digital experience
Perhaps the most major change within digital Financial Services is the evolution of UX and product design to enable digital payments.
The Financial Services industry has traditionally created UX and design experiences from an expert's point of view but this has significantly changed with a greater understanding of UX being about the digital customer combined with a data-driven process of customer insight.
As a consequence, banks, insurance companies, and financial institutions are now building strong in-house design capabilities that are shaping new product design and development.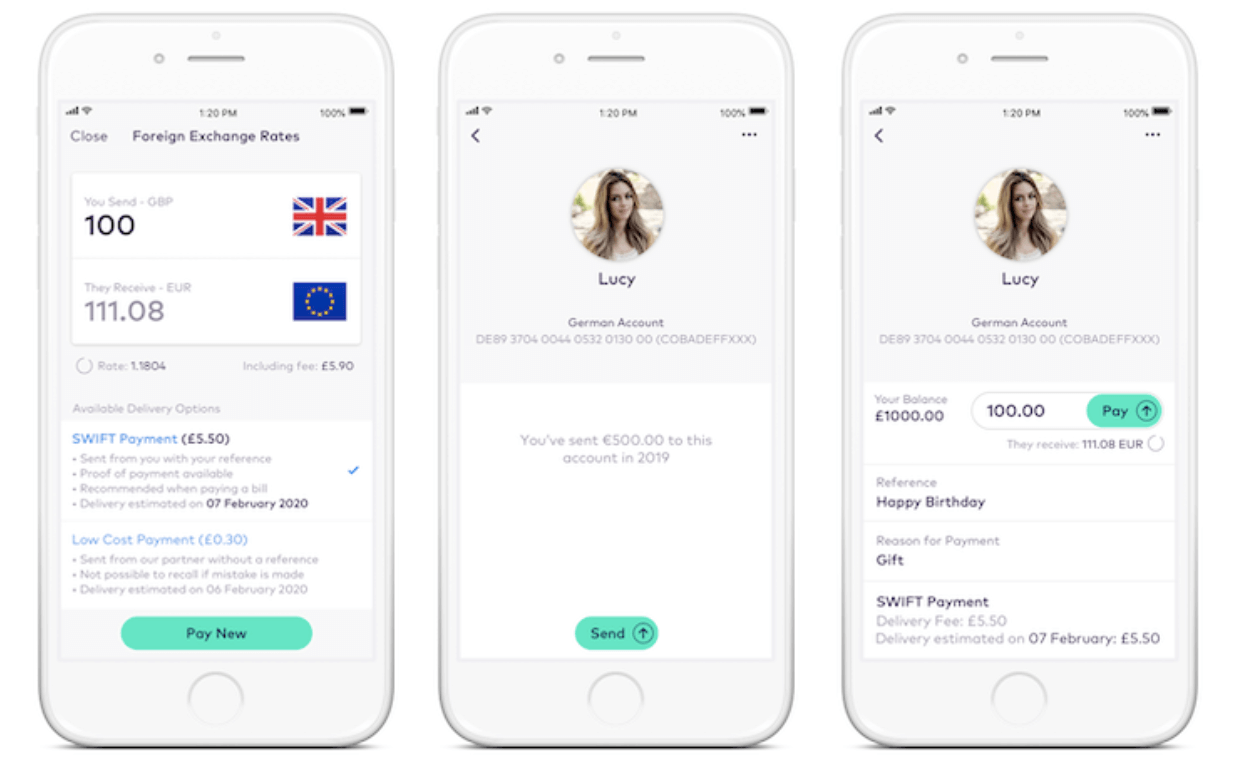 As online competition has increased, and more Financial Services customers migrate online, it is also clear that established Financial Services institutions are operating in a very dynamic market with a diverse array of new entrants and emerging technologies that is upending traditional growth areas and thus compounding the need for UX design at the center of their digital strategy.
"The importance of UX and design has definitely changed considerably in the Financial Services sector. We now carry out extensive research before any new digital project is started which is critical for all successful design."
– Martin Park, Senior UX Consultant, Old Mutual
The McKinsey article presents this data showing how, for some simple retail banking propositions like savings accounts and credit cards, the vast majority of customers in Northern Europe are now willing to purchase digitally. However, there is a lower preference for digital purchases in southern Europe.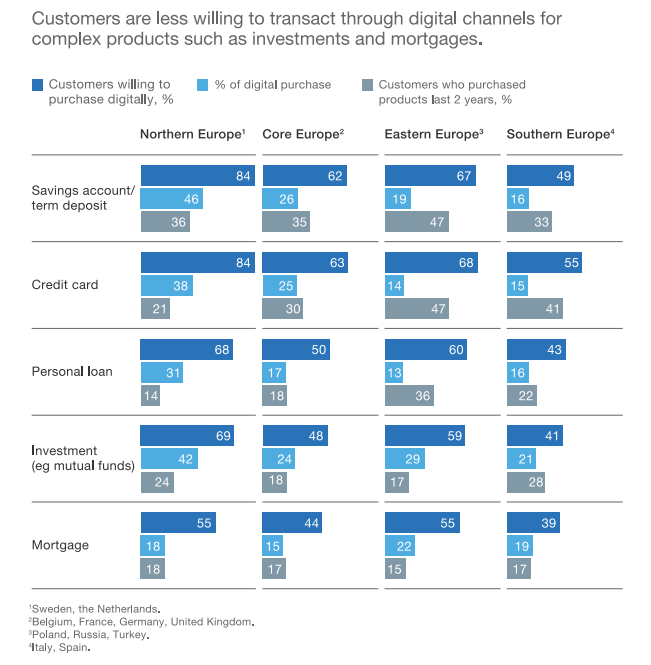 However, more complex products like loans and mortgages have much lower digital purchase rates and a large gap between willingness to buy online and actual purchase rates.
This suggests the opportunity for increasing digital sales will require a multi-touch approach that works seamlessly with customer preferences for using offline channels to discuss the purchase decision, particularly for more complex products.
This visualization from the Verint Experience Index of the customer journey for a loan product shows customers use multiple touchpoints on the path to conversion.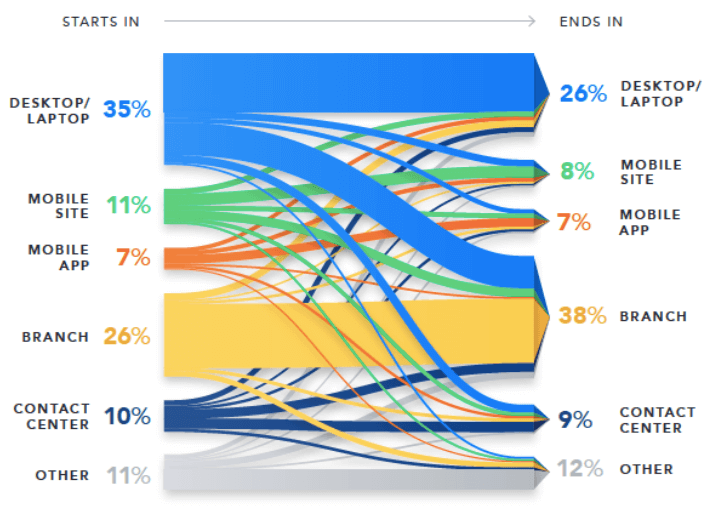 This means that people expect to be able to pick up where they left off regardless of device or physical location.
Another point to note is that physical attendance in branches for big decision products is still very strong. This means that while you may be focusing on digitization remember to consider how this will work alongside the physical experience in branches – aka 'phygial'.
Financial Services digital marketing trends and takeaways
We all know that money is a sensitive, guarded subject for the majority of people. As the digital marketing industry has seen through the likes of Google's E-A-T update, experience, authority and – perhaps most importantly for Financial Services marketing – trust are of paramount importance.
We are all programmed to avoid loss and this is further reinforced through cultural approaches to money as being something that needs keeping safe. So, it stands to reason that people are naturally cautious – even skeptical – when it comes to financial matters.
Hence, the biggest challenge for banks and others in the Financial Services industry is to overcome people's trust issues by delivering online experiences that engage their existing and potential customers.
This makes it imperative that banks and others in Financial Services marketing work to introduce measures that improve their users' perceptions of trust and minimize skepticism or even fear. This can go a long way to increasing conversion and the uptake of products and services.
That's why we recommend reviewing these trends within the context of an integrated digital marketing strategy. Take your next steps to Financial Services digital marketing optimization when you download our free digital marketing plan template.