Playbooks empower marketing teams to improve performance from within
As marketing managers, directors, and heads of marketing, we are responsible for researching and developing marketing strategies that contribute toward our business goals. This means we are continuously scanning our marketplaces, tracking our progress, and reacting to change.
In well-integrated marketing teams, individuals are also contributing to shared marketing activities which, when combined, move the team closer to shared goals.
But, while we know what that looks like from a strategic 'top-down' approach, how can teams set up practical infrastructures at a tactical level? And how do we best track and record our marketing 'business as usual'?
That's where playbooks come in – a grassroots approach for managing marketing ops. As playbooks focus on the doing, they are designed to be used by marketing specialists who are responsible for the execution and tactical development of their dedicated marketing activities.
What is a marketing playbook?
Marketing playbooks offer teams a quick reference guide for the day-to-day practical management of their marketing activities.
We recommend splitting out your marketing playbooks into different types of marketing activities, and reviewing each playbook as a best-practice checklist or mini style guide for that activity. You could choose to see playbooks as a 'coach' for your BAU marketing performance.
"The concept is based on the idea of playbooks in American sports. The coach compiles a book of offensive and defensive plays to be used when their team is in specific situations or has desired results."

Dr. Dave Chaffey, co-founder of Smart Insights and author of the Smart Insights marketing playbook series
The goal of adopting a marketing playbook structure is to increase 'ownership' of marketing activities from within teams themselves by tapping into ongoing working knowledge. Potential benefits of marketing playbooks, when used correctly, include consistency, efficiency, and scalability of best-practice marketing tactics.
What's the difference between a marketing strategy and a marketing playbook?
A marketing strategy is a top-level strategic marketing plan outlining your overall business goals and the marketing objectives you have set to achieve them. Information in your marketing strategy serves as a foundation for all integrated marketing activities, including your target markets, messaging, and overall marketing mix.
It's imperative that all marketing staff have access to this strategy and can understand and support the overall direction of the business. However, it is unlikely that the strategy itself would contain sufficient detail for team members to execute all tactics required to achieve this strategy.
Viewed in this context, marketing playbooks are specialist supporting resources helping marketing teams execute their marketing strategies efficiently and effectively, with a focus on the best ways to make it happen.
Our Opportunity Strategy Action model helps simplify the marketing planning process into 3 integrated steps. It gives a quick reference answer to questions on the difference between a marketing plan/strategy and a marketing playbook. Playbooks sit within the 'action' stage of this cycle, they are informed by strategy, and feed into future opportunities for growth.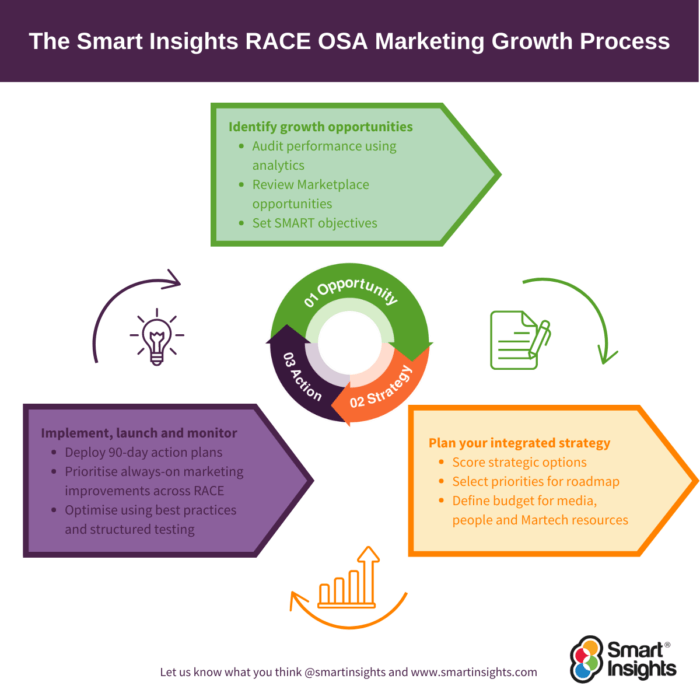 You can read more about the difference between strategy and tactics in Dr. Dave's dedicated blog, 'marketing strategy vs tactics', which outlines 9 key differences, and how you can implement both in your marketing plan.
Why use a marketing playbook?
Managing marketing requires maintaining a complex balance between the strategic 'whys' and the granular channel-specific 'hows'.
Playbooks create dedicated spaces for teams to record processes, best practices, and lessons learned from tests/optimizations. This is not only a practical consideration, but also an opportunity for digital marketing specialists to exchange channel-specific learnings which could be applied to other elements of the marketing mix, which may otherwise be missed.
Plus, in the case of growing your team/training new members of staff, or making changes to your martech/digital investments, having an up-to-date record of current channel-management practices helps ensure consistency in your marketing communications. It can save hours of staff time and prevent missed opportunities.
Marketing leaders looking to skill up their teams can read more about what Smart Insights offers within our Developing your team with Smart Insights module.
Which marketing activities would benefit from a playbook?
Marketing playbooks are most helpful when you're looking to align your teams around one vision and one set of goals for a particular marketing activity. Marketing channel playbooks are a prime example here, as are projects around product launches or rebranding.
In these instances, a useful playbook would define how that marketing activity is planned, managed, and optimized over a fixed period of time. We recommend taking a 12-18 month period, which is long enough for teams to adopt the new playbooks, measure their results, and start to make suggestions for improvements, which can feed into future activity.
You may want to set up a RACE digital marketing dashboard, now compatible with GA4, to track your results, as per the example below.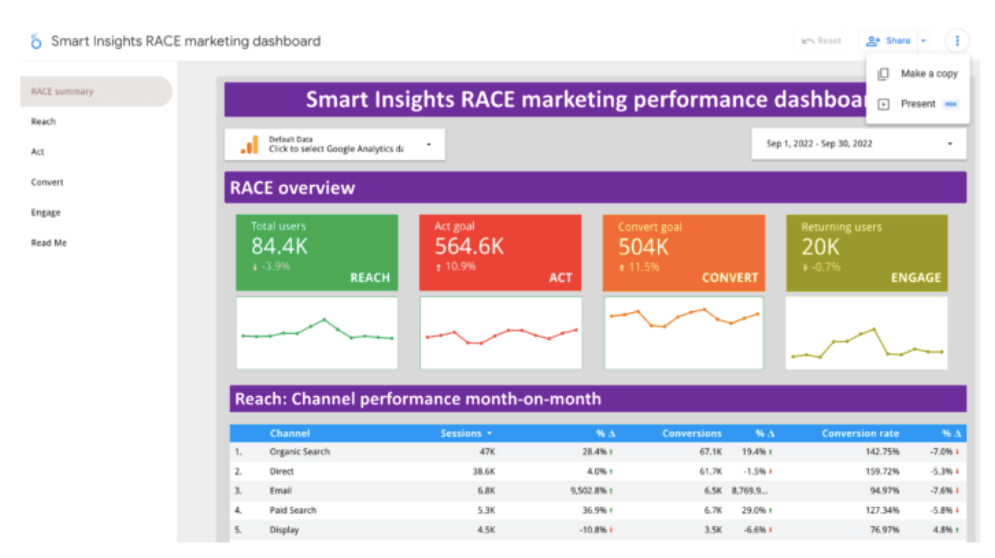 How to structure your marketing playbook
We recommend taking a 6 step approach to structuring your marketing playbooks. This structure helps convey useful tactical information on a granular level. By keeping each playbook consistent, you'll be able to quickly compare and contrast channel tactics.
Investment priorities and best practices for communications:

Which types

of comms, best practices, and optimization techniques should be used to maximize ROI depending on marketing objectives?
Audience media use:

Insight on consumer or business adoption,

interaction, and responsiveness to different communications channels.
Communications orchestration:

How to plan, resource, and define workflow

for campaign flowing and execution.
Goal setting and measurement:

How to set objectives and evaluate the

channel with relevant KPIs.
Integration of activities:

Consistent, integrated use of media channels throughout

the organization and in campaigns to maximize impact.
Marketing technology and data:

Which technology and tools can support

planning, measurement, and execution of the technique?
Marketing playbook checklists by Smart Insights
Our playbook series of marketing templates help you quickly review the main activities you need to work on to get better results from your digital marketing channels.
As such, these practical, tactical resources are structured around a checklist of 25 key factors for better results from your marketing activities. We structure these across our popular RACE Framework, so you can quickly review which parts of your marketing funnel need optimization.
You can read more about our RACE Framework below.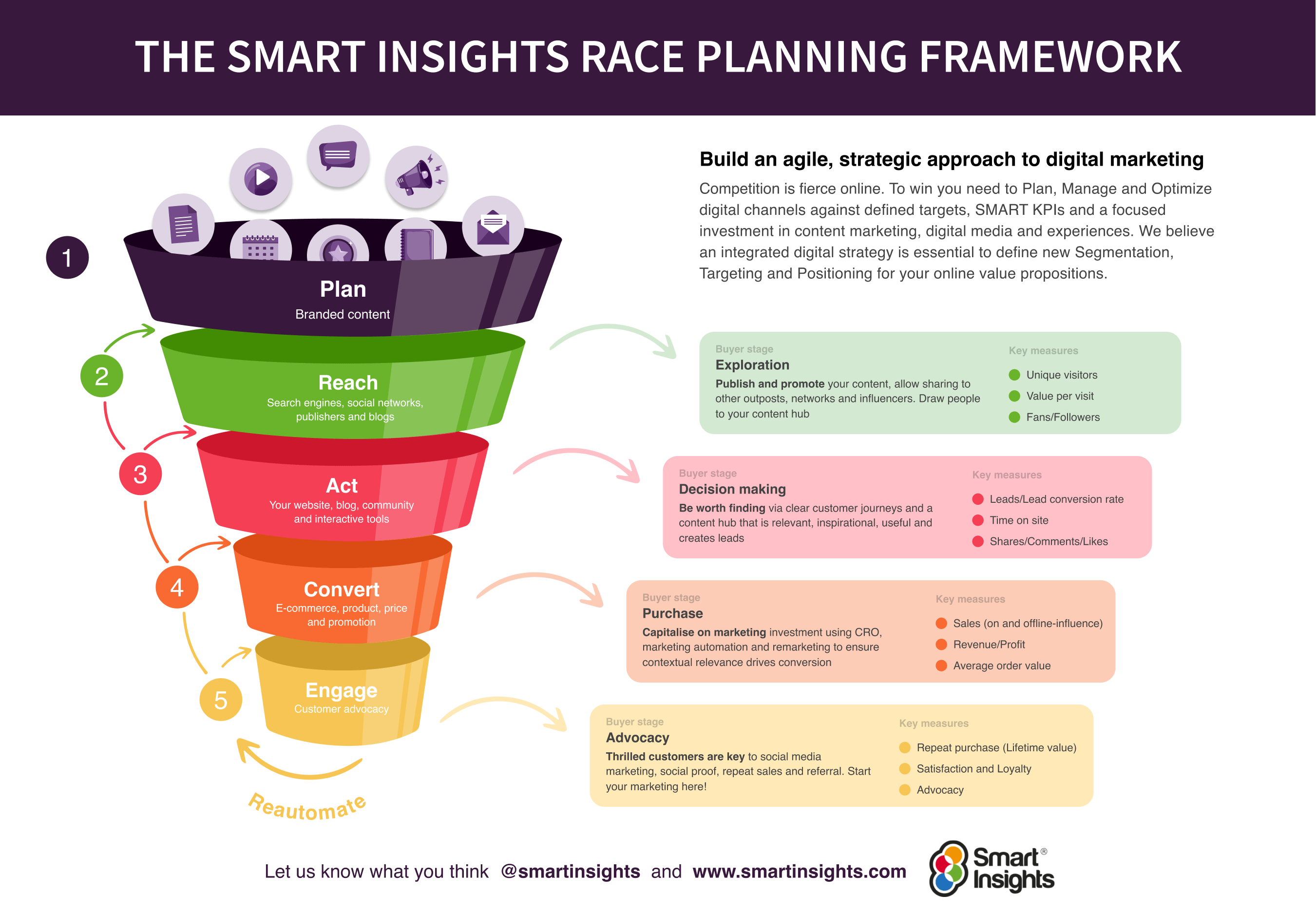 What to watch for
As with any new tactical document, the key to success here is ensuring that tactics align with the strategy they seek to support. That means that when strategies change, it's likely your marketing activities will change too! Keeping playbooks short and snappy, and encouraging a 'working' approach, with regular strategy check-ins, will ensure you don't lose team members to silos.
We've taken the hard work out of this with our marketing playbook checklists, since they are structured around RACE, so you can quickly identify which marketing activities are contributing to which parts of your marketing funnel, and how to optimize these. You can find out more about our RACE Growth System when you download our free guide.