It's not enough to create buyer personas and leave them getting dusty on the shelf. Find out how to apply customer personas to inform each stage of your marketing strategy
What are marketing personas?
Customer or buyer personas are fictional people who represent target customer segments. Personas are used by marketing teams to segment and target key demographic, psychographic, and behavioural traits of their target audiences.
The term 'user personas' is also commonly applied when analyzing particular online users' behaviours, such as website experience (CX, UX) or in response to marketing automation (e.g. email or mobile campaigns).

Why create customer personas?
By researching and creating customer personas, marketers, managers, and business owners can gain valuable insights into their buyers' preferences, motivations, pain points, and online behaviours.
Persona-based marketing techniques enable businesses to tailor their digital marketing campaigns and always-on marketing activities to resonate with specific customer segments and deliver personalized experiences.
You can find out more about building and using marketing personas to generate strategic benefits for your business with our Business Members' customer persona guide and template.

How to use buyer personas for a competitive advantage
Customer personas are not a new concept in marketing planning, or content. Many SEM (search engine marketing) analysis tools demonstrate a healthy level of interest in the topic, with thousands of monthly queries on keyphrases such as:
"What is a buyer persona?"

"How to build customer personas"

"User persona examples"
However, interest in buyer personas seems to cool off when we get to the stage of using personas to inform our marketing strategies.
For example, Google's Keyword Planner demonstrates how a particular audience generates just 20 monthly searches on 'how to use buyer personas' compared to 480+ on how to create them!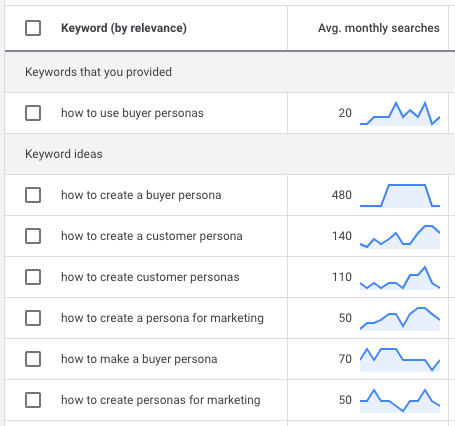 At Smart Insights, we are champions of our RACE Planning Framework, which gives you a structured approach to integrate your marketing strategy across your customers' experiences of your brand. 
A RACE marketing strategy starts at the top of your marketing funnel with strategic planning and targeted reach (TOFU), through to interaction and conversion with mid- and bottom-funnel activities (MOFU and BOFU), all of this underpinned by retention, loyalty, and advocacy (ROFU).
That's why we recommend tapping into a marketing funnel that enables you to utilize personas to a better effect across your customers' entire experience of your brand.
For a full rundown of our recommended persona targeting processes, including 5 differentiated analysis techniques, don't miss our customer persona and guide template.
When planning/improving your persona-focused marketing strategy, or trying to get buy-in for a more persona-centric approach, it can be useful to highlight the benefits you hope to see from this new way of working.
So, to help you start working in a more persona-focused way, here is a short introduction to the benefits of TOFU persona marketing and three TOFU strategies your business could benefit from.
Top of funnel persona marketing strategies
This is where the RACE Framework comes in. You can't truly measure the value of your TOFU activity if you don't have a bigger-picture view. Within the RACE funnel, we call this stage Reach.
Reach is a very active description of the primary goal of your TOFU marketing activity – because you are literally reaching your customers in this stage. 
Savvy marketers use buyer personas to help reach the right kinds of customers, such as:
Customers who are most likely to progress to the next stage of the funnel

Customers who are most likely to complete high-value purchases

Customers who are most likely to stay engaged as repeat purchasers/advocates
For the purposes of this blog, I am already presuming that you have created your marketing personas. If you haven't, there are many free persona-building tools out there. Just make sure you have identified the key characteristics of the customers you want to target.
Our in-house market research guide is a great source for Business Members looking to find out more about their customers.
Keep reading for three TOFU persona marketing strategies your business could benefit from.
1. Create killer content that solves problems
With personas in hand, we can develop targeted content that speaks directly to the needs and interests of different customer groups. Don't just think about what you want 'Adventure-Seeking Alice' to buy from you. Rather, what does she need to know about you that will help her understand the value you can add to her life?
What challenges does she face? 

What questions keep her up at night? 

What is the biggest barrier keeping her from becoming your customer and how can you help her overcome it?
Use these kinds of questions to unlock your persona's motivations – sometimes called 'pain points' – and then develop content that seeks to entice those customers by offering solutions.
This can include writing blog posts on long-tail topics of interest to your personas, creating problem-solution-focused social media content, or sharing topical explainer/teaser-based content on forums/platforms where your personas are most engaged. 
Crucially, you are developing this content on a granular level to reach the particular types of customers that you have identified. And by crafting compelling messaging and offering relevant solutions, your content will connect with your target persona on a much deeper level than 'one size fits all'.
Our Learning Path module 'Define Content Marketing Strategy' helps marketers plan, manage, and optimize their content marketing strategy. It includes advice on selecting and repurposing different formats for your content, as well as using tools such as our Content Optimization Matrix and Content Ideation Template (below).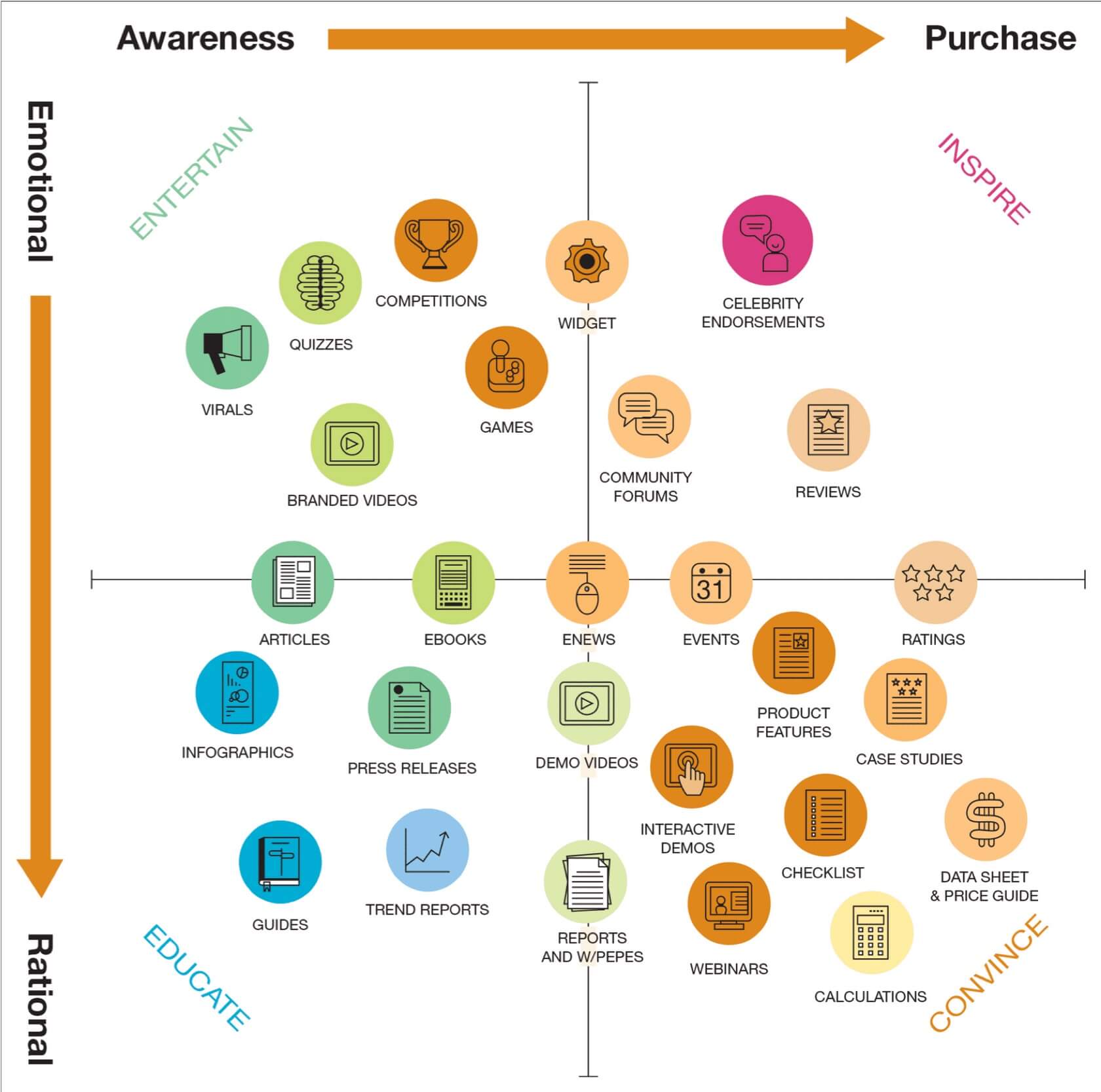 2. Hit the bullseye with tech for tactical testing and targeting
Tactical targeting means effective and efficient distribution of your persona-focused content to the intended audience. Done right, this can save marketing teams single or double figures on their media budgets, and accelerate ROI.
Marketing technology for customer targeting is consistently becoming more and more advanced. So if you haven't reviewed your targeting in the last 12 months, chances are you are missing out on the latest opportunities. For example, developments in AI and machine learning are constantly improving reach-boosting techniques like customer lookalike targeting, automatic personalization, and testing.
Of course, the quickest way you can start implementing personas at this granular level is to test how different groups of buyers respond to different approaches.
Today, marketers can automate the testing of various elements such as ad creatives, messaging, timing, and more. AI and machine learning enable us to generate quick insights from vast amounts of data in real time, and make data-driven decisions and quickly identify the most effective strategies. So we can reel in more of our key personas, quicker.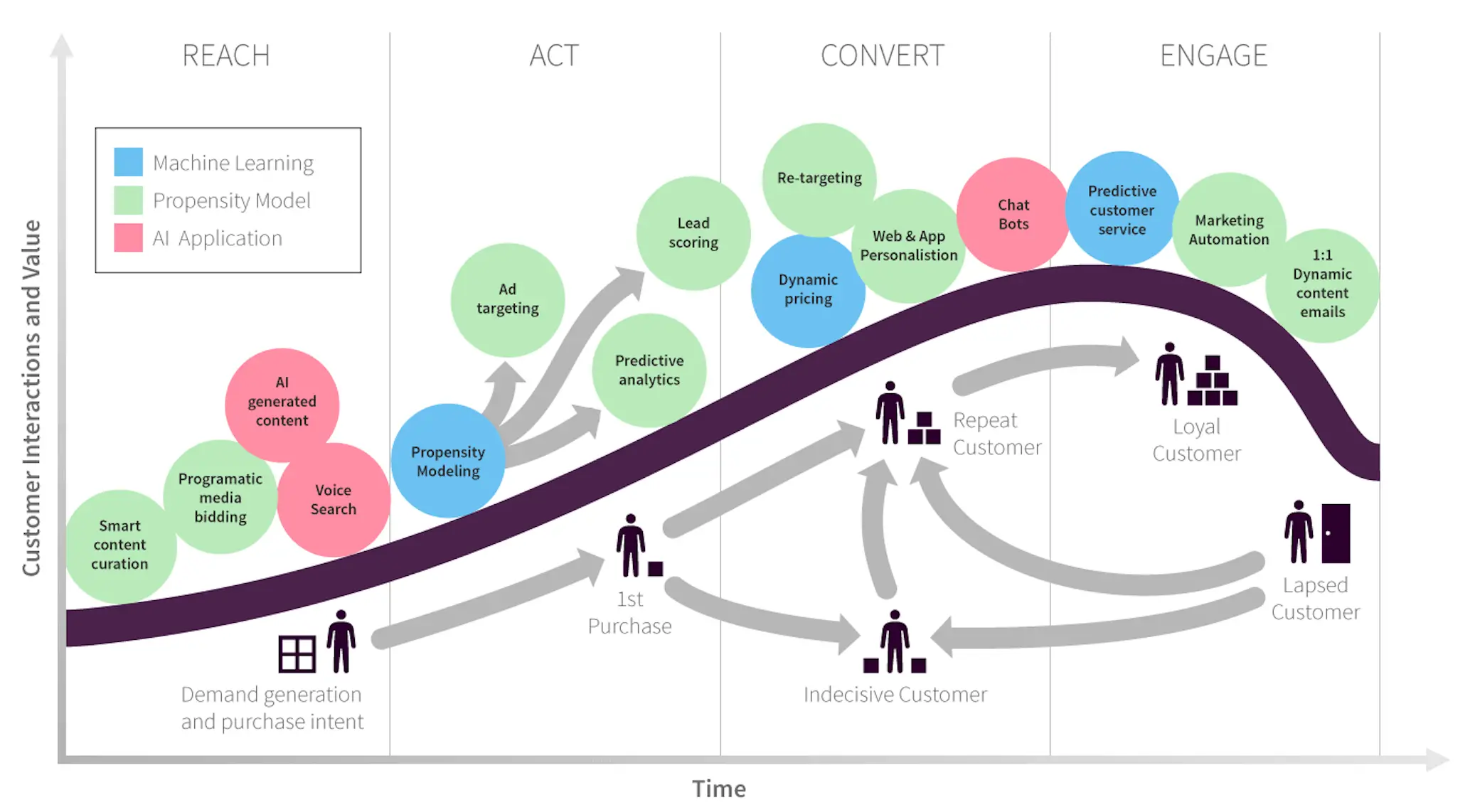 As you can see, marketing technology has the potential to optimize all stages of a customer-focused marketing strategy. So, if you are using data to attract buyers at the beginning of the funnel, why not consider implementing additional tools to ensure they benefit from a personalized conversion and engagement experience too?
Our Marketing technology selection guide provides Business Pro Members with a comprehensive structure for reviewing marketing technology over 30 different categories of types of tools. You can find our recommended 5 tools for each category and recommendations on how to implement them across your marketing funnel alongside tools for auditing your current MarTech to identify existing gaps.
3. It's not just about what you know
Forming strategic alliances means leveraging the 'Who You Know' factor for reaching key audiences with partnership marketing.
Working with partners, be that other large brands, or individuals such as influencers, allows you to unlock new ways of raising awareness of your product/service with your target buyers, through a medium they trust. The key to making this activity successful is identifying partners whose audiences align with your marketing personas.
At this point, it can be helpful to dig deep and consider your brand's values and ethos, and how it aligns with those of the personas you are targeting. Any partnerships you associate with need to match this. A poorly thought-out partnership could do more harm than good, so due diligence is needed here!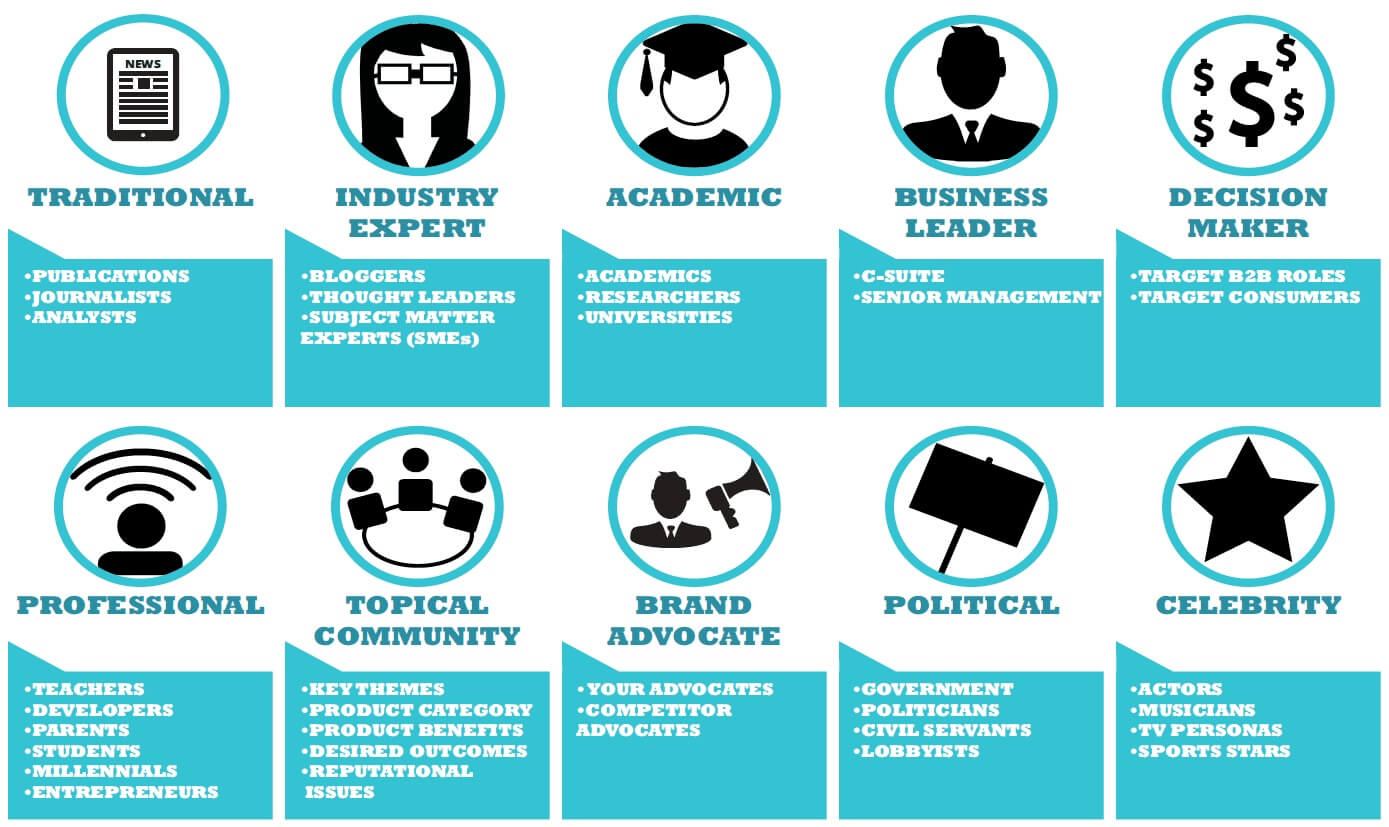 Our Learning Path module 'influencer marketing' helps marketers combine earned and owned media techniques and work with influencers to elevate their marketing strategy.
Implementing marketing personas across the RACE funnel
Structuring your always-on and campaign-based marketing strategies across our 5-step system of Plan – Reach – Act – Convert – Engage, means that when you apply these 3 TOFU techniques, or others, you can readily track your customers' behaviours and optimize their onward journeys.
For example, once a key persona has clicked through onto your website, you'll want to ensure their digital experience meets their expectations. Techniques such as landing pages, personalized website content, and online customer service/chat can help tap into different personas' wants and needs here.
Similarly, you'll find some user groups respond well to particular email or social content types. So, continuing to nurture your customers after their first interaction is crucial for continued relationship-building or sales activation. By this stage, you will know more about what makes them tick from previous behaviour, so using this information to cultivate persona-focused campaigns is a no-brainer.
Techniques such as customer journey mapping can help marketers identify opportunities across persona types for conversion, repeat purchases, and cross-selling.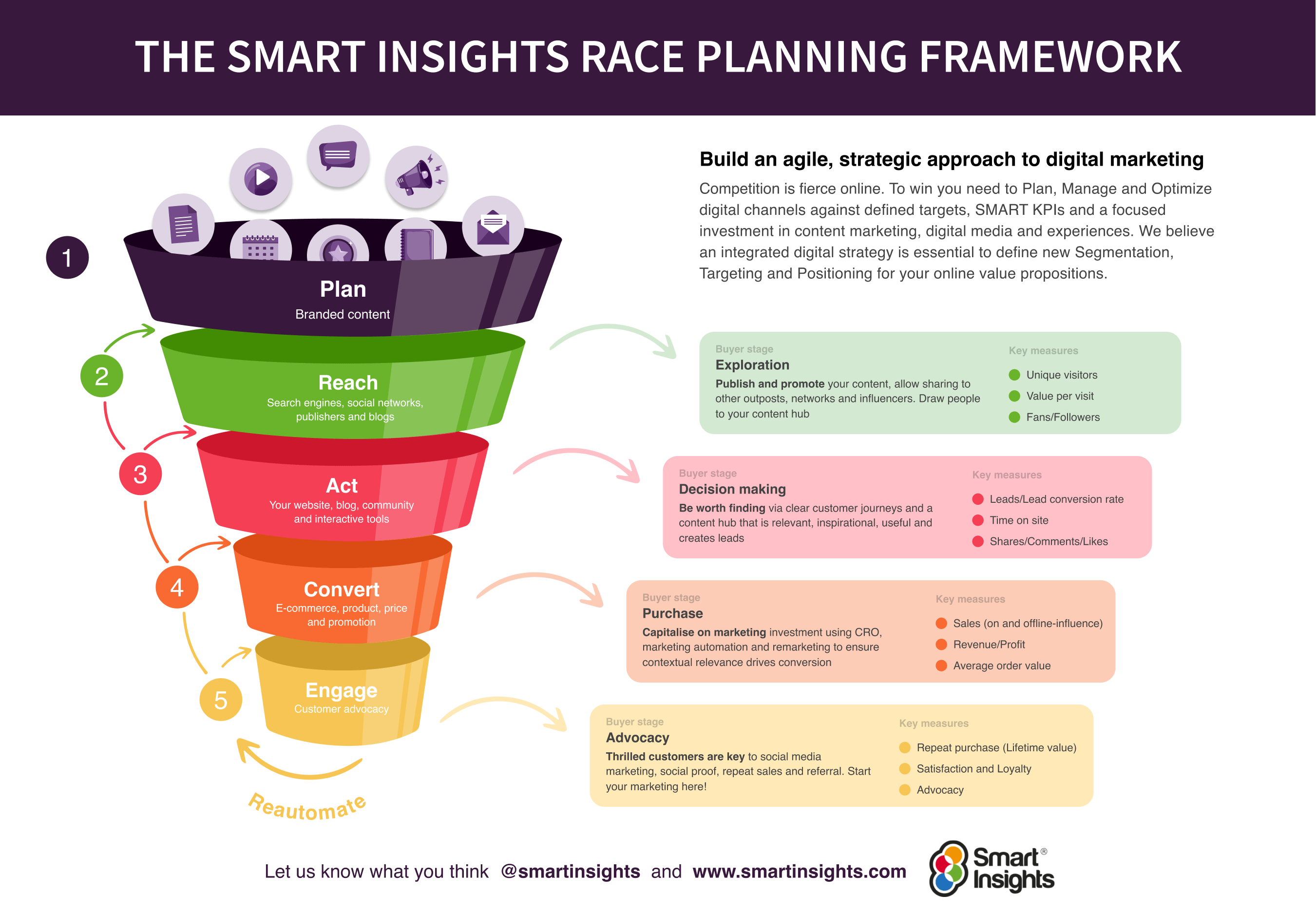 Do personas work in marketing?
Personas are a valuable tool for defining your target customers and optimizing your marketing strategy to reach these people. Furthermore, a fully-worked RACE marketing strategy will include persona-focused messaging and techniques at each stage of the funnel, from reach to interaction, conversion and long-lasting engagement. That's why Business Members are already using our Customer persona guide and template to create and use marketing personas to elevate their business' approach to marketing.
If you haven't already, why not take your first steps to integrating your digital marketing strategy today using our free RACE Growth System?