What do marketers need to know and do?
Exciting times for marketers who enjoy following how digital platforms evolve… It feels like 2008, as I said in my first post on Threads…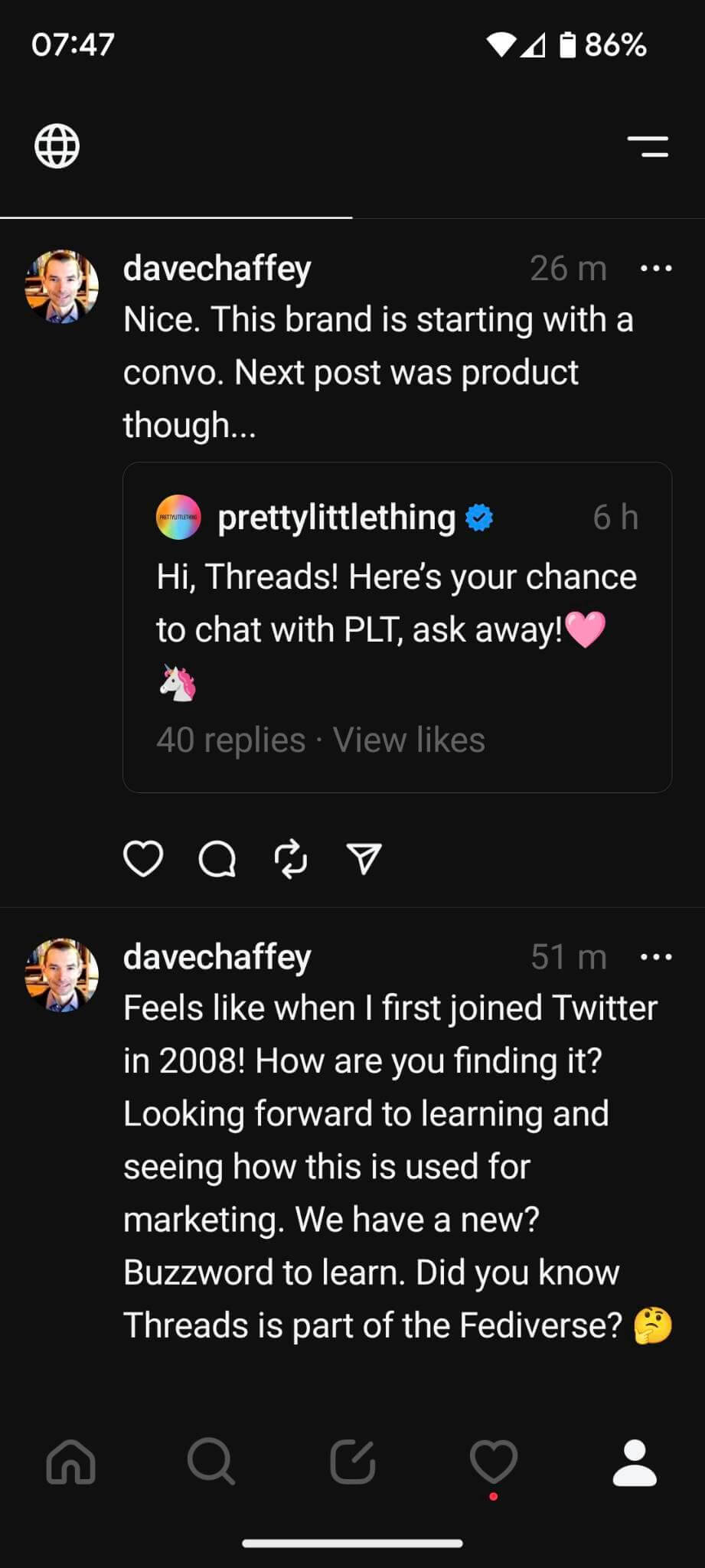 Since I'll be talking about it, amongst other trends, at a Digital marketing conference in Cambridge next week, I thought, I'd better understand it, so I can predict how important it will be compared to other social networks. So I was on the invite list and this post gives my impressions and recommendations.
Ten things you need to know about Instagram Threads
1. Threads is part of Instagram, so it's easy to set up an account from your Instagram page and import the bio and links. So brand protection is less of an issue than with o other Networks. I suggest every business does this as soon as possible to capitalise in the initial interest and transfer some of your follower over.
2. Some early adopter brands are already on Threads. Brands that have planned ahead and are being creative that I've spotted include Netflix, PrettylittleThing and Salomon.
3. Unlike Insta you can post links although judging from the first posts it is visual, feeling like a cross between Twitter and Instagram.
4. We have Reposts and Quoted Reposts like Twitter and more liked LinkedIn. This supports reshaping and was one of the limitations of LinkedIn. I only used Instagram for personal use since the lack of links and reposts made it too hard for business use, so I've favoured LinkedIn for the last 10 years and based on my first look this is likely to stay the same, but this could change…
5. Threads is integrated with Instagram with a prominent logo at the top making it easy to switch. Not clear whether you can share from Insta or Facebook as you can between those two.
6. Searching and Filtering of the feed look limited so far. To start with you see the most popular / relevant posts in the feed based on Algo, then it prioritizes who you follow.
7. DYK that Threads is part of the Fediverse? Which is part of the trend to more open social networks. Meta explain:
Our plan is to make Threads part of the fediverse – a social network of different servers operated by third parties that are connected and can communicate with each other. Each server on the fediverse operates on its own but can talk to other servers on the fediverse that run on the same protocol. We plan for Threads to use a protocol called ActivityPub to talk to other servers that support this protocol.
8. There are no Ads, yet… we can expect them to be easy to place via Meta.
9. DYK that Threads isn't new, it was previously part of Instagram. I think it's a great brand name and a smart move by Meta to relaunch with many looking for a brand they can trust…
10. You can learn more from the Threads help page.
More to follow, as we learn, do share how you find it on LinkedIn and on Threads. I'm at https://www.threads.net/@davechaffey.