Maximizing the potential of AI in email marketing with our human expertise
Picking a path through the ever-growing AI maze in email marketing is a challenge for today's digital marketers. While AI tools offer efficiency and support, relying solely on them risks producing mediocre results. In this blog I delve into the fascinating intersection of AI and email marketing, emphasizing the crucial role of human expertise in crafting engaging campaigns. 
AI really helps, but your strategic thinking and long-term subscriber care remain vital to achieving email success. Let's unlock the true potential of AI while maintaining the art and personal touch of effective email marketing.
How to use AI for marketing?
There is no doubt that using AI for email marketing will make the task more efficient. However, for all the same reasons that sending great emails is not easy, simply copying and pasting outputs is not the path to inspiring (and so successful) content.
In this article, we'll look at some of the tools available to you across the planning, creation and optimization of emails. As well as how the skill and experience of marketers will remain the primary factor in how well your campaigns perform. AI will not replace the need for expertise. AI will provide us more time to create emails that better engage and connect – real person to real person.
Picking your path through the AI maze
For anyone in the digital space, its almost impossible to avoid AI related content at the moment. It is perhaps worth remembering that we do live in a professional marketing bubble. A UK study in June 2023 found that only 5% of adults reported using AI a lot, 45% a little, and 50% not at all.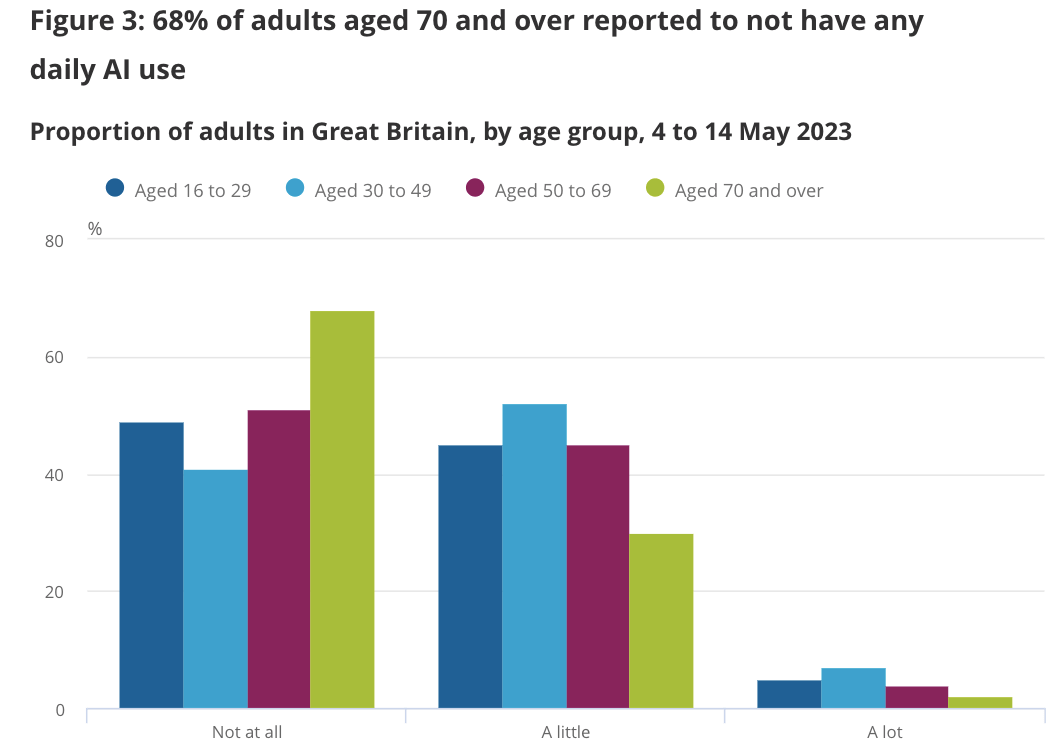 And as with any 'trend,' working out what is of value and what's hype is an art in itself. What does concern me as someone who is passionate about customer centric marketing, is the raft of 'advice' and messages stating, 'use this platform and copy and paste to create all your emails in seconds.'
AI like any technology provides a function, a way of delivering a task. How that task is defined, the objective setting or 'prompts' are a vital component to ensuring quality. Each of these is defined by us humans asking the task question of the machine. As strategy is to tactics – get the task instruction wrong and the rest of the output is most likely to be mediocre at best.
Yes, embrace AI and the support it can offer you. Explore how it can help deliver your daily tasks. Use it to inspire new ways of working or idea generation. But add in 'you.' The art to the science. The inspiration and the core focus to create reader value. The desire to produce great, relevant, inspiring, and entertaining content.
AI tools to help your marketing emails
AI can help with several tasks for email marketing:
Sequencing and planning
Content creation
Segmentation, Automation and Personalisation
Send time optimisation
Reporting insights and testing
Below is a list of some of the AI solutions available today, created by Twist Consultancy. Typically, these solutions are either available as standalone functions like ChatGPT & Grammarly or integrated into Martech platforms like CleverTap.
As with any technology function, ease of adoption across your existing Martech are key considerations. However, with the increasing use of API interfaces, integration efficiency can be incorporated into the email creation process.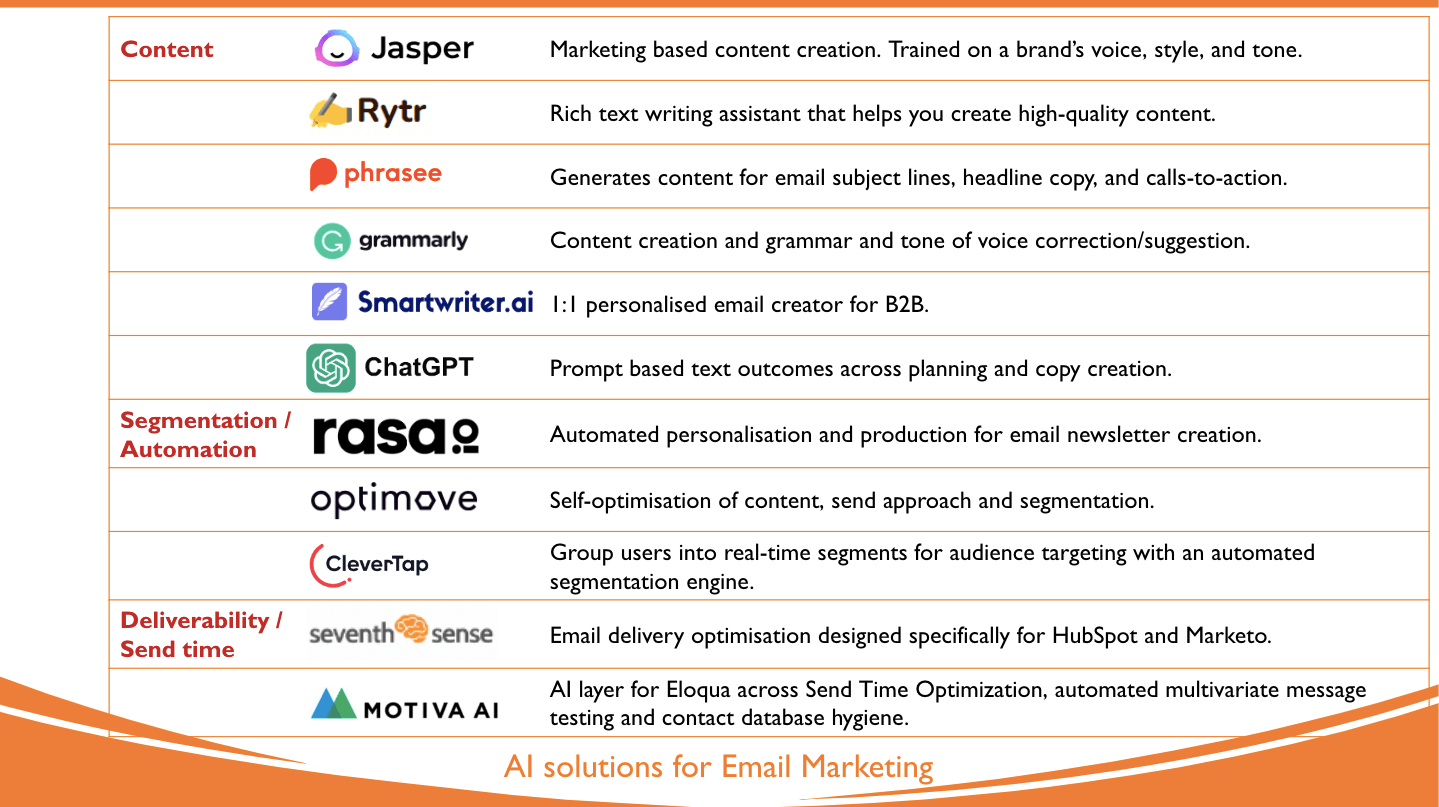 An ever-increasing number of email platforms now also have a range of AI-supported product features, from Subject Line writers to segmentation to send time optimization.
Depending on how you are using AI some tasks are more creative than others. Using ChatGPT or Grammarly to create your copy requires input from both the initial prompts as well as a review of copy outputs across content, tone, and style.
Whereas send time optimization is a far more transaction-based requirement and so potentially requires less human intervention.
Human and AI marketing in partnership
Will AI take over from us human marketers? Let's break down the process of planning to highlight that AI alone runs the risk of only creating mediocre outputs without our expert input.
Scenario: we have been tasked to create a new webinar promotion campaign. If we believe the hype then I can simply turn to ChatGPT and ask it to create this campaign and its content, copy and paste this into my email generation platform, and job done.
We might use a prompt like this:
"Act as an expert email marketing manager for a B2B business. You have been tasked with creating a new email campaign to promote an upcoming webinar on the benefits of using AI to create email marketing. Create a sequence of emails to promote this, the subject line and pre-header and content for each."
Note the prompt approach of asking ChatGPT to 'act as.' This is a key component for getting better results from OpenAI requests. It helps the model create context and approach to the task. How we frame and request the task is a skill in its own right.
Knowing what to ask of AI and how to ask this should not be underestimated in this process. Defining and clearly articulating a problem and the resulting task is a very human skill.
As expected, the output from ChatGPT is good enough to use as provided. It suggests three emails in the sequence:
Subject Line: Join Our Exclusive Webinar: Unlock the Power of AI in Email Marketing
Subject Line: Last Chance to Register: Learn How AI Transforms Email Marketing
Subject Line: Webinar Reminder: Tomorrow is the Day to Discover AI-powered Email Marketing
Each of the emails provided follow a structure of intro > bullet benefits > summary > CTA
Example AI-generated email
Here's the suggested output for the first email in the sequence…
Email 1:
Subject Line: Join Our Exclusive Webinar: Unlock the Power of AI in Email Marketing
Pre-header: Discover the future of email marketing with AI-driven strategies and gain a competitive edge.
Content:
Dear [Recipient's Name],
Are you ready to revolutionize your email marketing campaigns? We invite you to join our exclusive webinar on "Unlocking the Power of AI in Email Marketing" where industry experts will share valuable insights and practical strategies to leverage AI for unparalleled marketing success.
In this webinar, you will learn:
How AI can optimize email personalization and boost engagement
Proven techniques to improve email open rates and click-through rates
Advanced segmentation strategies for hyper-targeted campaigns
Leveraging AI for A/B testing and data-driven decision making
And much more!
Don't miss this opportunity to stay ahead of the curve in the rapidly evolving world of email marketing. Join us on [Webinar Date and Time] and gain the knowledge you need to supercharge your campaigns with AI.
Register now to secure your spot! [CTA: Register Now]
We look forward to having you join us for this informative session.
Best regards,
[Your Name]
[Your Title]
[Company Name]
For a time-pushed marketer, this might appear a perfect suggestion. Copy, paste and send out.
BUT let's take a step back now and review as email experts…
As an invite sequence this will work, but how do we nurture our registered audience?

Who should we send this invite to – everyone or a more targeted group of our subscribers?

Does the content of this email mirror and match the content of the webinar?

The subject lines are informative, but could they be more benefit-driven or attention-grabbing?

Can we make the CTA wording stronger and more compelling to maximize clicks?

Are we able to further personalize content – perhaps using industry sector?

Are we making this a copy only email or using images or graphics to visually lift the content?

How many weeks pre-event should we send and what's the time sequencing after this?

Can we create elements to A/B test to help future performance optimization?
Using AI in marketing save time? Consider the advantages and the risks.
Many marketing teams are resource-light and task-heavy. Juggling multiple projects and channels. So understandably, the temptation is to take the shortest route to completing a task. And AI is providing this option, reducing the thinking and delivery time.
However, this short-term advantage could have a longer-term detriment to your marketing performance. Consumer research from the DMA clearly shows that the success of your next email send is based on brand recognition. In part, then, from the value and engagement from past email sends. This makes your email strategy (the longer-term care of your email subscribers) a key element to future success.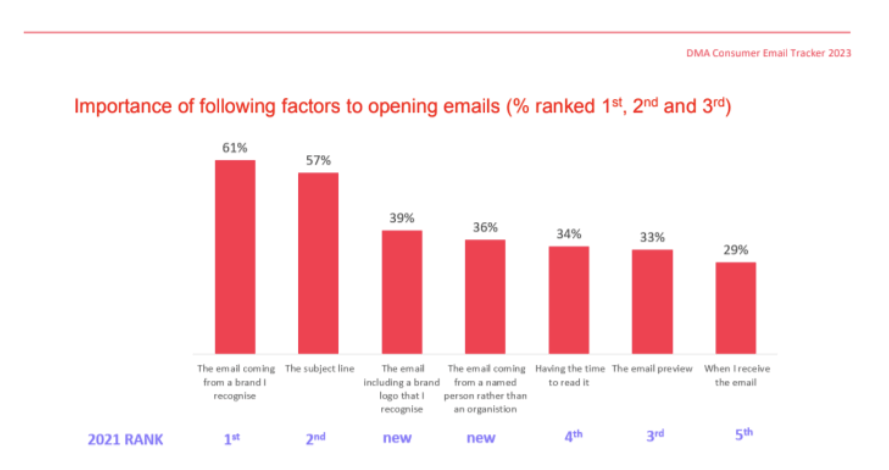 Appreciating the long-term impact on the quality of your emails over time should motivate us to increase our focus on what we send. Use AI to support this effort rather than create the shortcut.
This is where AI can really help us. By saving time in the initial draft and planning, we can then spend more time than we currently have to review and improve our email approach, content, and design elements. Use AI as the starting point and our skills as creative and critical thinkers to develop and improve these initial drafts into emails that captivate and engage. Succeeding through their true consideration of the readers' needs, wants and emotions.
Humans are at the heart of email marketing
Email is a channel that allows relationships to be created between brand and consumer. Allowing a brand to demonstrate that it knows and values its customers. However, the inbox is a fierce battleground both against brand competitors and simply for attention across other senders.
Taking the time to create long-term engagement through exciting, creative, entertaining, and inspiring approaches should be the goal. This will translate to more profitable customers. It's this human element of the equation that will differentiate you and create successful subscriber relationships.