E-commerce 2023: The latest data and forecasts for all things online retail growth

It's interesting to look back at e-commerce growth over the last few years and think forward to the future of this industry. As demonstrated by these charts from Statistica, the annual revenues of the US e-commerce industry shot up in 2020 and 2021.
What's more, despite recent growth slowing slightly, Statistica Market Insights estimates strong continued growth in this area in 2023 and beyond.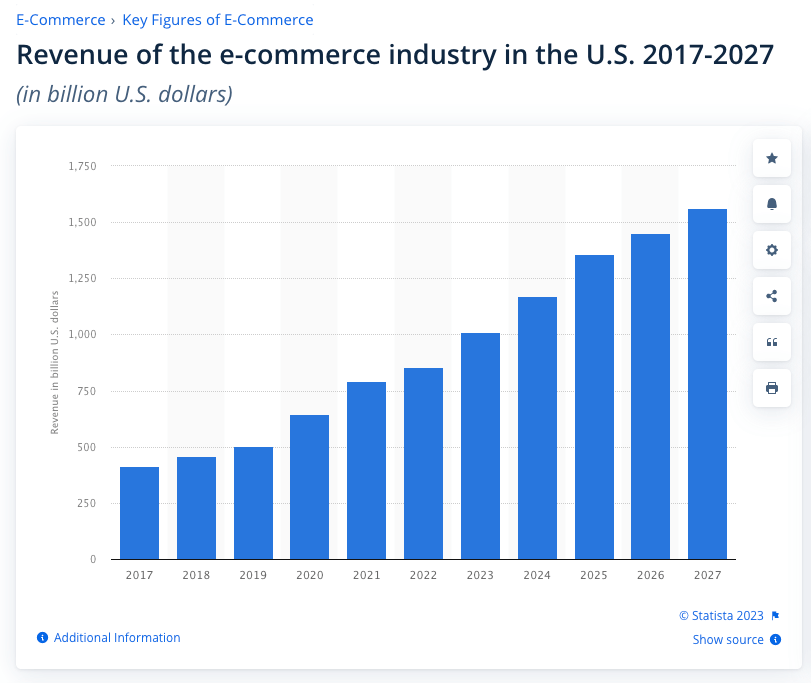 The reasons for this are two-fold – the rise of revenue from total retail sales, both in the US and worldwide, and also stark growth in the % of the total retail sales being e-commerce.
This constitutes a much larger share than previously to the pandemic, showing that some of the rapid changes to buyer behavior have remained, and we expect to see that continue.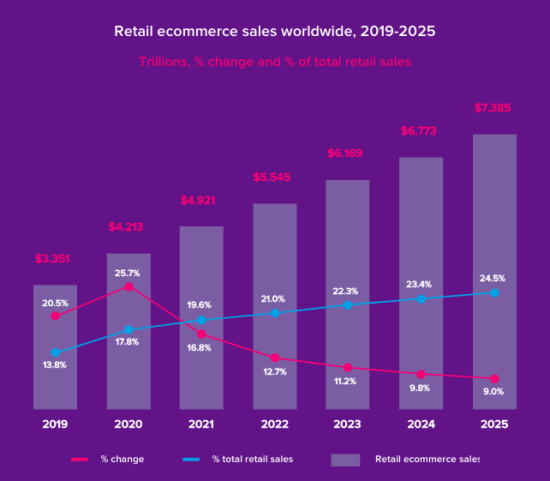 Equally, we have watched the overall percentage of e-commerce retail sales in the UK rising to over a third of all retail in the UK in November 2020 and January 2021. It has since decreased slightly, as of December 2022, amounting to just over a quarter.
Notably, in both November 2021 and 2022 we did see high e-commerce sales, which suggests that user shopping behavior is very much tied into seasonality, such as Black Friday.
Looking to grow your e-commerce business? We've got practical marketing strategy and planning solutions for online retailers just like you. Our step-by-step marketing tools are proven to generate growth, so you can take advantage of the huge growth potential in e-commerce today. Find out more.

Worldwide E-commerce country breakdown 2023
The chart below from Oberlo's 2023 e-commerce breakdown by country predicts a global e-commerce sales growth of 8.9%. Using analysis by eMarketer, the report predicts the highest growth in the Philipines, India and Indonesia (all growing over 20% YOY).
However, due to scale, US and China will account for more than 70% of total e-commerce sales.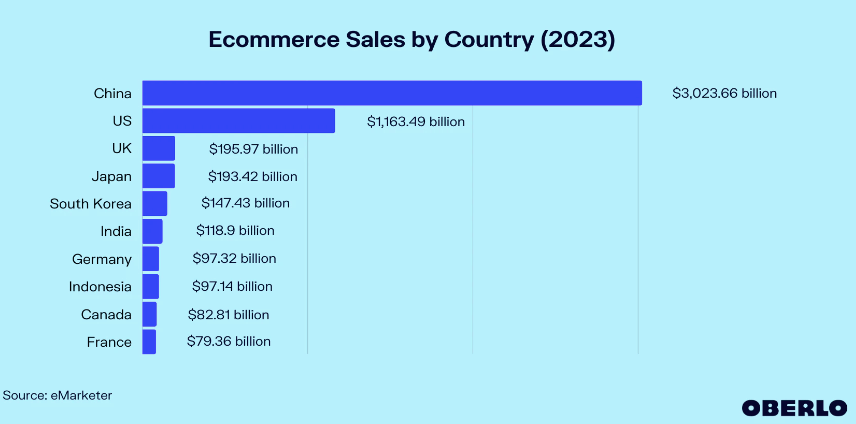 E-commerce sector growth: Which sectors have the largest share of total sales?
As we can see in the chart which depicts the state of play for UK online retail sectors in early 2023, non-store retailers constituted a large section of e-commerce sales with 50% of the total sales accounted.
On the other hand, department stores made up only 7% of sales. And while textile , clothing and footwear categories saw YOY growth of 4%, household goods were down 7% in Feb 2023.

What can we learn from this as marketers? There are certainly great opportunities in e-commerce right now. If you are able to claim market share for your products in 2023, in a growing market, and you can maintain that share, you are setting yourself up for sustainable growth in years to come!
To find out more about how you can enable this in your business, download our RACE Growth System today.