From executive presentations to digital channel spreadsheets, we've got examples of digital marketing plans for early startups through to multinational enterprises
Whether you're starting from scratch, or improving your existing plans, examples of digital marketing plans help marketers see the how, not just the why, of structuring their approach to digital marketing. Because of this, we have always included examples with our templates, regardless of the type of plan.
Sharing examples can also be useful for onboarding your team in the marketing planning process, or getting marketing strategy buy-in from senior management.
In this blog, I'll share examples of different types of marketing plans to help you decide how to scope and structure your own plan.
Marketing plans – the hardest part is knowing where to start
We regularly receive feedback from our members that step-by-step templates and guided examples are useful resources for marketing planning.
For example, our Free Member digital marketing plan template has been downloaded over half a million times. Our digital marketing plan example for Business Members is often cited as the reason why they joined us, or why they stayed.
All our plans have something in common…
At Smart Insights, we recommend taking an integrated approach to digital marketing planning, combining SEO, email, social and digital media, email, online and offline comms, and user experience. As such, all our marketing plan types are structured across our omnichannel RACE Growth System, which I'll outline below. Or, to get started right now, you can download the guide via the link below.
Why are digital marketing plan examples so popular?
The majority of marketers, managers, and business owners we work with are busy people. Nobody wants to waste time crafting digital marketing plans that don't work. Having the context provided by an example can help set you on the right track before you put in the hard work.
Sometimes, it can be difficult to articulate to others why you need a digital marketing strategy. But it's important to be able to do this so you can get buy-in from senior management, and the rest of your team. Don't miss these 10 reasons why you need a digital marketing strategy.
If you're looking for examples to help you structure your new plan, you're not alone. A quick look on Google Trends shows that interest in digital marketing plans has increased steadily in the last 10 years. In fact, when scoring interest over time, 'digital marketing plans' reached highs of 98-100 during February 2022, April 2022, and December 2022 in the US.
Increased interest in digital marketing plans in the last 10 years

By comparison, interest in marketing plans seems to be declining. Of course, there will always be interest in marketing concepts, but the rise in digital searches highlights that we, as marketers, are looking beyond the 'one size fits all' approach to marketing planning. That's where Smart Insights comes in!
Decreased interest in marketing plans in the last 10 years

How to choose the best digital marketing plan for your business right now
We support marketers to build a marketing plan that works for them. Our best-practice library ranges from simple, growth-focused planning solutions for founders or owners of small businesses, to resources for digital transformation in large organizations, skills training for teams, and industry reports. The good news is, with Smart Insights, you can start seeing results within just 90 days.
Build a 3-step OSA digital marketing plan
Are you looking for a very basic structure from which to start building a scalable digital marketing plan?
Are you approaching planning with only a very limited time to pull together any kind of digital plan right now?
Are you brand new to the planning process and unsure of what your first step should be?
If you answered yes to any of these questions we recommend our OSA process as your first step. This simple 3-step structure helps you identify opportunities, strategies, and actions for your digital marketing activities, in just 90 days. Find out more below.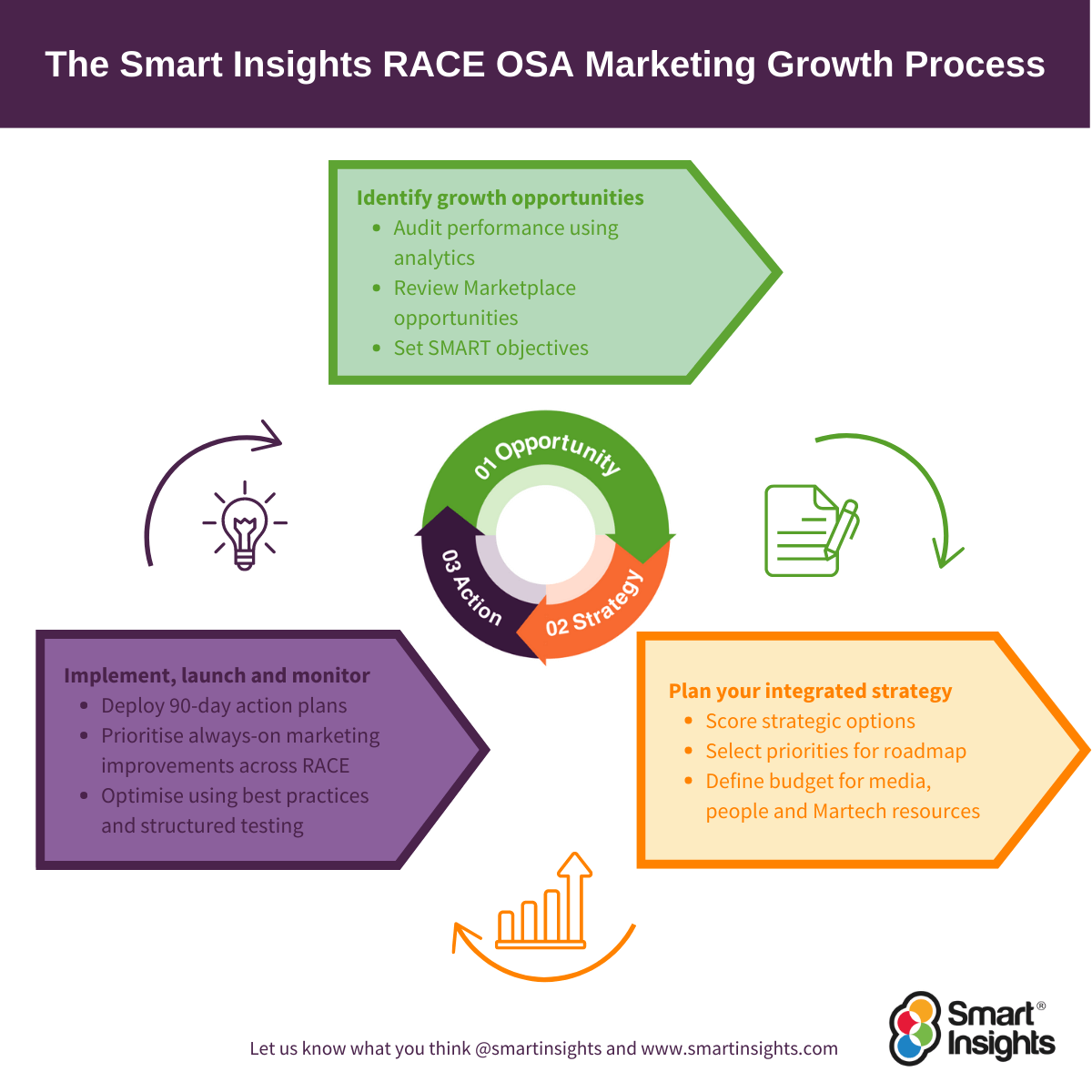 Example basic digital marketing plans for three industry sectors
Here are some examples of plans for small businesses which use our Opportunity > Strategy > Action process for structuring a plan which is part of the RACE Growth system. I've created 3 fictitious companies with situations that would benefit from an OSA plan. I've also listed some resources that would help them achieve that plan.
I've chosen to compare digital marketing plan examples for FMCG, Financial Services, and High Tech. These 3 industries, naturally, have very different brand values, customer journeys, and lead times. They span both B2B and B2C marketing. In all instances, an example SMART objective can easily be broken down into example opportunities, strategies, and actions.
FMCG digital marketing plan example
Meat No More: Vegan FMCG, US
Example SMART objective: Achieve 10% more traffic onto focus landing pages within 3 months.
Example opportunity: The US vegan food market is predicted to grow 10% between 2022 and 2030. However, new competitors are entering the market every week, and the business is starting to lose digital share of voice to more digitally savvy brands. There is no set vision for how and where the brand needs to increase reach. Despite this, Meat No More is still appearing in some longer-tail SERPS, but there is no planned approach to manage this. SEO skills in the team are lacking. There is limited budget to boost traffic with paid media strategies, but confidence is low.
> Resource: Brand audit and marketplace analysis template
Example strategy: Compete to win/retain high intent web traffic. Marketing lead to complete a paid/owned/earned media review and identify priorities for the team. A media budget would be needed for any paid work. Plan workload for content/SEO/social initiatives, in-house or agency-based. Learning Path deployment for upskilling.
> Resource: Select media investments
Example action: Set up GA dashboards to monitor sources of website traffic across focus landing pages and track improvements.
> Resource: RACE digital marketing dashboard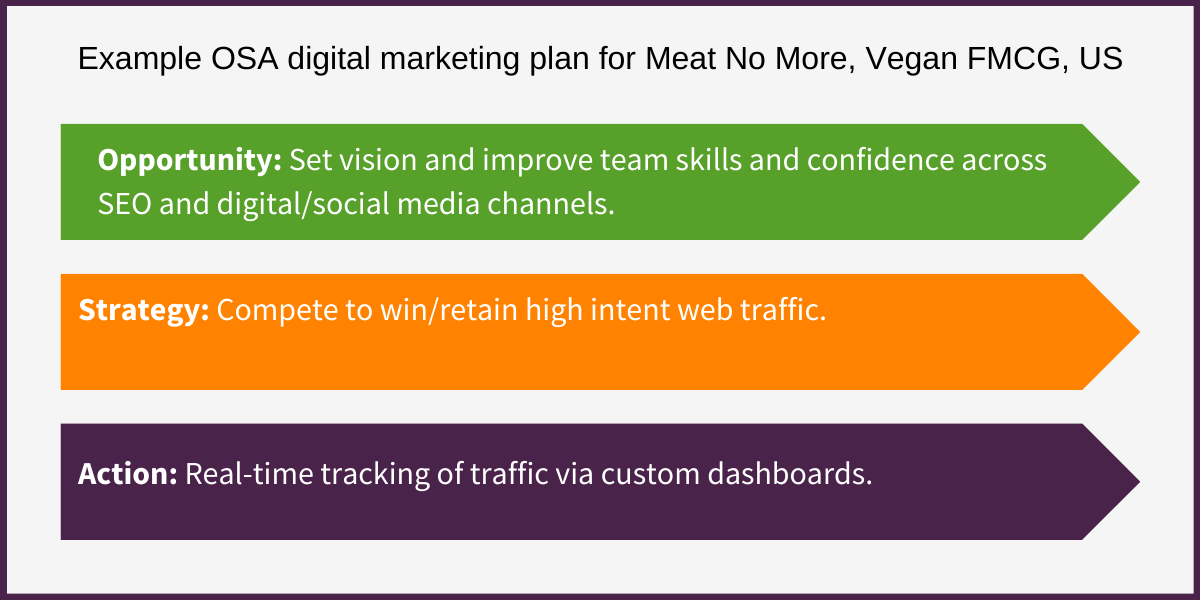 Financial Services digital marketing plan example
Welsh & Sons Financial Advisors: Financial Services, B2C, UK
Example SMART objective: Achieve a 5% increase in returning customers applying for home improvements loans
Example opportunity: Increased interest rates mean more homeowners who were considering buying a bigger house are now reconsidering their options. Mortgage conversions are down, but, there's been a small spike in returning customers enquiring about home improvements. However, this is quite tough to measure as there is no set system for tracking customer LTV. Current customer engagement is restricted to one-off email sends only. Typically, the mailing list has very low engagement. Customer segmentation is based on an old formula from years ago, despite newer techniques now available, there are no plans for improvement.
Resource: PESTLE analysis template
Example strategy: Create/optimize customer engagement strategy. Consider options for customer research, segmentation, and UX-based marketing technology. Marketing lead to complete comms audit for both automated 'always-on' comms and previous engagement campaigns. New omnichannel campaign plan for customer engagement to be created. Learning Path deployment for upskilling.
Resource: Customer journey mapping template
Example action: Targeted project to improve key customer communications using practical templates and training, such as bite-sized Quick Wins.
Resource: How to improve your email newsletter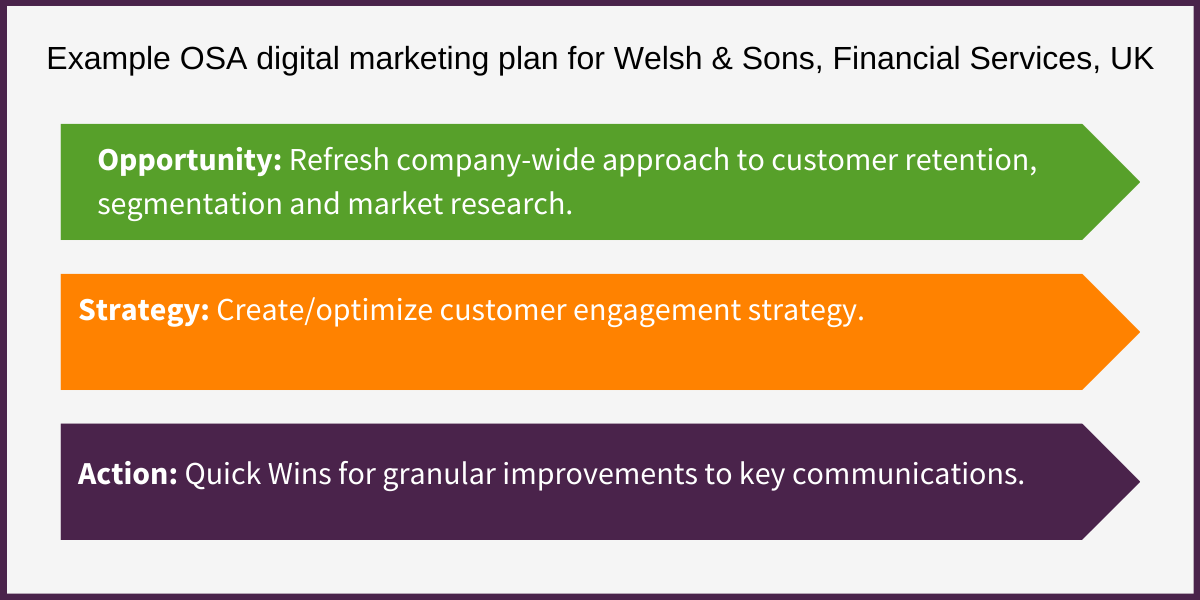 High Tech digital marketing plan example
Influxencer: SAAS influencer management tool, B2B, Worldwide
Example SMART objective: Increase new business accounts AOV by 10%
Example opportunity: Businesses are growing increasingly conscious of the dangers of working with the wrong type of influencer to promote their brand. Influxencer has a good number of clients and success stories, however, to support continued growth, it needs to start attracting bigger brands that have a higher price point. Currently, the brand's value proposition is not clearly communicated across the customer lifecycle. The team still lacks clarity over how to position the brand to bigger clients when they do get their attention.
Resource: Brand positioning template
Example strategy: Plan a new campaign that communicates key brand messages to target audiences. Research PR opportunities. Current content audit and new content commissioning if needs be. Review contribution of paid/owned/earned media. Learning Path deployment for upskilling.
Resource: Selected modules from our Campaign Planning Learning Path
Example action: Create or optimize editorial calendar to plan new and/or updated supporting content.
Resource: Editorial calendar spreadsheet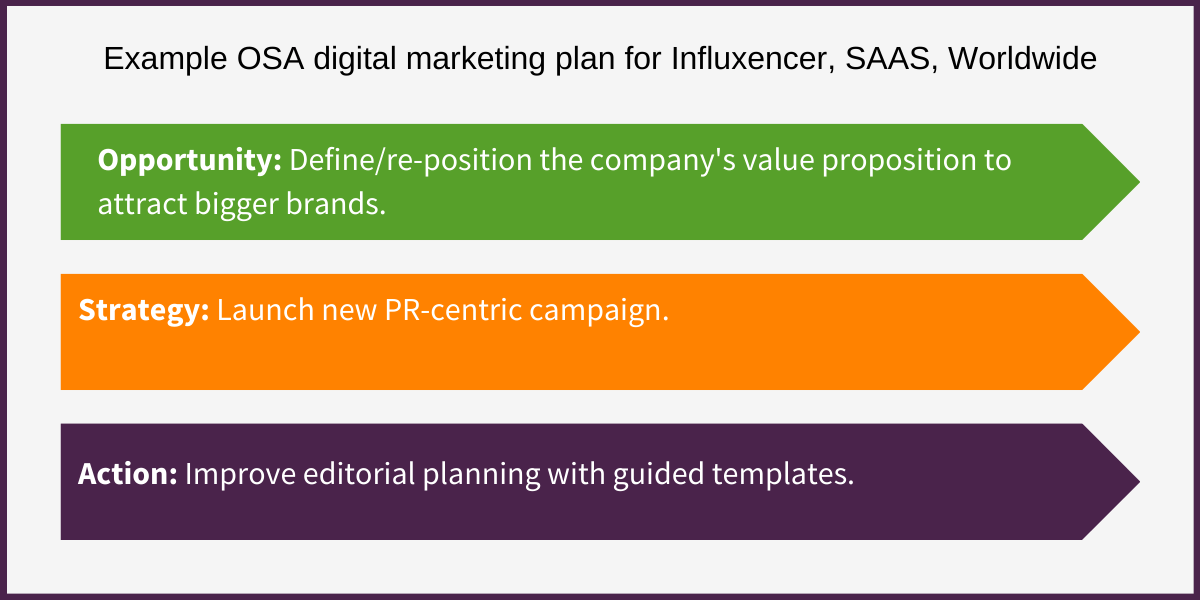 I deliberately chose 3 contrasting businesses, so that the example plans would be very different. Including two B2C digital marketing plans and one B2B digital marketing plan. But as you can see, in all 3 instances OSA provides clear, actionable, next steps for these businesses. If you are at a stage where OSA can help you structure your plans, why not download our free 90-day plan template?
If you're brand new to marketing planning, you may not be used to setting SMART objectives. We have solutions to help with this too.
How to align your digital plans with your business goals
At Smart Insights, we recommend using our RACE Framework to make sure you have the oversight you need to align your objectives with your business goals. It's no good just plucking SMART objectives out of thin air if they don't support the wider needs of the business.
Particularly in larger businesses, savvy marketers know that demonstrating how your strategy contributes to the success of your business is a key part of communicating your marketing plan.
How to use RACE to structure your digital marketing plan
A common worry we come across when talking about digital marketing planning is the fear of accidentally 'forgetting about' or leaving out potential opportunities for digital marketing. This is a very valid concern, given the vast number of digital media and platform options out there.
That's where our RACE Framework comes in – structured across Reach, Act, Convert, and Engage. Your RACE marketing plan starts with the first discovery of your brand by customers – how they 'reach' you, and continues across the customer journey, through to their first purchase, and then continuing to become a loyal fan and advocate.
Without a strategic approach, crucial touchpoints can get missed out…
Case in point, here is an example of a typical customer lifecycle for a marketer's business before implementing RACE analysis. This reflects the kind of activities that we see running as 'always on' marketing for small businesses before they implement RACE. They have often grown 'organically', based on uninformed opinions of 'what marketing should we do?'.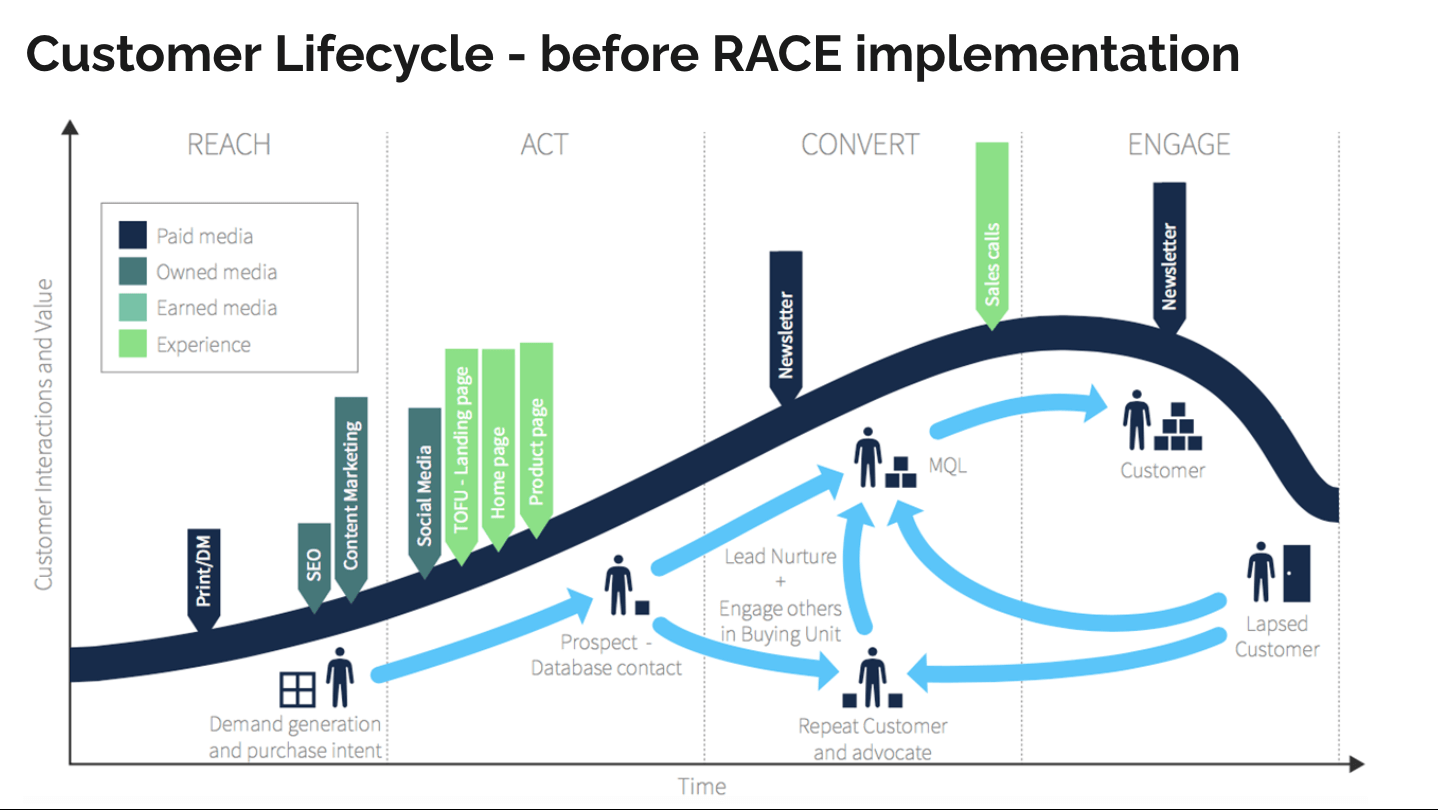 You can see an example of a full RACE customer lifecycle below. Of course, we're not suggesting that you jump straight from example one to example two. However, by using this template, you can review the gaps you may have in your marketing activity and plug the gaps.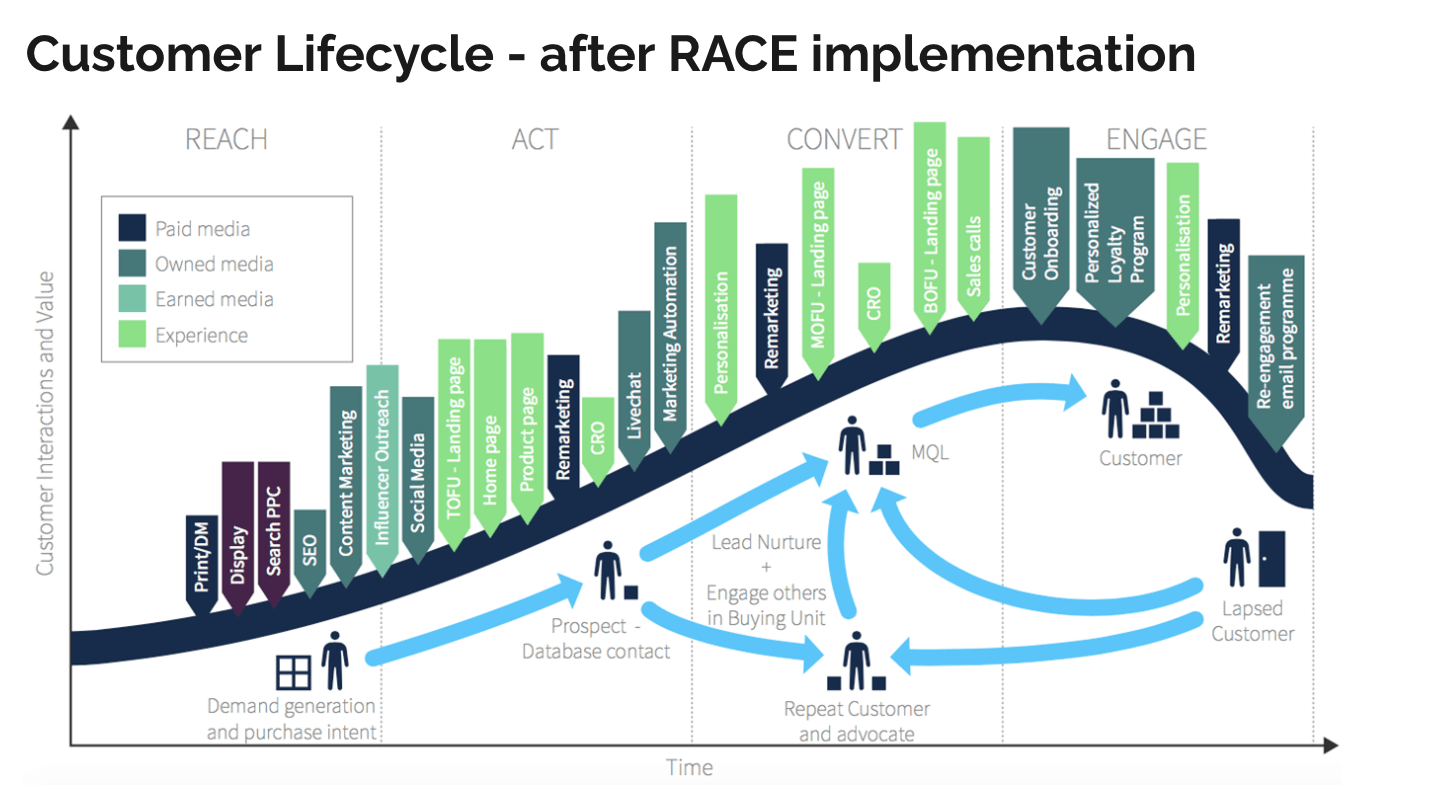 Build a 5-part RACE Growth System plan
Are you aiming for measurable, sustainable growth across multiple touchpoints this year?
Are you planning to increase the contribution of digital marketing towards your business objectives?
Are you looking for an integrated digital marketing plan framework – to avoid silos, duplication, and mismatched customer journeys?
If you answered yes to any of these questions, we recommend implementing our RACE Growth System as your main planning tool. With RACE, you can create short 90-day bursts of OSA planning across each stage of your marketing funnel.
RACE is a popular tool amongst busy marketers. We recognize you can't do everything at once! That's why you start the process by identifying and prioritizing the best opportunities for growth for your business.
You can use this system to design digital marketing plans for quarterly, annual, or longer marketing strategies. We also include recommended KPIs to make sure you're tracking the right thing. You can find out how RACE is structured below.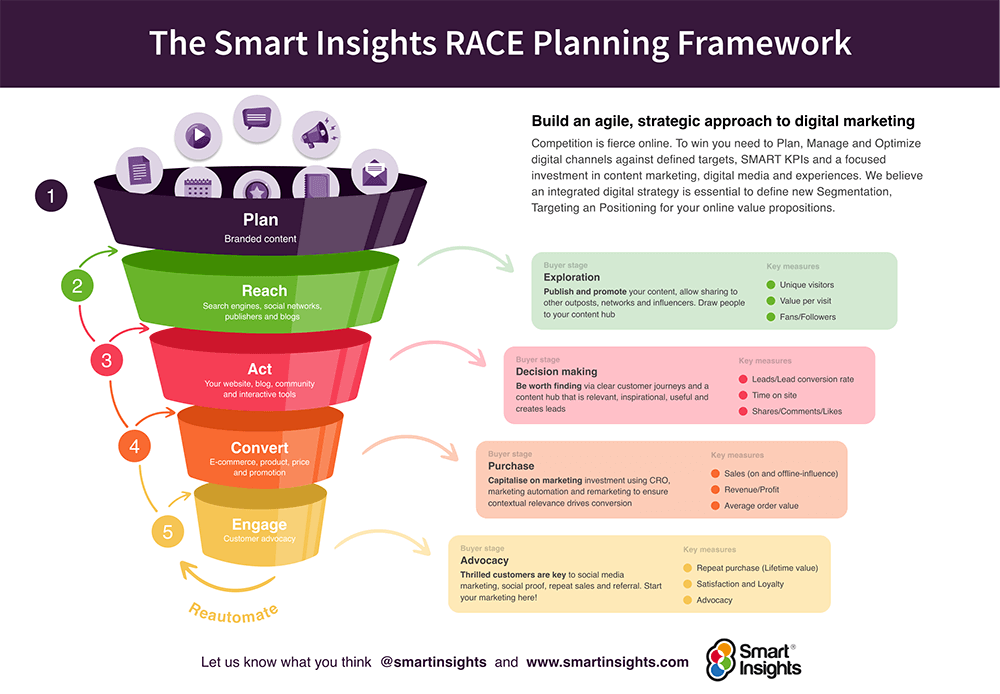 How to integrate your SMART objectives across your marketing funnel
So, we've explored how OSA can help you create 90-day objectives. And we've revisited RACE as a structure for tracking your customer lifecycle journeys and optimizing for growth. Hopefully, you can see how integrating these 90-day cycles of improvement across a data-driven marketing funnel paves the way to success. But why RACE? Here's 6 reasons, taken from Dr. Dave Chaffey's blog 'The RACE Growth System':
RACE is practical and action-oriented
RACE is customer-centred
RACE integrates all modern marketing activities
RACE is multi-channel
RACE is commercial, based on a data-driven performance improvement process
RACE defines standard operating procedures or SOPs
It's hard to put across every benefit of RACE in a blog. But if this sounds like something that your business could benefit from, I recommend downloading our free guide and reading more about our RACE Growth System via the link below.
What does a RACE digital marketing plan look like?
With all the examples shown above, hopefully, you're getting a feel for how using OSA for basic planning or RGS for more integrated planning could benefit your business. It can sometimes seem that, when you first see examples in practice, every answer leads to more questions, and I appreciate that may be the case now as well.
As well as being grounded in practical application of customer data, and informed by best-practice marketing techniques, your digital marketing plan needs to be easily accessible, shareable, and agile to change. We want to help you achieve that.
That's why Business Members can access our full digital marketing plan example, consisting of:
One-page digital strategy summary
Digital marketing-specific TOWS matrix summary
Summary KPI dashboard for RACE measures
Targeting review
Actions and summary budget
In addition to this resource, you'll also get access to our digital marketing plan workbook, with step-by-step templates which help you pull together an integrated RACE plan.
Plus, you can present your digital marketing strategy using our PowerPoint digital marketing strategy planning template.
I hope you've found these digital marketing plan examples useful. I've enjoyed working through examples from a few different industries I'm not as involved in day-to-day. But hopefully, this exercise will give readers reassurance that RACE and OSA between them have a very broad range of applications. When paired with our recommended resources, you can create and achieve your digital marketing plans. Sometimes the hardest part is just getting started, but don't delay if you want to start seeing results!