Our recommended free online tools for understanding your customers, competitors and campaign, and how you should use them – across 8 marketing analysis activities
I find that when running training courses, the tools I recommend to help marketers are always popular, especially free tools…
I originally created this list in 2012, but keep it updated as new tools are released and some tools become paid! If you're relooking at your marketing strategy/budget, why not consider implementing some of these tools?
There's a diverse mix of free tools available, one of the enjoyable aspects of working in digital marketing today. I'll start with the most widely used. Please let us know about the "essential free tools" you use in the comments.
For the full comprehensive list – check out our free guide to digital marketing tools. We've structured it around the RACE Framework of reach, act, convert, and engage – covering 30 categories of digital marketing tools that every business that is serious about improving digital marketing needs.
In this article, I'll cover 8 marketing analysis activities that hands-on digital marketers need to follow to optimize their reach activities, kicking off their RACE marketing strategy.
Our RACE Growth System is a popular marketing structure framework for Startups, SMEs, and international corporations, since it can scale up or down according to your short-term and long-term digital marketing objectives.
Simply put, RACE guides marketers through an integrated strategy across reach, act, convert, and engage, to acquire and retain more customers. All our marketing tools and templates are integrated across our RACE Growth System, so you can confidently adapt and apply marketing strategies and techniques across your marketing funnel to drive growth.
You can find out more about our RACE Growth System when you download your free RACE marketing plan template, complete with recommendations for digital marketing tools and techniques to generate growth across each stage of your marketing funnel today.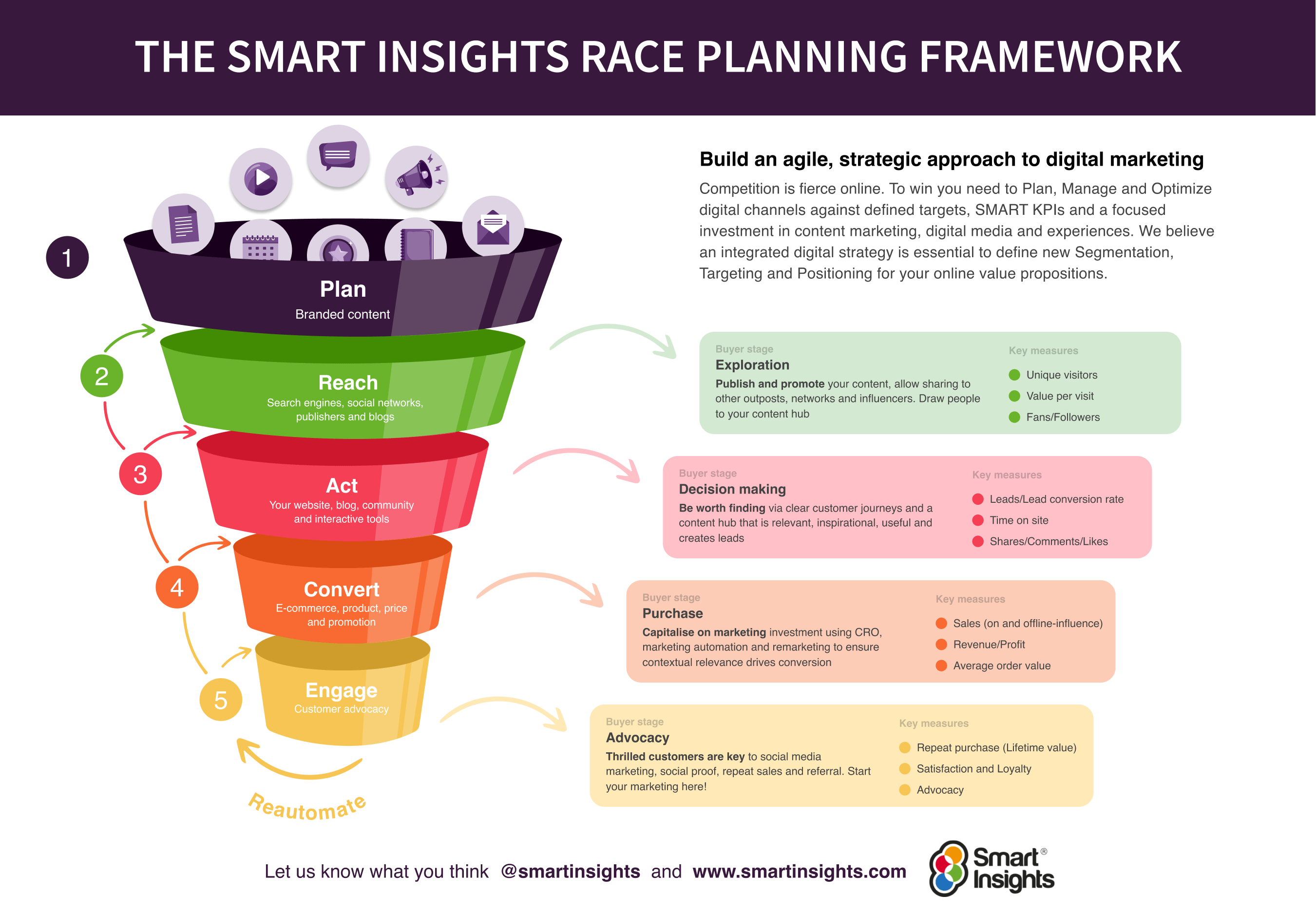 1. Reviewing brand mentions and the latest developments in your industry
Google Alerts
Many marketers still swear by Google Alerts for reviewing mentions of their brand, campaign hashtags or competitor names by entering keywords, so it's still widely used. However, it's mainly based on the analysis of sites and misses out on social media mentions.
Talkwalker
To help here I recommend the free Talkwalker Alerts service from the social listening service Talkwalker. Talkwalker's Free social search also monitors mentions of your brand, hashtags and competitors on social media.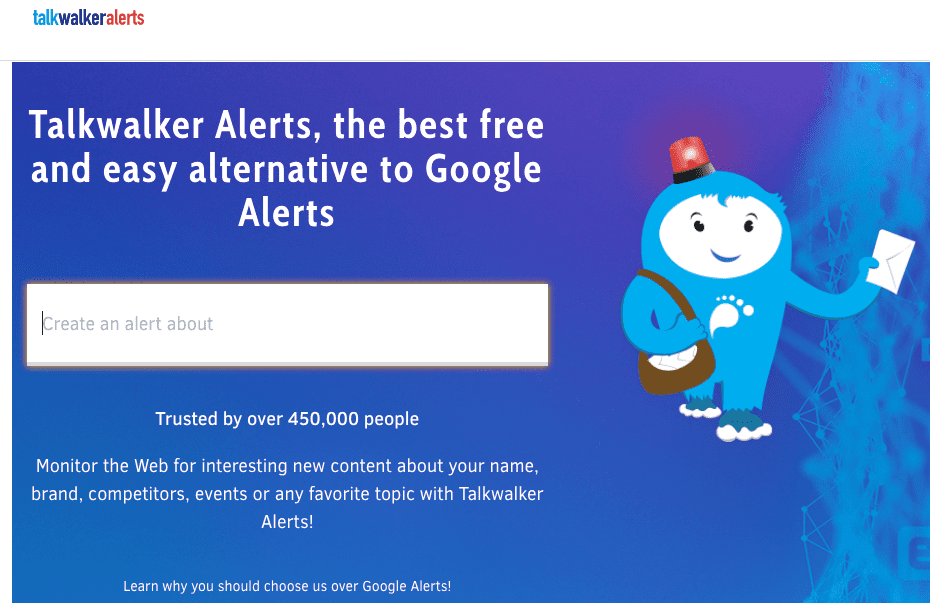 Feedly
Although RSS isn't "in vogue" as it was 5+ years ago, I still find there's no substitute for using this as a listening post for developments in your industry. I am recommending Feedly because it's the most popular – so you can see by the 'voice of the crowd' which posts are most popular.
Although feed readers aren't in fashion they are the most efficient way to scan the latest news in different categories. So if you don't use them try out Feedly – our analytics shows it's still one of the most common referrers to Smart Insights – do bookmark us!
Zest
Zest.is is another download that's particularly useful for digital marketing, it's a Google Chrome extension that collects suggested content from users
2. Managing social media updates
Hootsuite and Buffer
I've used Hootsuite for posting updates to social networks and reviewing what others are saying for nearly five years now. Hootsuite and Buffer are comfortably the most popular free tools for posting and reviewing social media updates, you probably use them.
But Hootsuite is great as a way of keeping tabs on competitors and influencers too, with integrations to enable social listening and monitoring content trends.
There is no single free tool that works well for this. Often using Google or LinkedIn manually are the best way.
A long while ago you could use reputation tools like Klout, Kred or Peerindex, but these have faded. I find that the use of Twitter auto-follow means that this often skews the results.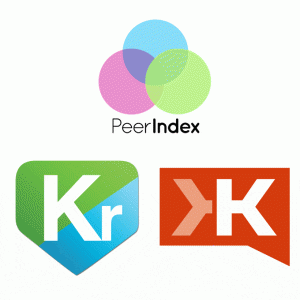 LinkedIn sector skills used to be the best source for finding business influencers because of grouping by narrower topics – but LinkedIn killed this – monetization again. LinkedIn advanced search is probably the best replacement.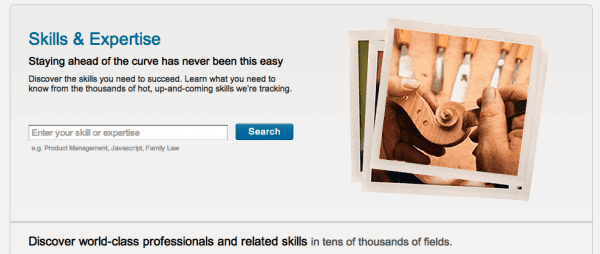 Followerwonk
Followerwonk is often mentioned as a free service that can be used to find influencers via their Twitter bio, but this limits it as these examples show. Most marketers I know wouldn't know of the top 3 'influencers' here, instead, they are being rewarded for the use of auto-follow bots.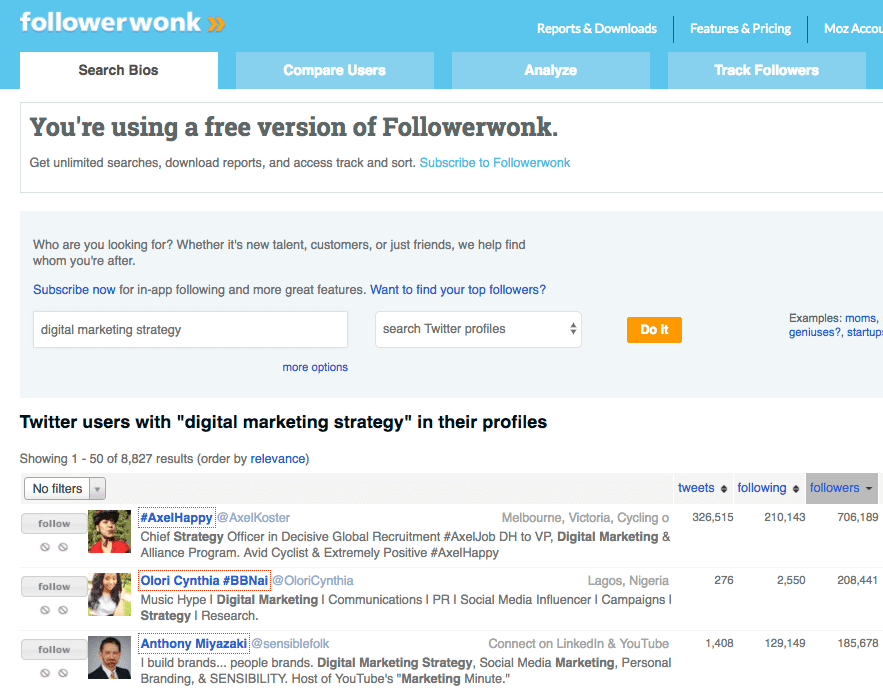 Right Relevance
For me, Right Relevance is a tool that identifies both publishers and influencers, as this example shows. It is still over-dependent on the text in the bio though, so it's useful to try different alternatives.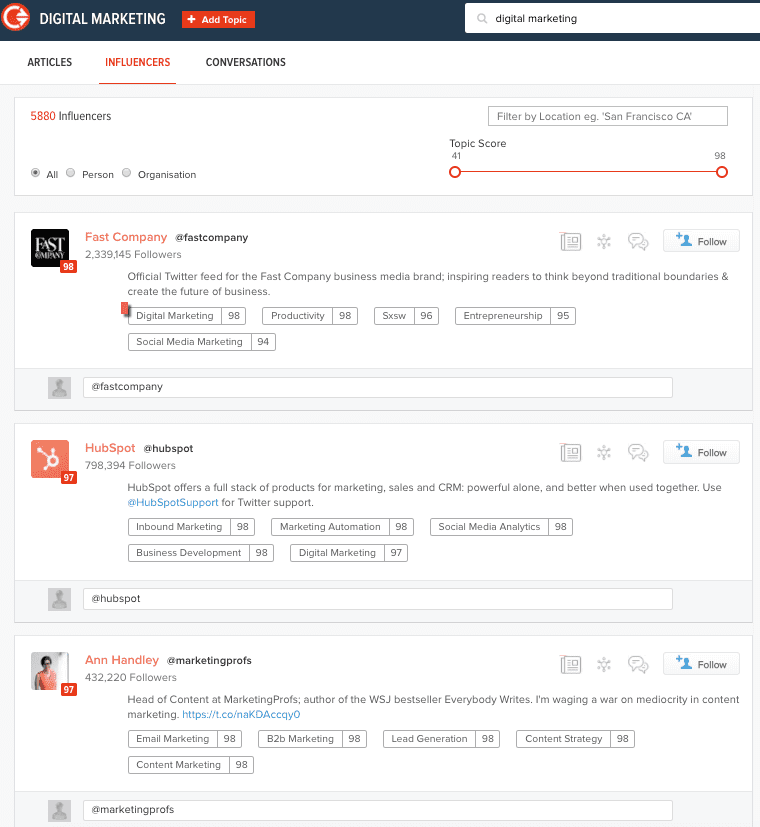 Still, I'm interested to know alternatives readers use here – please share via @SmartInsights.

4. Understanding customer search behaviour
Google Search Console, when linked with your Google Analytics, gives you invaluable insight into your customers' behaviour. You can learn how to use these tools to perform a Gap Analysis and what you can do with this information in my tutorial.
Google Trends is also an essential tool for understanding seasonal search behaviour trends in different countries in real-time.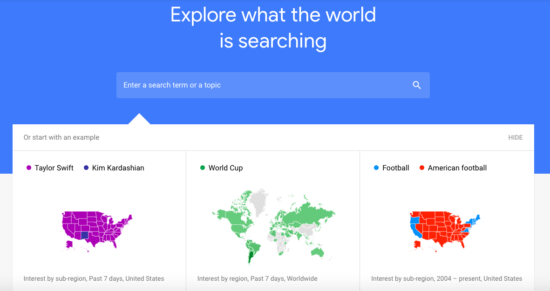 Ubersuggest
Ubersuggest is also useful for summarising the Suggest/Autocomplete behaviour in different countries to check you're covering the main behaviours. It's now owned by Neil Patel.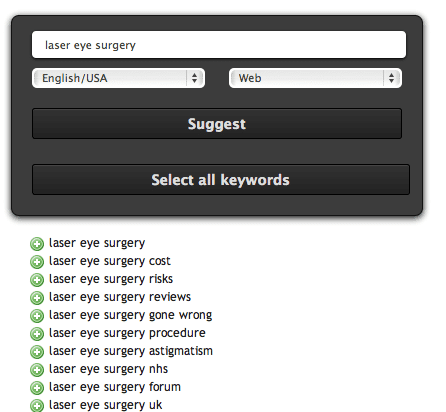 KeywordTool.io
As an alternative, analysis – check out KeywordTool.io. It's like UberSuggest, but with better formatting – I often use this to show how local consumer behaviour differs, for example, I was giving a training workshop to a Shredders manufacturer – quite a different term en France par example:
5. Competitor site benchmarking
It used to be that Google AdPlanner was unbeatable for comparing audience size and dimension. That's been folded into AdWords as the Campaign Planner and now limited to media sites, but still useful for finding size and quality of audience for partner and media sites and don't forget about the related Google Placement Targeting Tool useful for remarketing and research.
Today, my 'go to' tool for benchmarking is Similar Web, a freemium tool launched in 2013 and offering free stats on all sites including referrers.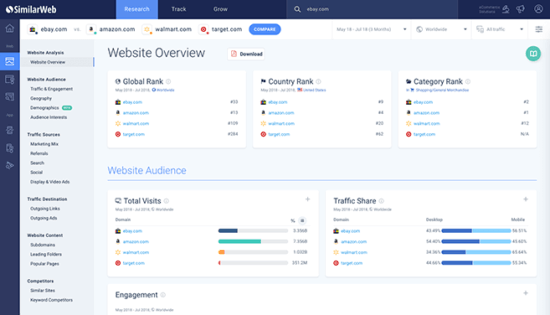 When it comes to benchmarking, our RACE Framework offers marketers, managers and business owners a simple structure to measure and optimize the key marketing activities in their customers' lifecycles. Our Free Member templates for benchmarketing your marketing support you through the step-by-step process of improving your marketing effectiveness.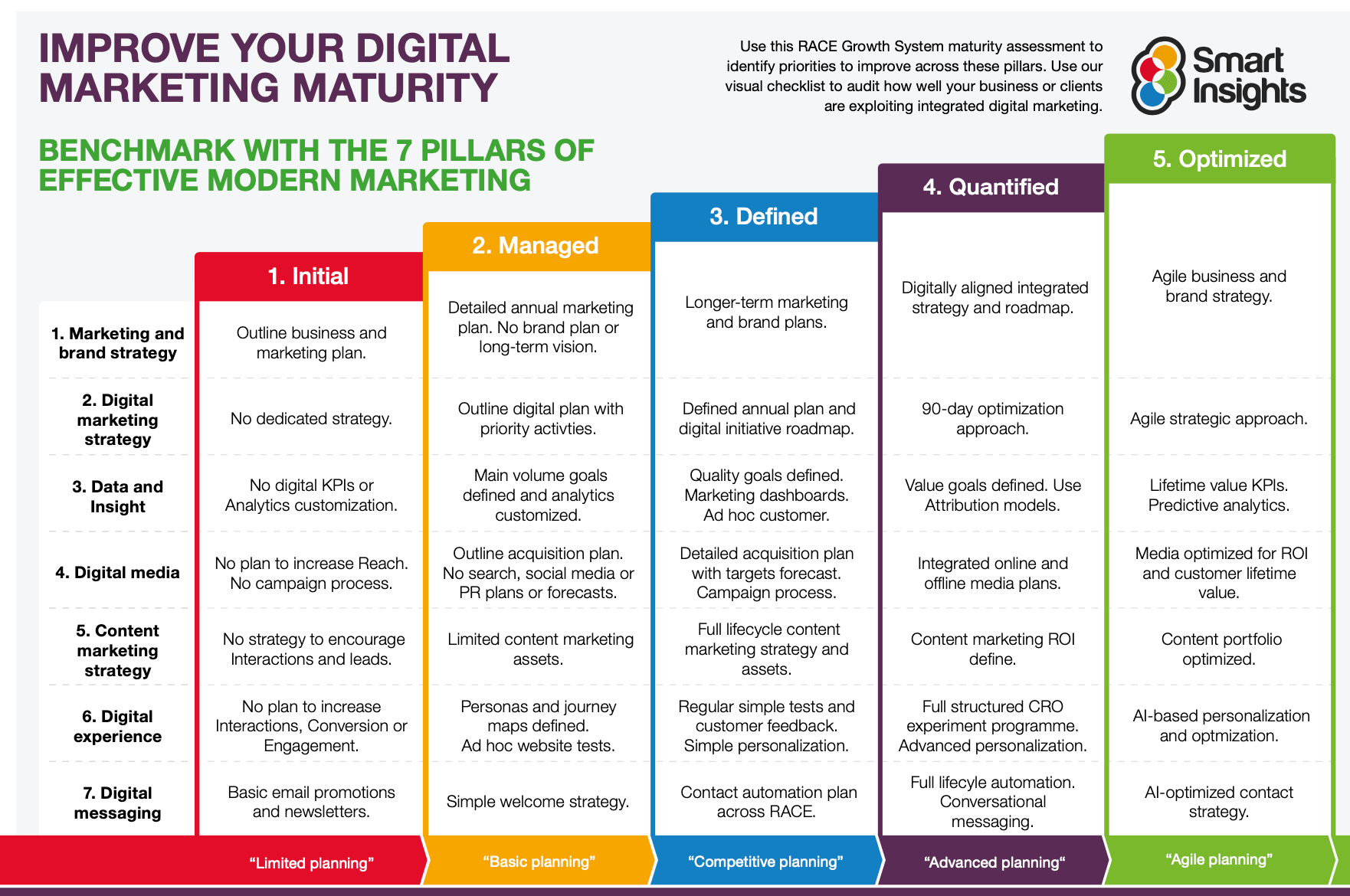 6. Off-page backlink analysis for SEO
We are not short of options for this type of insight right now. At the forefront, Majestic and Moz Open Site Explorer have to be the "must use" tools.
I think for non-SEOs, the Backlink History is great for basic benchmarking of competitor success in gaining backlinks although link quality isn't shown.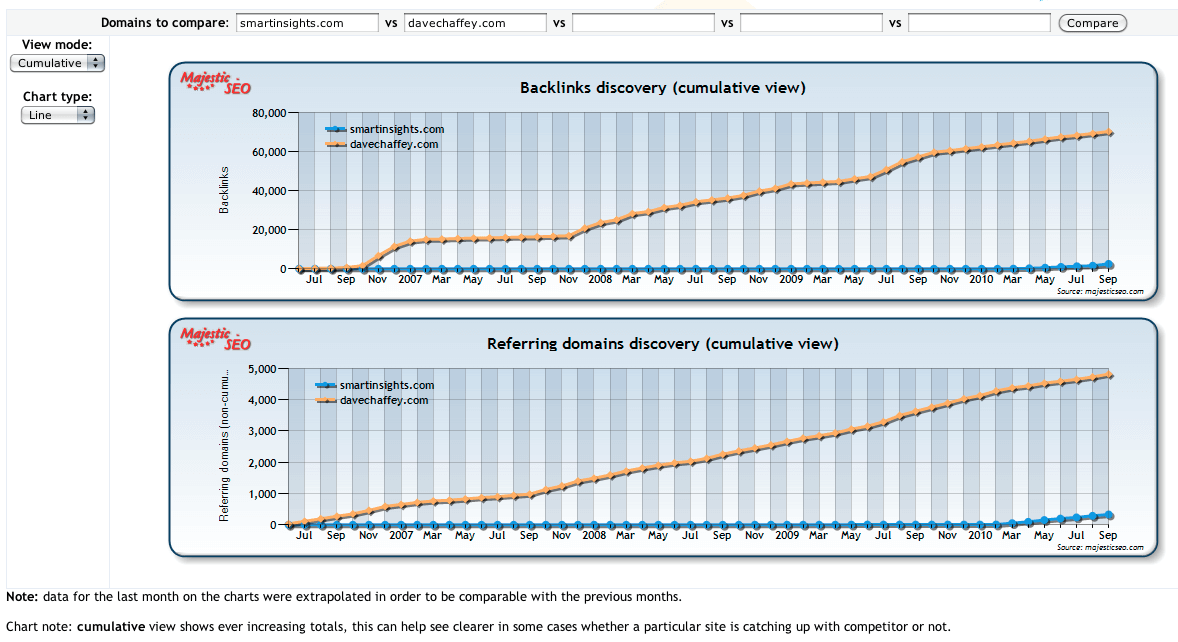 7. On-page markup analysis for SEO
Hubspot's Site, now Marketing Grader for reviewing on-page for SEO is often mentioned as a useful tool by people on courses.
For reviewing on-page markup like headings and also mobile screen resizing I find Chris Pederick's Web Developer Toolbar for Chrome and Firefox essential. The Moz Toolbar is better from an SEO POV. Here's an example of the overlay to show our 'semantic markup':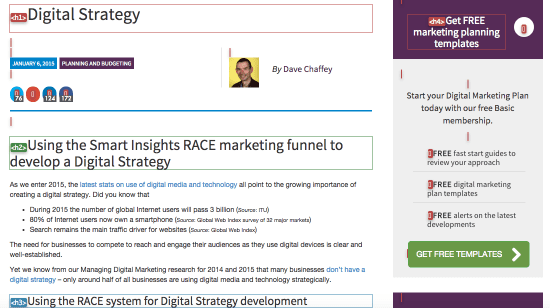 8. Understanding overall online marketing effectiveness
I believe that Google Analytics or an equivalent is essential for all who work in marketing to master at some level.
To help here, we have many articles of advice you can access from our Google Analytics hub. The most popular is on using Google Analytics for social media marketing.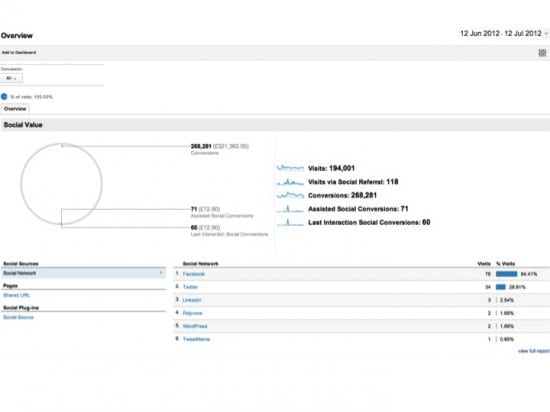 I hope this compilation is useful, what do you find most useful of the digital marketing tools we have covered here and other tools we don't?
Structure your marketing plan around a funnel proven to boost performance. Join Smart Insights as a Free Member for instant access to our free RACE Growth System template to build an actionable, practical step-by-step marketing plan that drives the results you need.