Learn how to identify and leverage your brand position to create a competitive advantage with our actionable template
Think of some iconic brands. What pops into your head? Perhaps it's Coca Cola's distinctive bottles, Apple's sleek, futuristic presentation, Amazon's UX (User Experience). These businesses realized and harnessed the power of brand positioning, and as such are easily recognizable and distinctive. Of course, these examples are of some of the world's powerhouses – with a whole heap of money at their disposal. But any business has the opportunity to carve out their brand position and identity at any time to create a competitive advantage. And if you haven't already, we'd suggest you start right now.
What is brand positioning?
Brand positioning involves enhancing the positive differentiation your brand offers against competitors and the perception of value in your customers' minds. While it comprises of elements like your company name, logo, etc., successful brands incorporate positioning as part of their overall brand strategy.
A useful way to think of positioning is considering your USP (unique-selling-point). What is unique about your business? What is your purpose? Why would customers come to you rather than a competitor?
Why is brand positioning important?
Brand positioning helps you leverage your unique benefits and take control of your reputation and how your business is perceived. It's a chance to really differentiate yourself from your competitors and showcase your values and brand ethos. That's where the competitive advantage comes in – you are consistently and effectively showcasing the unique benefits of your brand to your target market. And if you do this right you can use it to justify price and promotional strategies.
"Striking the right balance between centrality and distinctiveness is critical, because a company's choices influence not just how the brand will be perceived, but how much of it will be sold and at what price—and, ultimately, how profitable it will be." (Harvard Business Review)
B2C branding example
Let's take an example of two candle companies. They both sell candles online and offer a range of products. However, Candle company A realized that their audience cares about their carbon footprint and their impact on the environment. They have tapped into this need by positioning themselves as an environmentally-friendly brand. They use organic ingredients and ensure each part of their production is kind to the planet, with biodegradable packaging and a 'recycle' scheme for customers to re-use their containers to get money off their next candle. As a result of their 'kind-to-planet' positioning and business model, their processes are more expensive, but they can charge a higher premium for their candles due to their brand positioning.
Candle company B has no set positioning. Their target audience also cares about the environment, but they haven't used that as part of their business or brand strategy. As they offer a similar product, they are losing market share to Candle company A who have a clear positioning strategy that aligns with their audience.
Regardless of the size or industry your business is in, it is always worthwhile taking the time to carve out your brand position to give clarity to your communication and conversion tactics. Forbes list four compelling benefits of brand positioning:
Brand recall
Emotional appeal
Increased sales
Improved customer loyalty
Convinced it's important yet?!
Ask yourself: If you don't know your positive differentiation against your competitors, how are your customers supposed to know? Or worse still, what if through this process you realize that maybe you don't have a strong positive differentiation at all? If that is the case, you'll want to identify that now so you can start making changes fast.
How do I identify my brand's position?
Identifying your brand's position falls into two parts. You need to start by looking at your brand's current position so you can then carve out how you want to enhance your brand positioning in the future.
To get started on reforming your positioning, download our brand positioning template with editable slides for you to complete and share with your teams.
Understanding your current brand
Before you can position your brand, you need to know its current identity.
There are two viewpoints to consider:
Imagine your brand as a person. What is unique about them? What qualities do they have?
Consider your customers' perspective. How are you perceived by them?
Top Tip: Here you are shedding light on your current brand positioning. The answers to these questions may not be what you want them to be yet, but that's ok. The beauty of investing time in positioning is you are giving your brand space to develop.
We've created a helpful editable template where you can define your brand as a person to help you really unlock your current situation. Give your brand a name, then describe their personality, mission and perception.
In this space we recommend highlighting your brand's key attributes. Can you pick 5 qualities from this list? (Be honest with how your brand is positioned now).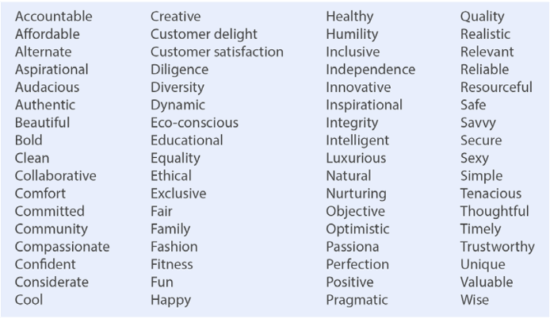 Defining your brand positioning
Now you know where your brand is right now, you can get to the fun bit of positioning where you want your brand to be!
It is helpful to use a positioning framework to visually highlight your brand identity across key areas. This is great for sharing in presentations too when getting company by-in. Here is a completed example for Smart Insights: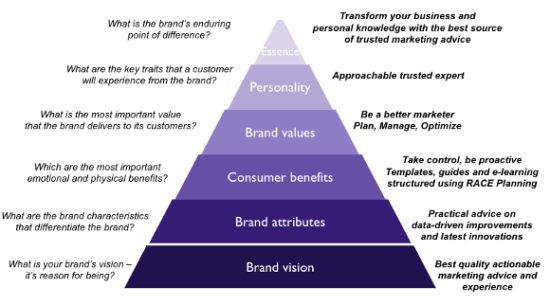 Download our brand positioning template to get access to an editable version of this pyramid to complete for your business.
We also want to define our value messaging across core brand elements. Here we are asking, what are our core values, beliefs, personality, benefits? This information will be useful in applying to your messaging across digital (and non-digital) channels. In our template we have a handy template for you to fill out covering these elements:
Positioning across RACE
You now have an established positioning framework to help you enhance your competitive advantage and better connect with customers.
You can further integrate and personalize your brand positioning impact by getting granular across each stage of our RACE Funnel. To be successful with your positioning, it needs to be weaved throughout all your digital touchpoints, which is why we suggest using the RACE Growth System to align your activities.
We've created a template to highlight where you can position your brand across digital touchpoints, assigning media examples and team responsibilities. See example below – for the full example download our template.

Implementing your brand positioning
You've defined your brand position – great! Now the work begins. Using the brand positioning RACE template you can start to roll out your implementation across touchpoints. Here don't forget things like updating your social media bios, website 'about us' page and any promotional decks. You want to be as consistent as possible across your channels to create effective brand positioning: "Omnichannel excellence requires a laser-like focus on value creation" (McKinsey.com).
Brand positioning is a long-term tactic and for large organizations it is worth documenting an annual brand strategy. The review and implementation process should be a continual part of your strategy. For real success with positioning you need to ensure everyone in your organization is on board with the new vision and messaging. From sales colleagues speaking to prospects on the phone to social media execs scheduling posts, your omnichannel brand experience needs to be consistent and reliable to achieve a competitive advantage long-term.