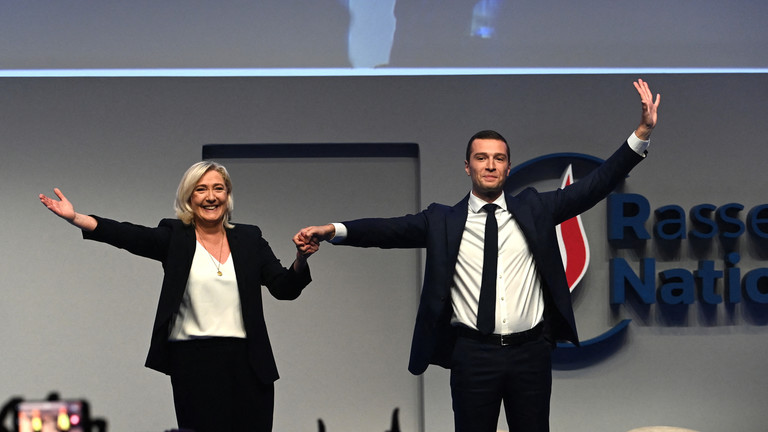 The longtime leader of the right-wing National Rally party in France, Marine Le Pen, has been replaced as president by Jordan Bardella. The party declared on Saturday at its conference in Paris that the 27-year-old MEP had received 85% of the vote.
Bardella is the first president of the National Rally who is not a member of the Le Pen clan. Taking over so that Le Pen could focus on her ultimately failed presidential campaign, he had been acting president since July 2021.
Bardella easily defeated competitor Louis Aliot, the mayor of Perpignan, who at 53 is nearly twice his age and will continue to serve as the party's vice president.
Bardella has identified himself as a "continuity candidate" and stated to AFP that he was looking forward to "carrying on the magnificent legacy that Marine is giving over." He has been active in right-wing politics since he was a youngster.
In the run-off against President Emmanuel Macron, who received 58.6% of the vote, Le Pen garnered 41.5% of the vote, bringing a National Rally candidate closer to the presidency than ever before.
Two months later, the party gained 89 seats in the lower House of Parliament, breaking its previous record and unseating Macron's Renaissance party's majority.
After Bardella's win was revealed, Le Pen informed the party congress that she was "not abandoning [the party] to take a holiday" and vowed to be "where the nation needs me." In 2027, a fourth attempt at the Elysee Palace is anticipated.
Le Pen has overseen a significant party makeover since succeeding her father Jean-Marie Le Pen, who helped co-found the Front National party 50 years ago. She changed the group's name to eliminate some of the more contentious associations with the elder Le Pen's politics and to draw in younger supporters.
Even National Rally's vice president Aliot has stated the party should further moderate its rhetoric to appeal to the mainstream right. Nevertheless, National Rally's critics accuse its members of harboring racist and antisemitic beliefs.
RELATED ARTICLES

Did you like this information? Then please consider making a donation or subscribing to our Newsletter.