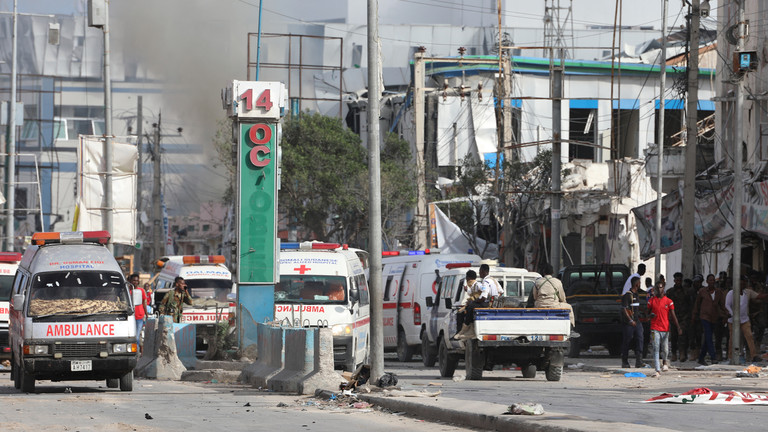 According to the president of Somalia, two vehicle explosions occurred on Saturday in the country's capital, Mogadishu, leaving at least 100 people dead and 300 injured.
The data were released by Hassan Sheikh Mohamud on Sunday, along with a warning that "the number of both the dead and wounded continues to climb."
The capital's busy Zobe intersection was the target of the first explosion, which was minutes after a second bomb went off as people gathered to help the injured and ambulances arrived.
Many of the victims, according to witnesses, were women, and others were young children.
The same region was the location of a significant terrorist attack in 2017, when a vehicle carrying explosives exploded, killing over 500 people.
According to the president, the most recent bombings are "history" because they occurred in the same location and harmed the same innocent victims.
Although no one has taken ownership of the attacks, Mohamud has attributed them to the Al-Shabaab insurgent organization. "This is incorrect. They won't be able to carry out another Zobe event, God willing, he remarked.
The president, prime minister, and other top authorities of Somalia met on the day of the double attacks to discuss measures being taken to combat violent extremism in the nation. Mohamud promised to undertake a "all-out war" against terrorists when he assumed power in May. He then launched a significant attack against Al-Shabaab.
Although African Union forces drove the al-Qaeda-affiliated group out of Mogadishu in 2011, it continues to control substantial portions of the countryside and regularly conducts bombs and shooting attacks in Mogadishu and other regions of the nation.
to our Newsletter.