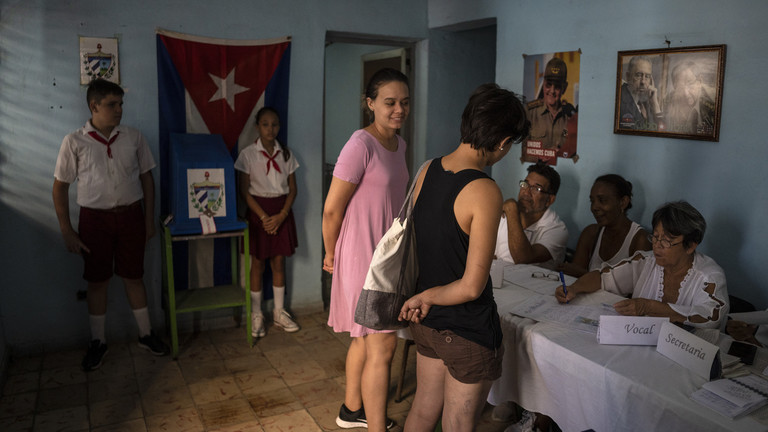 In a public referendum, over four million Cubans chose to support the government's proposed changes to the island's Family Code, according to Havana officials on Monday. The proposal to legalize same-sex marriage, surrogacy, and the adoption of children by homosexuals, among other things, was supported by more than 66% of those who cast ballots, according to preliminary figures.
Approximately 6.25 million Cuban voters, or 74% of the electorate, participated in the referendum on Sunday. The National Electoral Council of Cuba said that the initial results indicated 66.87% in favor and 33.13% against.
3,936,790 of the 5,892,705 votes cast were for YES, while 1,950,090 for NO, according to NEC head Alina Balseiro. The result was "irreversible," she claimed, despite the fact that the results are preliminary and several precincts are still counting.
President Miguel Daz-Canel stated to Granma, the official publication of the Cuban Communist Party, "I think that Cuba has grown up." He said that because of Cuba's increasing diversity and the occurrence of legal concerns "in the life experiences shared today, recorded in research works, and in scenarios examined in court," changes to the law were required.
On Monday morning, the official Twitter account of the Cuban presidency posted, "Love is now law!" in honor of the passing of the 100-page bill.
Diaz-Canel expressed sorrow that "for reasons of belief" certain members of the populace "remain ignorant that the law recognizes the type of family that they defend and equally protects the rights of other types of love."
The modifications were opposed by many social conservatives and Christians. While the Communist-run government on the island originally made homosexuality a crime, Mariela Castro, the niece of the late revolutionary leader Fidel Castro, has taken the lead in promoting LGBT rights.
In order to assure the adoption of a new constitution, Havana almost suggested legalizing same-sex partnerships in 2018. However, it abandoned the idea. This time, the government went all-in, pleading for Cubans to approve the new law because it "protects everyone without exclusion, prioritizing the respect for human dignity," according to Granma.
In 1959, Castro ousted the US-backed government and continued to reign until 2008, when he handed the reins to his brother Raul, the father of Mariela. Despite being formally secular, the nation stopped being atheistic in 1992. The majority of the island's population—60%—identifies as Christian, with an increasing proportion of Evangelicals in second place.
RELATED ARTICLES

Did you like this information? Then please consider making a donation or subscribing to our Newsletter.