Dr. Dave Chaffey, author of Digital Marketing: Strategy, Implementation and Practice explains a process to achieve success and overcome external pressures by focusing on the 18 most important digital marketing techniques
Simply put digital marketing, also called online marketing, is the application of digital media, data, and technology integrated with traditional marketing communications to achieve marketing objectives. Within this broad definition, there are many vital digital marketing tactics that we will introduce and explain in this article. We will cover:
For businesses to compete effectively today, it's essential that they use digital marketing to support their business and marketing strategies. Each one of us now spends several hours each day using digital media, whether we're looking for entertainment, social interaction or seeking new products. Businesses and brands that don't have the right digital tactics shown in the visual within their marketing communications programmes miss out on opportunities to influence consumers at key online touchpoints.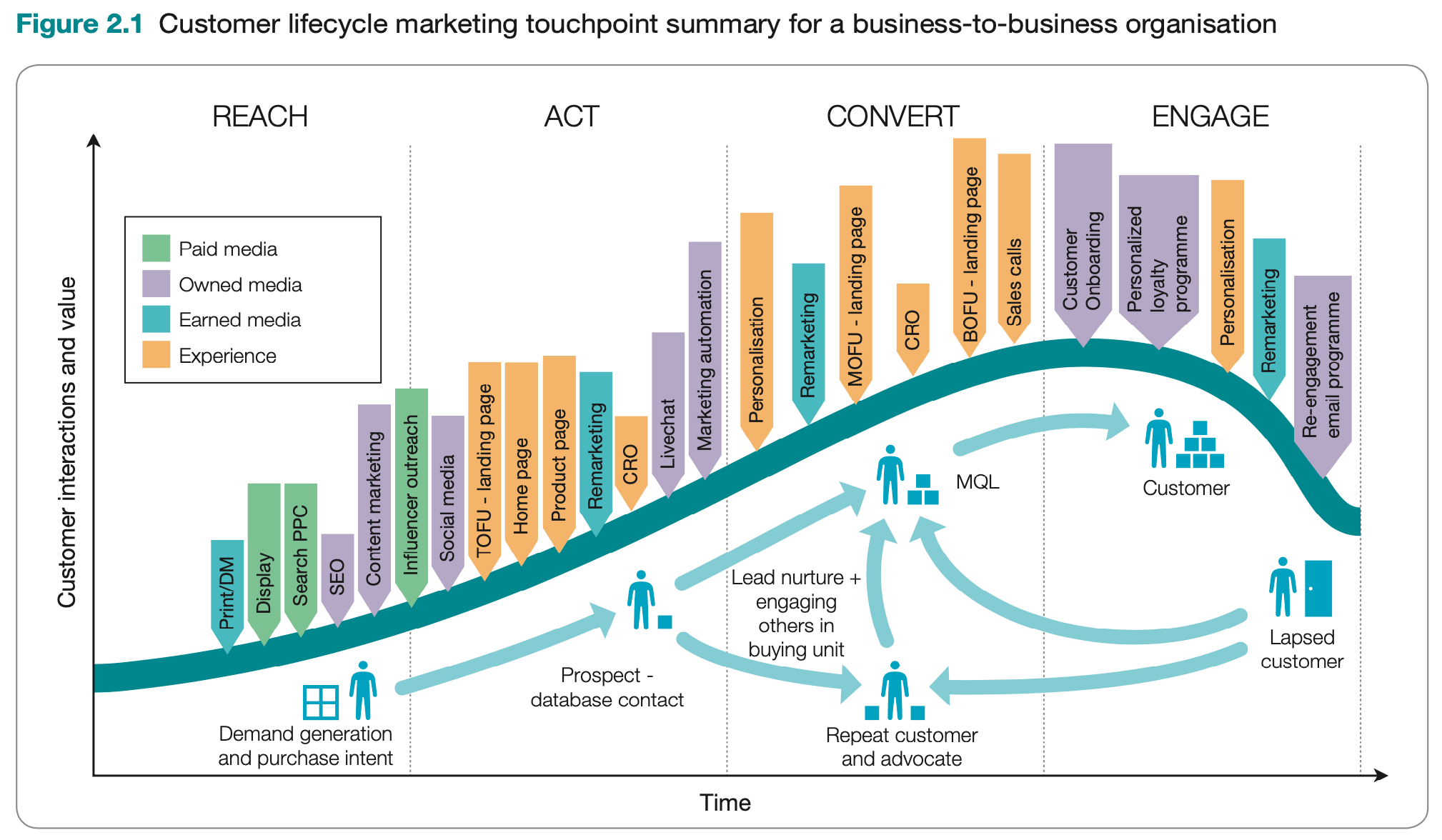 Growth in the use of digital media and technology has led to new customer journeys or paths to purchase that are highly complex as purchase decisions are potentially influenced by many touchpoints which can be used by digital marketing.
Our customer lifecycle visual summarizes how the potential paid, owned, and earned digital media channels or communications tools offline may influence purchases across the customer lifecycle.
Note that TOFU, MOFU, MOFU refers to Top, middle and bottom-of-funnel content where content is used to support nurturing through the customer lifecycle.
This visual is aimed at helping businesses audit their use of digital marketing as part of a 'situation gap analysis' where they can review whether they are using, or are investing sufficiently, in the most appropriate 'always-on' digital communications to achieve their goals across the RACE planning framework created by Smart Insights.
It highlights some of the many online marketing channels businesses can integrate to get the best results from digital marketing today. While some channels such as social media and SEO are well known, in our experience, we find that some potential always-on marketing techniques such as ad and email retargeting and influencer outreach shown in the visual are used less widely.
You can find out more in my 7 minute customer lifecycle marketing explainer video:
Later in this explainer, we'll show how you can simplify management of digital marketing channels to six key channels that are relevant for every business from the smallest to the largest.
What is digital marketing?
In my book, I simply define digital marketing as:
Achieving marketing objectives through applying digital media, data and technology.
This short definition helps remind us that it is the results delivered by technology that should determine investment in digital marketing, not the adoption of the technology! We also need to remember that despite the popularity of digital devices for product selection, entertainment and work, we still spend a lot of time in the real world, so integration with traditional media remains important in many sectors.
In practice, digital marketing focuses on managing different forms of online company presence, such as company websites, mobile apps and social media company pages, integrated with different online communications techniques introduced later in this explainer. These include search engine marketing, content marketing, social media marketing, online advertising, email marketing and partnership arrangements with other websites.
The fundamentals of digital marketing we explain in this article remain fully applicable in 2022, but there are always new innovations that give opportunities. My recent blog post on 2022 digital marketing trends shows the latest innovations.
For the past 15 years, Smart Insights has specialized in helping marketers learn a more structured, strategic, data-driven approach to digital marketing.

Defining marketing
It is useful to note that, despite digital using different communications techniques to traditional marketing, its end objectives are no different from the objectives that marketing has always had. It can be easy to set digital objectives based around 'vanity metrics' such as the number of 'likes' or followers, so it is useful to bear in mind this definition of marketing advanced by the Chartered Institute of Marketing:
'Marketing is the management process responsible for identifying, anticipating and satisfying customer requirements profitably'.
This definition emphasizes the focus of marketing on the customer while at the same time implying a need to link to other business operations to achieve this profitability. Yet, it's a weak definition in relation to digital activity since it doesn't emphasize communications which are so important to digital activity.
In Digital Marketing Excellence my co-author, PR Smith and I note that digital marketing can be used to support these aims as follows:
Identifying – the internet can be used for marketing research to find out customers' needs and wants
Anticipating – the Internet provides an additional channel by which customers can access information and make purchases – evaluating this demand is key to governing resource allocation.
Satisfying – a key success factor is achieving customer satisfaction through the appropriate channel, which raises issues such as: is the site easy to use, does it perform adequately, what is the standard of associated customer service and how are physical products dispatched?
Digital marketing during inflation is particularly important due to increased pressures on both businesses and consumers. Download our free guide to find out more today.
​​
What does it mean to adjust your digital marketing for inflation?
With reduced demand in certain sectors, it has become vital to rapidly establish new alternative approaches to prioritize marketing activities with the biggest potential.
However, our research shows that up to 32% of marketers are not adapting their marketing strategies, or are not sure yet, in the light of global inflation rates of 7.4%.
Our new free guide offers 10 new growth insights to help you make decisions to lead your business to growth during inflation.
​​
18 key types of digital marketing techniques across 6 media channels
There are many online communications techniques that marketers must prioritize to include as part of their communications strategy. Marketers often use paid, owned and earned media to describe investments at a high-level, but it's more common to refer to six specific digital media channels when selecting specific always-on and campaign investments.
To simplify prioritization, we recommend considering the paid, owned and earned techniques available within six digital media channels or communications tools shown in the next visual. Combining the techniques in this way gives 18 digital communications techniques for businesses to consider. Companies with limited budget for paid media can focus on Owned and Earned techniques.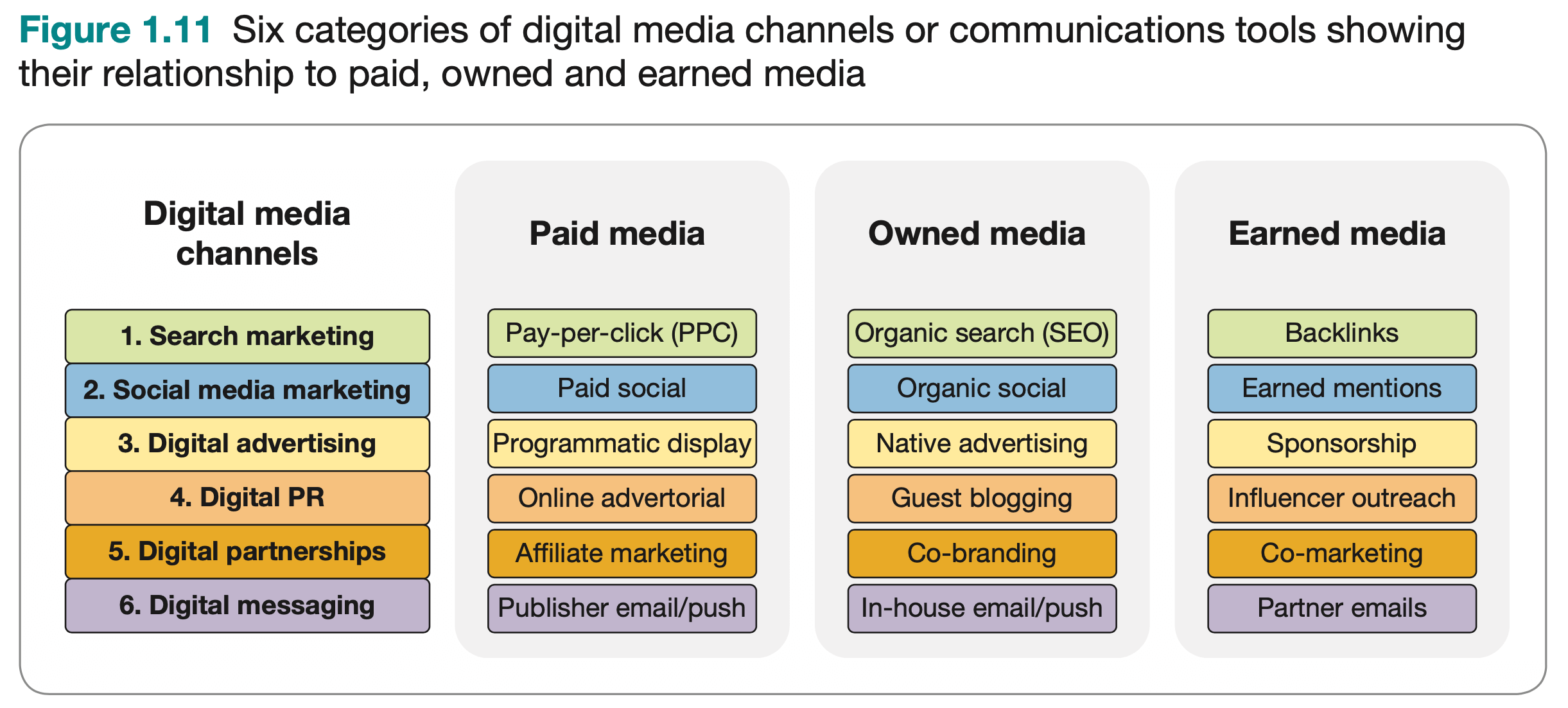 The six main media channels available to any business and paid, owned and earned media options within these are:
1 Search engine marketing
Gaining visibility on a search engine to encourage click-through to a website when the user types a specific keyword phrase. Two key search marketing techniques are paid placements using pay-per-click via Google Ads or Bing, and placements in the natural or organic listings using search engine optimisation (SEO) where no charge is made for clicks from the search engine.
SEO can be considered owned media since it involves on-page optimisation by improving the relevance of content and technical improvements to the website to improve crawlability monitored through Google Search Console. SEO also has an Earned media component where visibility in the search engines can be improved by getting relevant 'backlinks' from websites which effectively count as a citation or vote.
2 Social media marketing
This includes both paid advertising on social networks and organic social media amplification where companies aim to gain visibility through content shared by social media feeds and pages which are owned media. Earned social media is where a brand or social update is shared by a publisher or partner.
Social media marketing is an important category of digital marketing that involves encouraging customer communications on a company's own site, or social presences such as Facebook or Twitter or in specialist publisher sites, blogs and forums. It can be applied as a traditional broadcast medium – for example, companies can use Facebook or Twitter to send messages to customers or partners who have opted in.
3 Display advertising
Use of online ad formats such as banners and videos on publisher sites to achieve brand awareness and encourage click-through to a target site. These are usually considered as separate investments from paid search and paid social ads since ads are typically displayed on publisher sites.
Programmatic display refers to where media and target audiences are selected by trading or bidding against other advertisers. Whereas native advertising involves paying to publish content that appears on a media site rather than a banner ad. It's similar to when companies pay for features on pages in newspapers.
Display advertising is similar to sponsorship and in both cases, there may be a long-term relationship where a brand pays for its name to be associated with a publisher or event.
4 Digital PR
Involves maximizing favourable 'offsite' mentions of your company, brands, and products by other organizations and people, especially media sites or influencers such as celebrities.
Mentions may create name awareness, but have the benefit that they can also drive visits through links and support SEO through backlinks. These mentions may occur on publisher websites, blogs or social networks, and podcasts accessed by your target audience.
Guest-blogging involves writing an article for which no fee is typically charged on another business's website. It's often a reciprocal arrangement.
Influencer outreach is used in both B2B and B2C communications. It usually refers to working with individuals rather than publishers to gain mentions through their social media, blogs or podcasts.
Digital PR also includes responding to negative or positive online brand mentions and conducting public relations via a site through a social media news centre or blog, for example.
5 Digital partnerships
Creating and managing long-term arrangements to promote your online services on third-party websites or through website content and messaging. Affiliate marketing involves a commission-based arrangement where the advertiser only pays when a sale occurs. It's most applicable to the retail, travel, and financial services sector where an affiliate website will get paid for traffic when an online sale occurs.
Co-branding is a paid or owned media technique where two brands are featured within email marketing or native advertising. Co-marketing is similar, but it is a 'contra' arrangement for which no fee is usually paid when companies collaborate to share content with the aim of raising awareness and leads amongst the pooled audiences.
For example, we set up a co-marketing arrangement for publisher Smart Insights with martech vendor HubSpot where joint research reports were created to raise awareness and generate leads for both brands. HubSpot has dedicated co-marketing managers in different regions to manage this activity since they see it as important.
See their post The Who, What, Why, & How of Digital Marketing if you're not familiar with them.
6 Digital messaging
Traditionally digital messaging to individuals who have subscribed to updates has focused on Email marketing, which is still a commonly used digital media channel since it is cost-effective. However, email is used less by younger audiences who are more likely to subscribe to mobile push notifications from websites and apps.
Digital messaging options include placing ads in third-party e-newsletters (paid media) or most commonly the use of an in-house list for customer activation and retention (owned media) or co-marketing techniques using other companies newsletters. Buying or renting lists of email addresses is considered as a spamming technique and not permitted under the privacy legislation described.
The benefits of digital marketing
Success in digital marketing requires you to choose a good set of digital marketing goals covering a range of different measures to help set, review and control performance across all digital marketing activities.
We recommend you consider these 5S goals and specific SMART objectives to ensure your digital marketing investments give you the returns you need. The 5Ss of digital marketing were devised by PR Smith and are explained in our Digital Marketing Excellence book.
You can learn more about them in our article on Setting goals for your digital marketing.
Benefit of
digital marketing
How benefit is delivered
Examples of typical objectives
Sell – Grow sales
Includes direct online sales transactions and sales from offline channels influenced online.
Achieve 10 per cent of sales online. Increase online sales in product category by 20 per cent in year
Speak – Get closer to
customers
Encourage interaction online using inbound marketing techniques like search and social media marketing and understand audience needs.
Increase website visits or social media page followers by 10% within one year.
Serve – Add value
Provide content and offers to encourage interactions leading to sales
Increase subscribers to newsletter by 10% within quarter

 

Save – Save costs
Reduce offline media spend and customer service through using organic inbound marketing techniques. Reduce customer support costs by web self-service where customers answer queries online
Reduce cost of customer acquisition by 10%, Reduce cost-to-serve per customer by 10%
Sizzle – Extend the brand online
Improve the customer experience by offering new digital value propositions, exclusive online offers customer communities
Improve brand metrics such as brand awareness, brand familiarity, favourability and purchase intent
​​
Key marketing communications concepts for digital marketing
In this section, we introduce five fundamental digital marketing concepts that are significant opportunities provided by digital communications which are built into and often discussed by marketers as part of digital marketing activities. If you work in digital marketing, these are the techniques that you will use to underpin your marketing.
These are more readily achieved online compared to traditional media, but offline communications such as TV ads can also integrate with these.
1 Inbound marketing;
2 Permission marketing;
3 Content marketing;
4 Digital customer engagement.
5 Always-on marketing
1 Inbound marketing
Amongst marketing professionals, the digital media interactions shown in the first picture is a powerful new approach to marketing, now commonly known as inbound marketing, a term also promoted by HubSpot. Inbound marketing can be defined as when the consumer is proactive in seeking out information for their needs, and interactions with brands are attracted through content, search and social media marketing.
Inbound marketing is powerful since there are lower-cost organic options for which there is no media cost including organic social media and search engine optimisation. Advertising wastage is reduced since we can target specific individuals when they are looking for products, they are proactive and self-selecting. But this is a weakness since marketers may have less control than in traditional communications where the message is pushed out to a defined audience and can help generate awareness and demand.
Traditional media are predominantly push media where the marketing message is broadcast from company to customer, although interaction can be encouraged through direct response to phone, website or social media page. However, online it is often the customer who initiates contact and is seeking information through researching information on a website. In other words, it is a 'pull' mechanism where it is particularly important to have good visibility in search engines when customers are entering search terms relevant to a company's products or services.
2 Permission marketing
Permission marketing is closely related to inbound marketing. It is an established approach to online marketing that is still highly relevant today as a practical foundation for generating online leads and audience engagement. 'Permission marketing' was a term first coined by marketing gurn Seth Godin way back in 1999. This classic value exchange is based on information or entertainment – a B2B site can offer a free report in exchange for a customer sharing their email address, while a B2C site can offer a newsletter with valuable content and offers. Many retail sites today still feature an option to subscribe to a newsletter with a discount for first-time purchasers since this is a practical method to gain potential customers.
Permission marketing is a modern take on Customer relationship management (CRM), this is using digital communications technologies to maximise sales to existing customers and encourage continued usage of online services through techniques including a database, personalised web messaging, customer services, chatbots, email and social media marketing.
3 Content marketing
Success in permission marketing requires exceptional, compelling content. To emphasize the importance of content marketing to gaining permission, encouraging sharing and ongoing engagement through websites and social media, the concepts of content marketing and content strategy have developed to describe best-practice approaches to engaging audiences and achieving business outcomes through content. Previously content was limited by the cost of printing and distributing brochures or direct mail, but these are no longer barriers, giving many more opportunities to engage audiences online through content in a rich variety of formats including web pages, downloadable guides, blog posts, social posts, videos, podcasts and interactive product selectors and quizzes.
Content marketing is defined as:
The management of text, rich media, audio and video content aimed at engaging customers and prospects to meet business goals published through print and digital media including web and mobile platforms which is repurposed and syndicated to different forms of web presence such as publisher sites, blogs, social media and comparison sites.
You can see the challenge content strategy presents, since today there are so many different types of content delivered in different forms to different places on different access platforms, yet it is increasingly important to engage customers in digital media. Investment in managing content ideation, creation and distribution is needed to assess and define:
Goals for content engagement. Which types of content will engage the audience and support conversion to a lead or sale? Is it simple product or services information, a guide to buying or using a product or service, that will engage your audience at different points in the lifecycle.
Content media. These include different text and rich media formats such as hosted and streamed video and audio.
Content distribution. Major distribution activities that are a key part of content marketing are paid promotion of content through ads, for example on Facebook, Google or LinkedIn, and free organic promotion through SEO and social media. PR using influencer outreach is also important. Content can also be automatically syndicated to different types of sites through feeds, APIs, microformats or embedded in sites through widgets displaying information delivered by a feed.
Content interaction and participation. Effective content today is not simply delivered for static consumption, it should enable interaction, commenting, ratings and reviews. These also need to be monitored and managed both in the original location and where they are discussed elsewhere.
Content management platform. Content needs to be managed by teams and provided to users on different digital devices.
To be successful in content marketing we recommend that websites create a Content marketing hub which is a central branded location where your audience can access and interact with all your key content marketing assets. In a practical sense, the content hub can be a blog or new section, an online customer magazine or a resource centre.
4 Digital audience engagement
In traditional 'push' media, there were few options for brands to interact with audiences directly. Digital media offers many more options for direct-to-customer (D2C communications), but with the challenge of gaining 'cut-through' given the amount of content. We define customer engagement as:
Repeated interactions through the customer lifecycle prompted by online and offline communications aimed at strengthening the long-term emotional, psychological and physical investment a customer has with a brand.
This difficulty in gaining and keeping the attention of audiences across today's fragmented media landscape has led to the emergence of the concept of customer engagement as a key challenge with which digital marketers are increasingly concerned.
We need to be careful to precisely define engagement since the term is often used loosely to describe short-term audience engagement with a single communication, such as when a prospect engages with a single landing page, email or social media update. While this short-term interaction is important to boost response from these communications, what is arguably more important to business success today, and far more challenging, is long-term engagement through time with our prospects, customers and subscribers.
We define customer engagement as Repeated interactions through the customer lifecycle prompted by online and offline communications aimed at strengthening the long-term emotional, psychological and physical investment a customer has with a brand.
To be successful in marketing communications today requires marketers to develop a deep understanding of digital audiences, which includes the insights on customer characteristics and behaviour we cover under the section on 'Digital data'. Developing good customer insights to understand your audiences and then target them with more relevant communications and offers has always been a fundamental of marketing as we saw from the definition of marketing in the previous section.
5 Always-on lifecycle marketing communications
In the pre-digital era, marketing activities were planned in campaign 'bursts' around new product launches and promotions. To be effective, digital marketing needs a change in mindset so businesses invest sufficient time and budget into defining and optimizing what is known as 'always-on lifecycle marketing' activities which can be used in an integrated way to maximize visibility and conversion through the customer lifecycle.
Always-on lifecycle marketing is a planned approach to scheduling and optimising continuous marketing activities which support customer acquisition and retention. These activities aim to maximize visibility and persuasion through the customer lifecycle for all the activities like those shown in the first visual.
​​
Using a strategic approach to digital marketing
Our research, explained in our post : 10 reasons you need a digital marketing strategy in 2022 report found that nearly half of companies don't have a clearly defined digital marketing strategy. But of those who do, the majority have integrated it into the marketing strategy. Currently, about 12% are still using a separate digital strategy document, which is the first step in the process towards a fully integrated strategy.
Many businesses make the mistake of only considering digital marketing strategy for the investment in the digital media channels we have covered. However, savvy businesses realise there are bigger opportunities from digital marketing such as reviewing new online business and revenue models.
To effectively use digital marketing many established, larger businesses have adopted digital transformation programmes. Analyst Brian Solis of Brian Solis of Altimeter defines digital transformation as :
"The evolving pursuit of innovative and agile business and operational models — fuelled by evolving technologies, processes, analytics, and talent — to create new value and experiences for customers, employees, and stakeholders".
We define digital transformation as: A staged programme of organizational improvements to business models, People, Process and Technologies used for integrated digital marketing in order to maximize the potential business contribution of digital technology, data and media.
The 7Ds of digital marketing that your digital strategy should consider
As part of defining the scope of opportunity when using a strategic approach to digital marketing, it's helpful to think about which digital audience interactions we need to understand and manage through marketing communications. Digital marketing today is about managing many more types of audience interaction than simply a company website or email marketing. It involves harnessing all of these other '7Ds of managing digital marketing interactions' which are shown in the visual below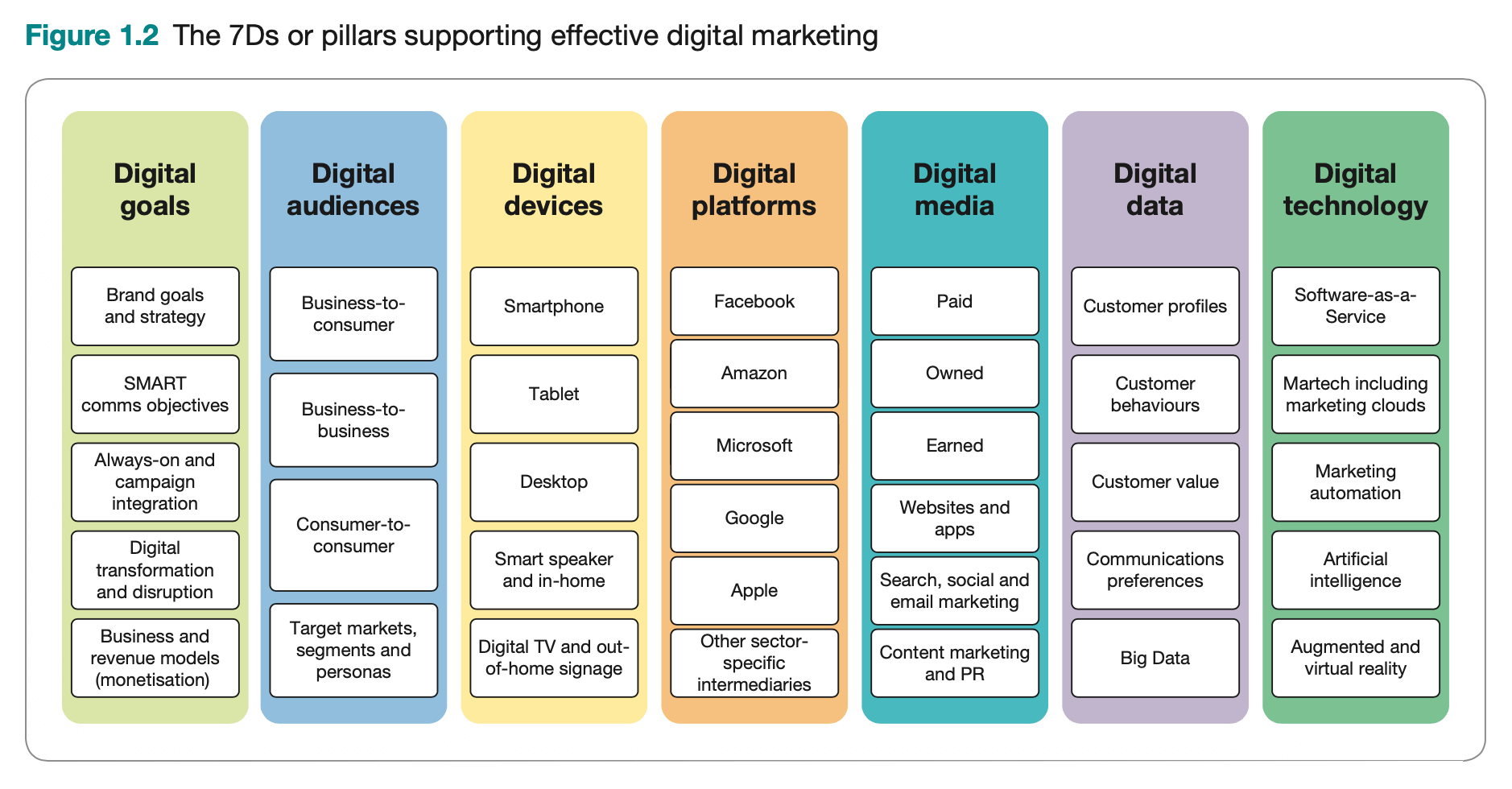 The marketing activities that relate to the 7Ds that should be reviewed as part of a strategic approach to digital marketing are:
Digital goals. Reviewing what the business or brand is aiming to achieve through using digital marketing and how well it is contributing. Considering how digital marketing can help the business compete through digital marketing strategy to define digital transformation needed for existing businesses including changes to business and revenue models and prioritisation of always-on marketing in addition to campaign investments.
Digital audiences. Understanding online audience characteristics, behaviours and preferences in order to deliver more relevant content and experiences to different target segments aimed at increasing interactions and so meeting business goals within the competitive online marketplace.
Digital devices. Understanding how our audiences interact with businesses as part of the buying process using a combination of smartphones, tablets, laptops, desktop computers, TVs, gaming devices, smart speakers and other connected devices forming the Internet of Things (IoT).
Digital platforms. Assessing the relative importance of interactions and priority for communications on the major 'digital platforms' or online services sometimes described by the acronym 'FAMGA'. FAMGA stands for Facebook™ (who own Instagram™ and WhatsApp™), Amazon™, Microsoft™. (which owns LinkedIn™), Google™ (whose parent group Alphabet™ owns YouTube™) and Apple™. These businesses are influential in developing the operating systems, browsers, apps, social networks and search engines used to mediate digital interactions between businesses and consumers. Industry sectors may have their own platforms that are important in influencing purchase, for example specialist online publishers or comparison sites. For example, within the travel sector, TripAdvisor is an important platform, built using the infrastructure provided by different FAMGA players.
Digital media. Prioritizing the use of different communications channels for reaching and engaging audiences are available, including advertising, email and messaging, search engines and social networks, which we'll introduce in this chapter.
Digital data. Structuring and applying the insight businesses collect about their audience profiles and their interactions with businesses now needs to be protected by law in most countries.
Digital technology. Selecting the marketing technology or martech is used to create interactive experiences including websites and mobile apps. Technology is also used to support the planning, execution, optimisation, insight and reporting for digital marketing channel activities that form marketing campaigns.
​​
Plan your marketing strategy with the RACE Framework
To create a plan for digital marketing is where our RACE Framework comes in. Our popular strategic marketing template informs marketers and managers about the function of digital and offline marketing activities in their customers' lifecycles.
We created the RACE marketing planning framework maps the online customer journey across all potential touchpoints. Within this framework of Reach, Act, Convert and Engage across all channels, you can implement digital practices effectively within your organization by planning, managing and optimizing your digital media, digital experiences and digital data.

Our graphical summary definition of the scope of digital marketing
We have put together this new visual definition summarizing all the digital activities that need to be managed across the Smart Insights RACE Framework. It's used in the new, 6th edition of Dave's digital marketing book. The infographic is divided into activities to develop and manage digital strategy at the top to the marketing activities at the bottom.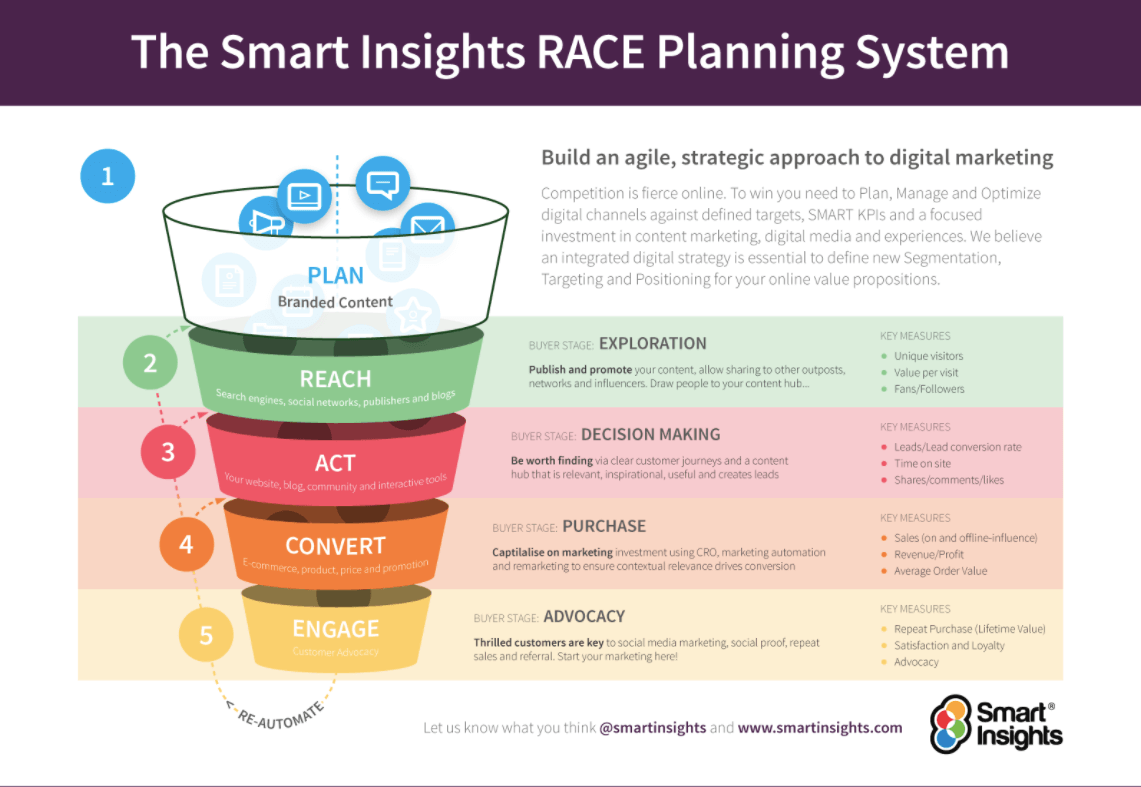 So, digital marketing is about utilizing digital technology to achieve marketing objectives. There is no essential need for digital to always be separate from the marketing department as a whole, as the objectives of both are the same. However, for now, it remains a useful term because digital requires specialist skills to utilize digital technology effectively.
​​