How to select the 5 best marketing channels from 30+ alternatives
Small businesses have particularly limited resources whether it is people or budget, so it's crucial to select the most cost-effective communications to invest in. That means, free and low-cost marketing channels. In this guide, we will help you identify the best channels using two simple frameworks, so that you're not starting with a blank piece of paper or screen and can work through the options.
We'll review both online and offline techniques starting with 30+ channels to consider and then at the end, as a summary we'll help you zoom in on the top 5 to make it more manageable.
Using the Marketing Bullseye to select marketing channels
The Bullseye was recommended by Gabriel Weinberg and Justin Maiers in their book Traction, a nice hook to show the challenges of gaining visibility online to drive customer acquisition. Justin is founder of search engine Duck Duck Go and as an entrepreneur involved with this and other startups as a VC, it takes the perspective of startups who are looking to gain visibility at low cost.
The 19 marketing channels it covers includes both digital and traditional channels, many of which are free. We like the simple technique of selecting the best channels summarised in the top left of the visual.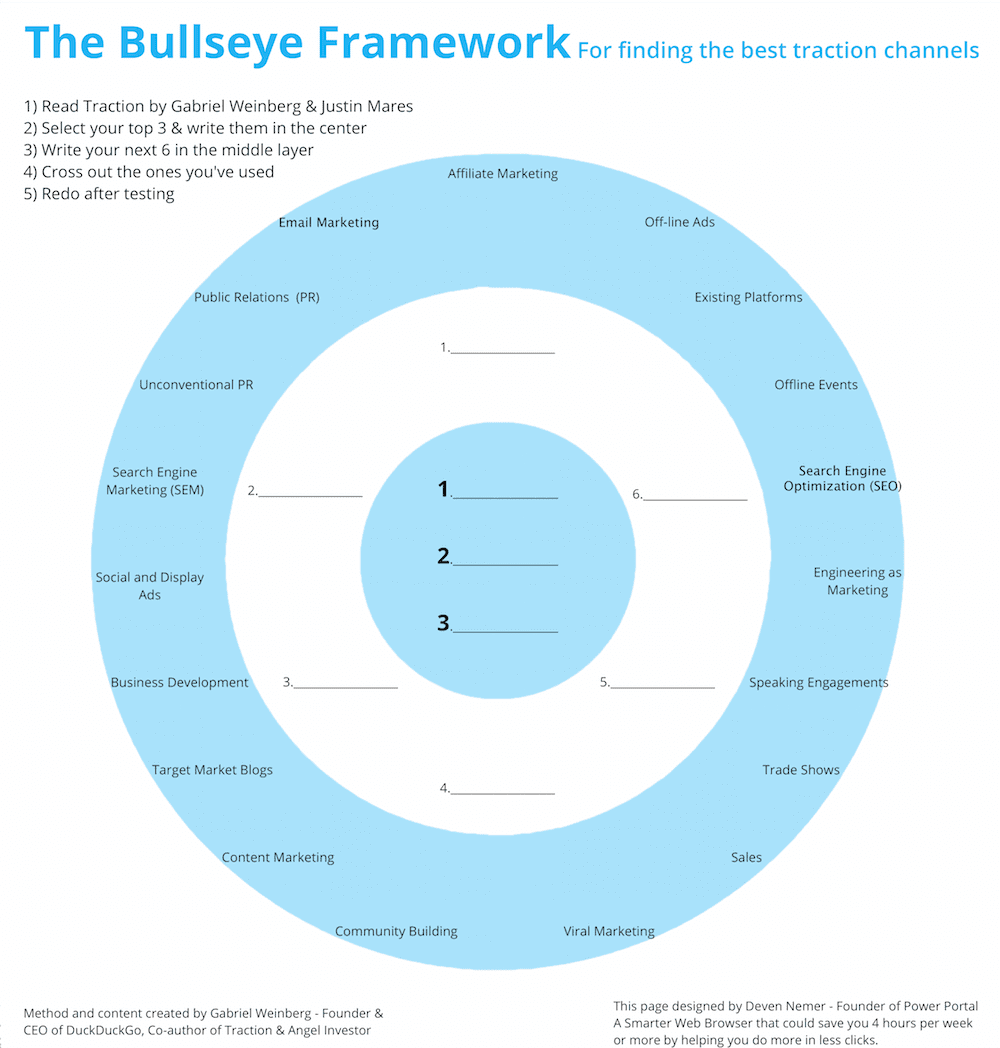 We're less keen on the structure which is in no particular order and misses some key channels, still, it's quick to scan.  Our next framework focuses on digital marketing channels which are often free – the so-called organic channels.

18 digital marketing techniques to consider across 6 media channels
There are many online communications techniques that marketers must prioritize to include as part of their communications strategy. Marketers often use paid, owned and earned media to describe investments at a high-level, but it's more common to refer to six specific digital media channels when selecting specific always-on and campaign investments.
To simplify prioritization, we recommend considering the paid, owned and earned techniques available within six digital media channels or communications tools shown in the next visual. Combining the techniques in this way gives 18 digital communications techniques for businesses to consider. Companies with limited budget for paid media can focus on Owned and Earned techniques.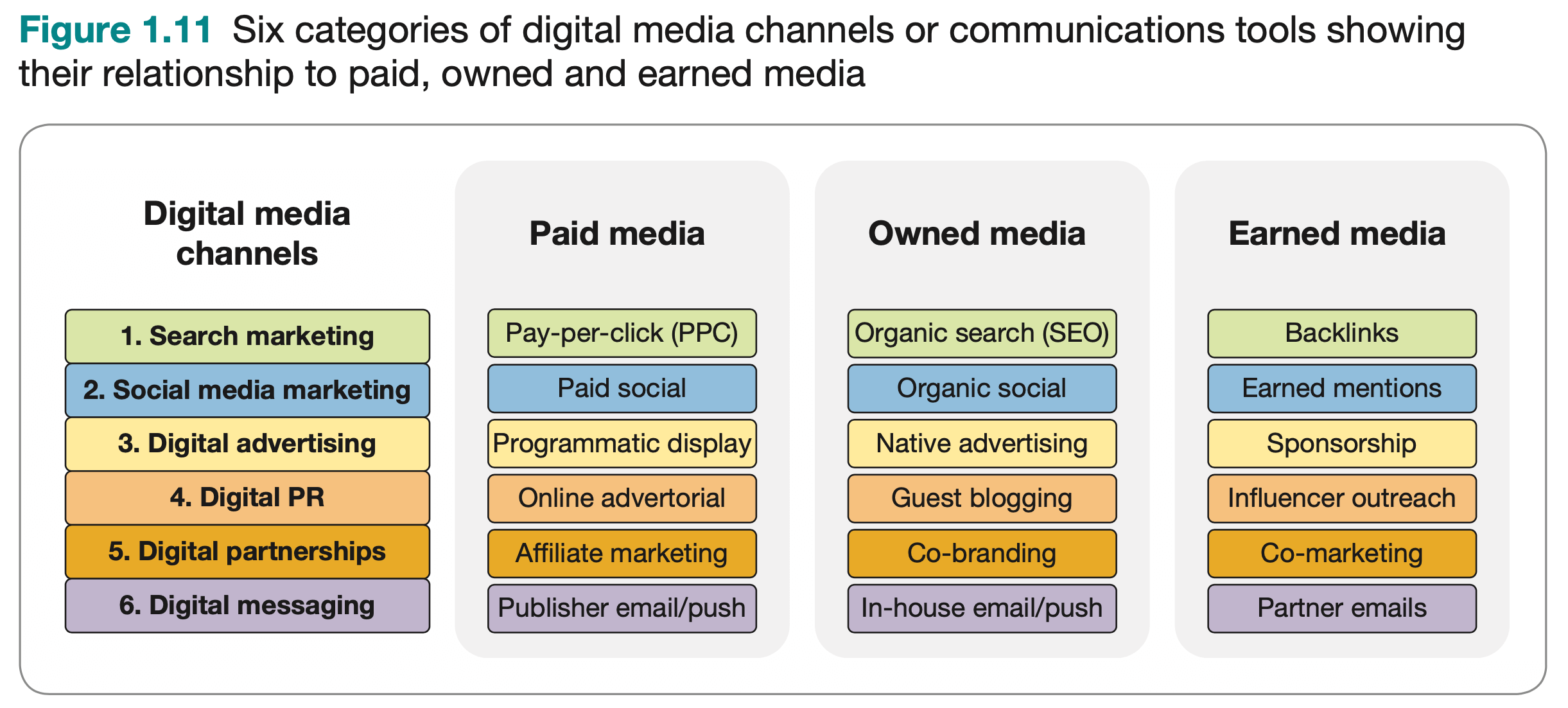 The six main media channels available to any business and paid, owned and earned media options within these are:
1 Search engine marketing
Gaining visibility on a search engine to encourage click-through to a website when the user types a specific keyword phrase. Two key search marketing techniques are paid placements using pay-per-click via Google Ads or Bing, and placements in the natural or organic listings using search engine optimisation (SEO) where no charge is made for clicks from the search engine.
SEO can be considered owned media since it involves on-page optimisation by improving the relevance of content and technical improvements to the website to improve crawlability monitored through Google Search Console. SEO also has an Earned media component where visibility in the search engines can be improved by getting relevant 'backlinks' from websites which effectively count as a citation or vote.
2 Social media marketing
This includes both paid advertising on social networks and organic social media amplification where companies aim to gain visibility through content shared by social media feeds and pages which are owned media. Earned social media is where a brand or social update is shared by a publisher or partner.
Social media marketing is an important category of digital marketing that involves encouraging customer communications on a company's own site, or social presences such as Facebook or Twitter or in specialist publisher sites, blogs and forums. It can be applied as a traditional broadcast medium – for example, companies can use Facebook or Twitter to send messages to customers or partners who have opted in.
3 Display advertising
Use of online ad formats such as banners and videos on publisher sites to achieve brand awareness and encourage click-through to a target site. These are usually considered as separate investments from paid search and paid social ads since ads are typically displayed on publisher sites.
Programmatic display refers to where media and target audiences are selected by trading or bidding against other advertisers. Whereas native advertising involves paying to publish content that appears on a media site rather than a banner ad. It's similar to when companies pay for features on pages in newspapers.
Display advertising is similar to sponsorship and in both cases, there may be a long-term relationship where a brand pays for its name to be associated with a publisher or event.
4 Digital PR
Involves maximizing favourable 'offsite' mentions of your company, brands, and products by other organizations and people, especially media sites or influencers such as celebrities.
Mentions may create name awareness, but have the benefit that they can also drive visits through links and support SEO through backlinks. These mentions may occur on publisher websites, blogs or social networks, and podcasts accessed by your target audience.
Guest-blogging involves writing an article for which no fee is typically charged on another business's website. It's often a reciprocal arrangement.
Influencer outreach is used in both B2B and B2C communications. It usually refers to working with individuals rather than publishers to gain mentions through their social media, blogs or podcasts.
Digital PR also includes responding to negative or positive online brand mentions and conducting public relations via a site through a social media news centre or blog, for example.
5 Digital partnerships
Creating and managing long-term arrangements to promote your online services on third-party websites or through website content and messaging. Affiliate marketing involves a commission-based arrangement where the advertiser only pays when a sale occurs. It's most applicable to the retail, travel, and financial services sector where an affiliate website will get paid for traffic when an online sale occurs.
Co-branding is a paid or owned media technique where two brands are featured within email marketing or native advertising. Co-marketing is similar, but it is a 'contra' arrangement for which no fee is usually paid when companies collaborate to share content with the aim of raising awareness and leads amongst the pooled audiences.
For example, we set up a co-marketing arrangement for publisher Smart Insights with martech vendor HubSpot where joint research reports were created to raise awareness and generate leads for both brands. HubSpot has dedicated co-marketing managers in different regions to manage this activity since they see it as important.
See their post The Who, What, Why, & How of Digital Marketing if you're not familiar with them.
6 Digital messaging
Traditionally digital messaging to individuals who have subscribed to updates has focused on Email marketing, which is still a commonly used digital media channel since it is cost-effective. However, email is used less by younger audiences who are more likely to subscribe to mobile push notifications from websites and apps.
Digital messaging options include placing ads in third-party e-newsletters (paid media) or most commonly the use of an in-house list for customer activation and retention (owned media) or co-marketing techniques using other companies newsletters. Buying or renting lists of email addresses is considered as a spamming technique and not permitted under the privacy legislation described.
Your top-five marketing channels?
From reviewing the two frameworks above, you should be able to rank your top 5, but, as a summary, here is our guidance on the top 5 free channels every small business and startup should consider. It's based on published research on the best online acquisition channels and our own experience in data-driven marketing using Google Analytics to review the most effective channels.
1. Organic search 
Using Search Engine Optimisation (SEO) to taps into the search intent of people looking for your types of products and services. If there are people searching for your service and you get your SEO techniques right, this will be your number one source of visitors to your website. But it is competitive, so you will have to follow the best practices and put time into it. If you can't get cut-through, you may need to consider targeted use of Google Ads to get visibility.
2. Public relations
PR is particularly important if there aren't so many people searching for your type of services and you're looking to build awareness and generate demand for your services. You can using free digital PR techniques like guest blogging
3. Co-marketing
This isn't one channel, instead it's looking at opportunities to collaborate with businesses that you may share an audience with, but aren't direct competitors. Guest blogging is one example of this.
4. Organic social
This is sharing to social networks like Facebook, Instagram and LinkedIn. It's free and there is an amplification effect if your posts are sufficiently engaging to share.
However, social networks favour promoted ads within their feeds to monetise their audience, so as with organic search, if you can't get cut-through, you may need to consider targeted use of paid social ads to get visibility.
5. Email marketing
Another free channel for low volumes of emails, this isn't so much about gaining awareness, rather it's about supporting conversion by reminding subscribers about the benefits of your brand products and services.
Remember that all of these rely on content, so before looking to improve these channels, we recommend you also look at your content marketing strategy  and how it can best differentiate your brand from competitors.