Sources to research the importance of digital marketing in your industry sector
Are you investing sufficiently in digital communications? Naturally, digital marketing objectives for founders, entrepreneurs, and leaders of corporations will differ – as does optimizing digital marketing for businesses – but keeping your digital marketing strategy at the front of your mindset when planning for growth is the key to success for businesses of all shapes and sizes.
The Smart Insights RACE framework and growth system involves constantly scanning for new opportunities to help make your business more competitive using both the latest digital communications techniques and reliable, well-established techniques such as search engine marketing, social media and email marketing.
Particularly during today's time of rising global inflation, the cost of living crisis, and budget pressures on businesses and households, digital marketing for businesses needs to be planned and managed in an effective way. A strong digital marketing strategy means ensuring you're investing wisely and reaching, attracting, and retaining your prime customers.
In this article, I will recommend the best sources to help you review the importance of digital marketing for your business, structured around our RACE Framework. You can download our free 10 growth insights guide to kickstart ideation and prioritization towards your growth goals.
​​
Reach – the importance of digital media
Reach focuses on growing awareness of your brand online and driving visits to your website to support your marketing goals. Key questions to consider include:
1. How many consumers use different digital devices?
DataReportal does a great job of showing the adoption by consumers of digital devices and channels. We can see that digital devices are used by the majority of the world's population and the figure is still increasing, although at lower rates. The latest report shows that overall growth in online users is now in single digits.
It's useful to keep track of level of usage of different mobile devices as they are used more for evaluation and purchase of products – see our mobile marketing statistics research compilation for more details.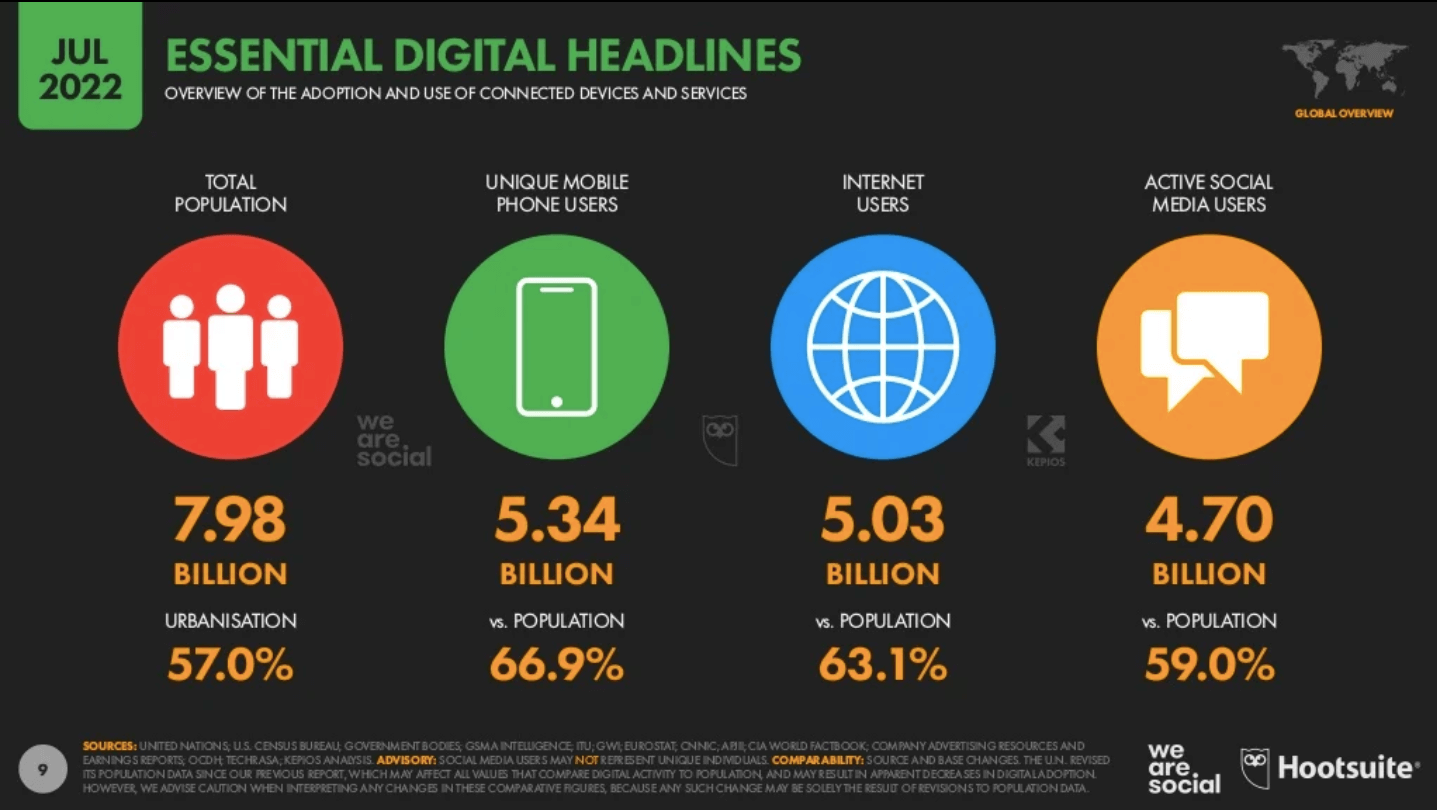 2. How much do businesses invest in digital marketing?
Since I was first involved in what was then called Internet marketing in the 1990s we have seen a huge growth in investment in digital media. The best source for this is the relevant IABs in the US, UK and Europe. In the United Sates, digital media will account for nearly 80% of media investments according to the IAB advertising spend and ad revenue research.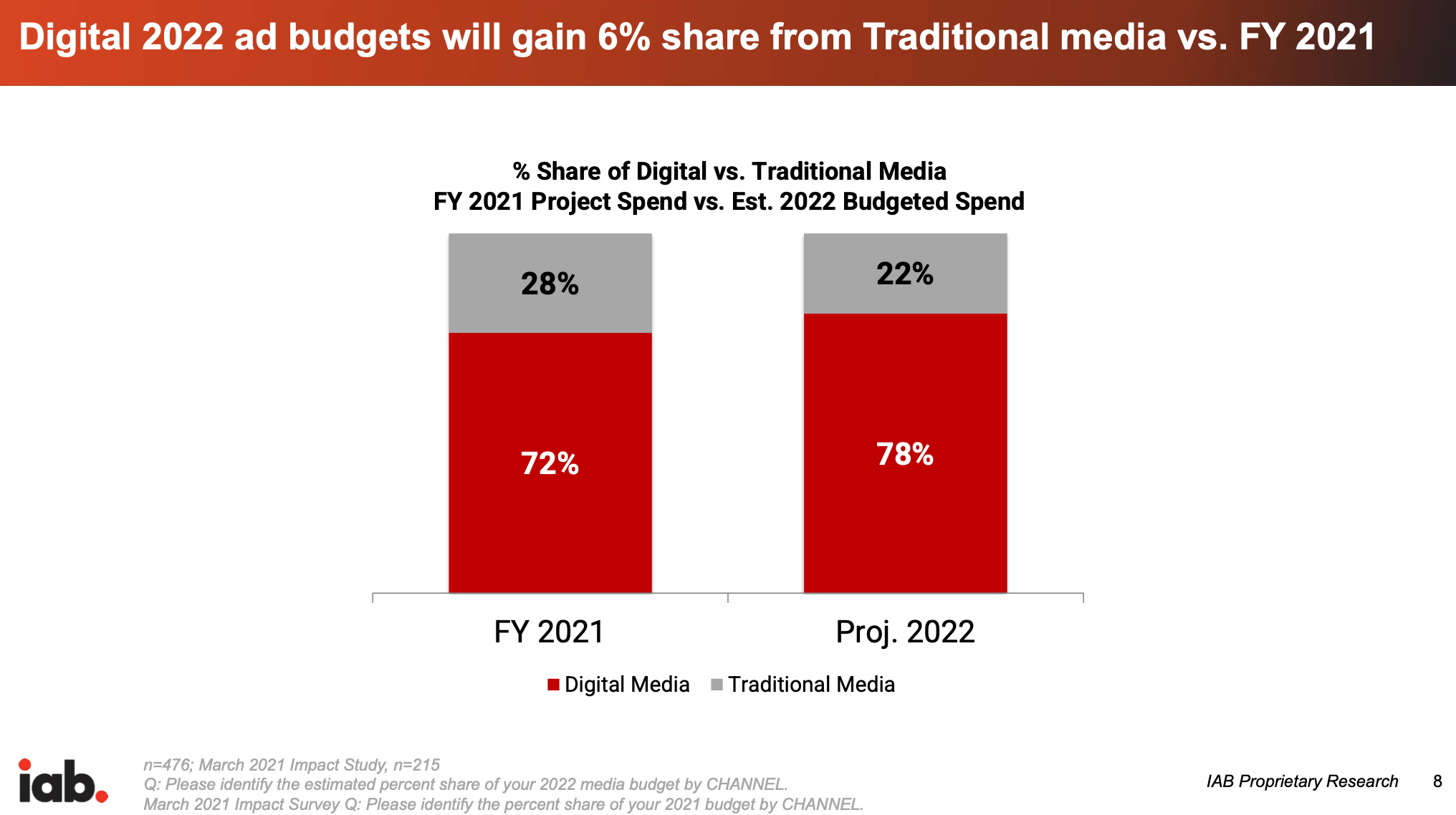 3. How many people search for products online?
Searches for products and services are a key part of the consumer and business decision journey today. Much insight is available from Google to help understand this and the ways in which these differ in different countries should be assessed. For example, Google research shows how the dynamics of searching for 'best' and 'cheap' products has changed.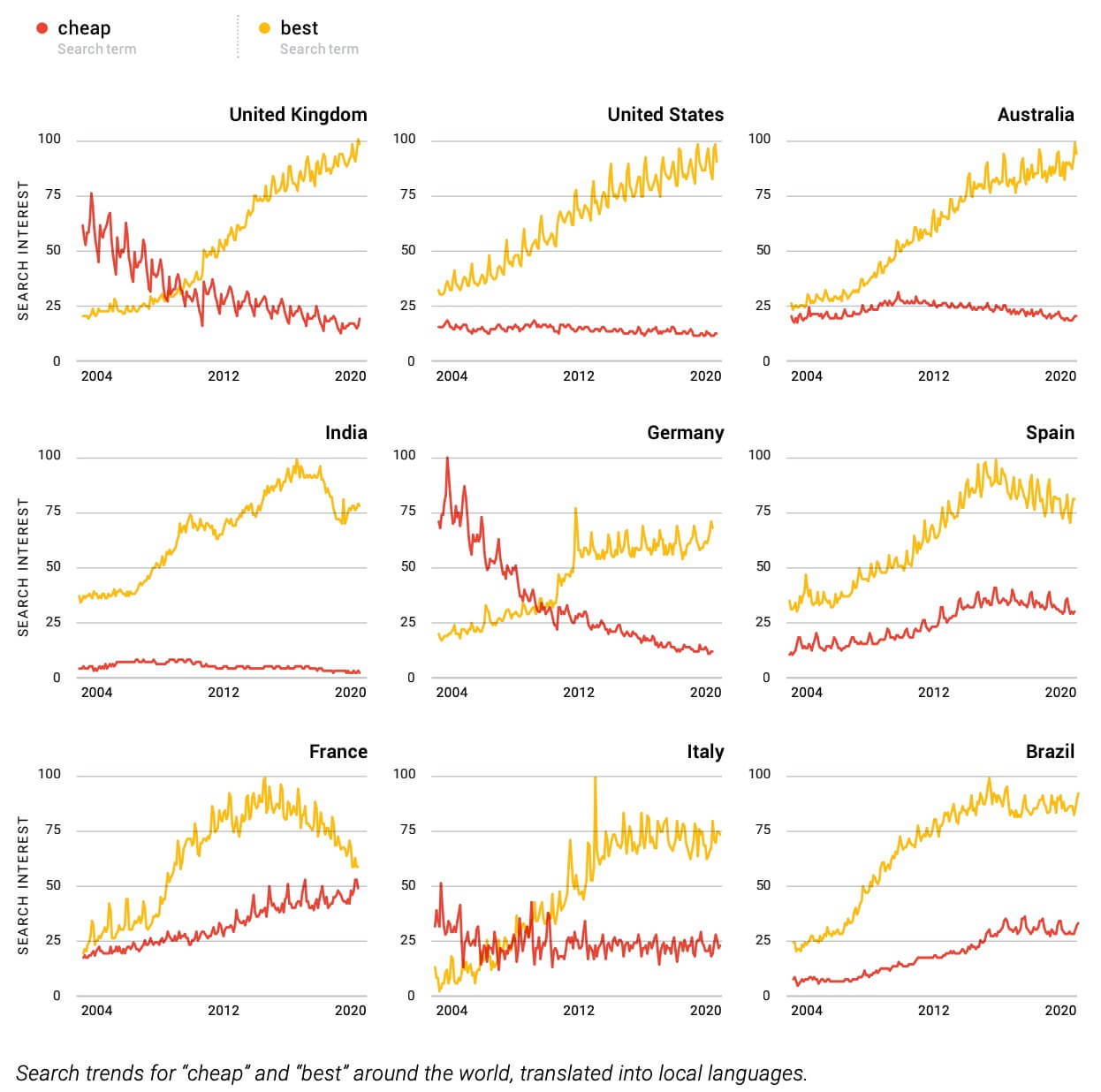 In your business, what matters is to understand the popularity of different searches related to your products and how well your business is at gaining visibility in the search results pages. Use our popular gap analysis spreadsheet to identify how to improve visibility for your organic and paid search.
4. How does social media influence purchases?
One of the great things about social media, particularly for smaller businesses that don't have big ad budgets is that you can spread the word about your business via social media amplification at low cost. Yet, social media is also significant because it influences purchase as this research shows.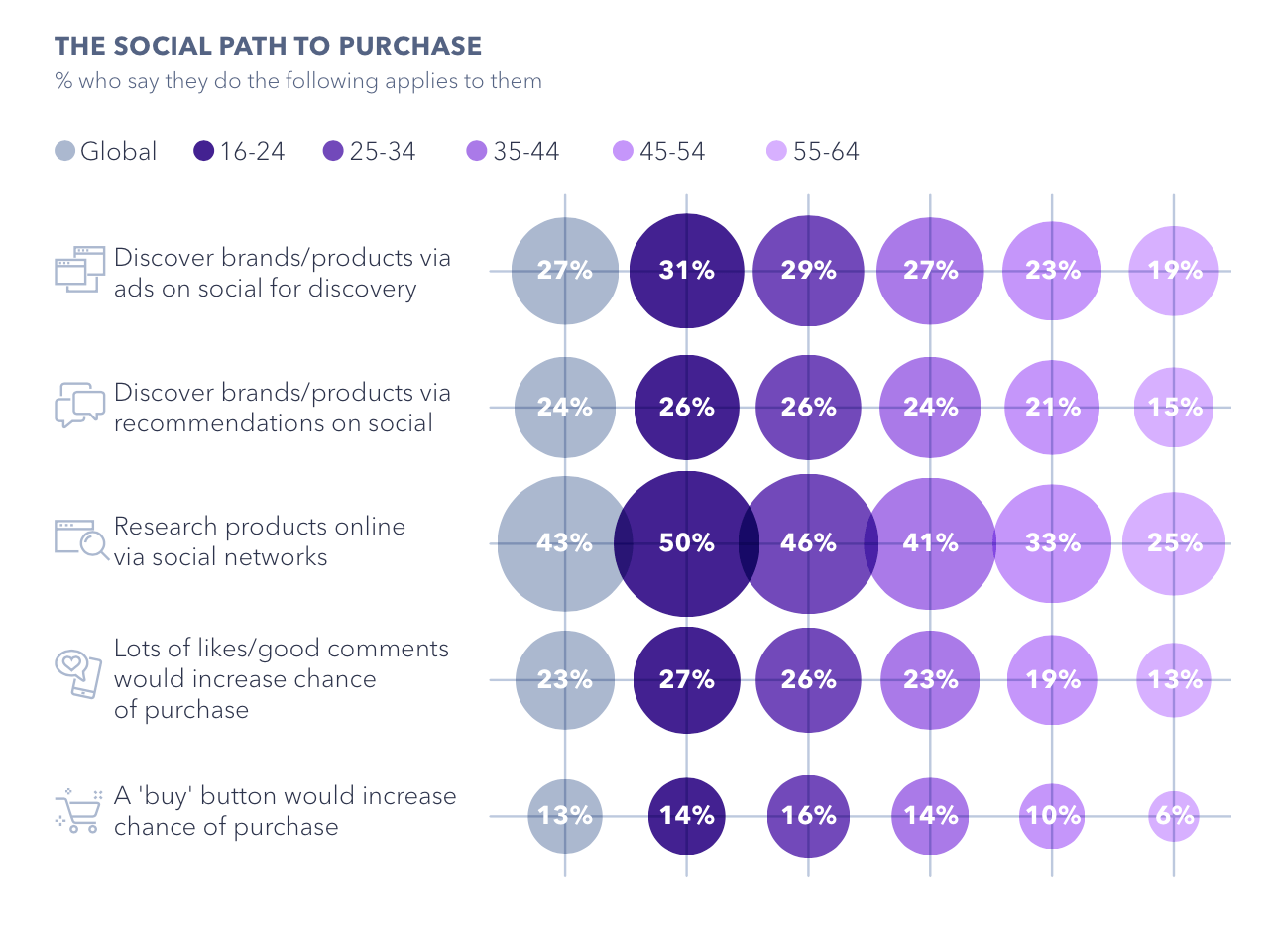 Global WebIndex asked 284,929 internet users aged 16–64: How do you typically find out about new brands and products? | Which of the following online sources do you mainly use when you are actively looking for more information about brands, products, or services? | When shopping online, which of these features would most increase your likelihood of buying a product?
​​
Act – the importance of generating leads online
Company websites are now a primary source of new prospects in many businesses. If you can master the Reach techniques we mentioned above to drive traffic, then there are great opportunities for generating leads. But to be effective in generating leads it's important to answer these two questions which are covered by the 'Act' part of the RACE framework.
5. Are our online customer journeys effective?
You will be more likely to generate leads if your website has clear customer journeys or 'signposts' and pages focused on actions and outcomes. Some techniques to consider which we have used on the Smart Insights site are:
Prominent calls-to-action at the start and end of each page
Dedicated landing pages which are focused on conversion
Conversion paths which appeal to different audiences, for example, in our case, smaller or larger businesses
Interruptive lightboxes or panels encouraging action
Clearly showing the value you can offer, either though promotions, like a 10% discount off first purchase or content, which brings us to…
Google Research suggest that Storytelling is key to creating content that people want to shop from. Effective shoppable creatives such as those for video should be anchored in the ABCD framework.
Attention: Hook and sustain people with an immersive story
Branding: Brand early, often, and richly
Connection: Help people think and feel something
Direction: Ask them to take action
Their research shows that ads with ABCD drivers are likely to see a 30% lift in short-term sales.
6. Are we using the power of content marketing for business?
Content marketing is a key part of digital marketing since effective content fuels all varieties of digital marketing from search and social media to email marketing and the website – so improving content quality can help you achieve your goals across the RACE customer lifecycle.
Check out The Content Marketing Institute research to review the importance of content marketing in B2C and B2B markets. For example, this research shows the popularity of investment in different types of content marketing.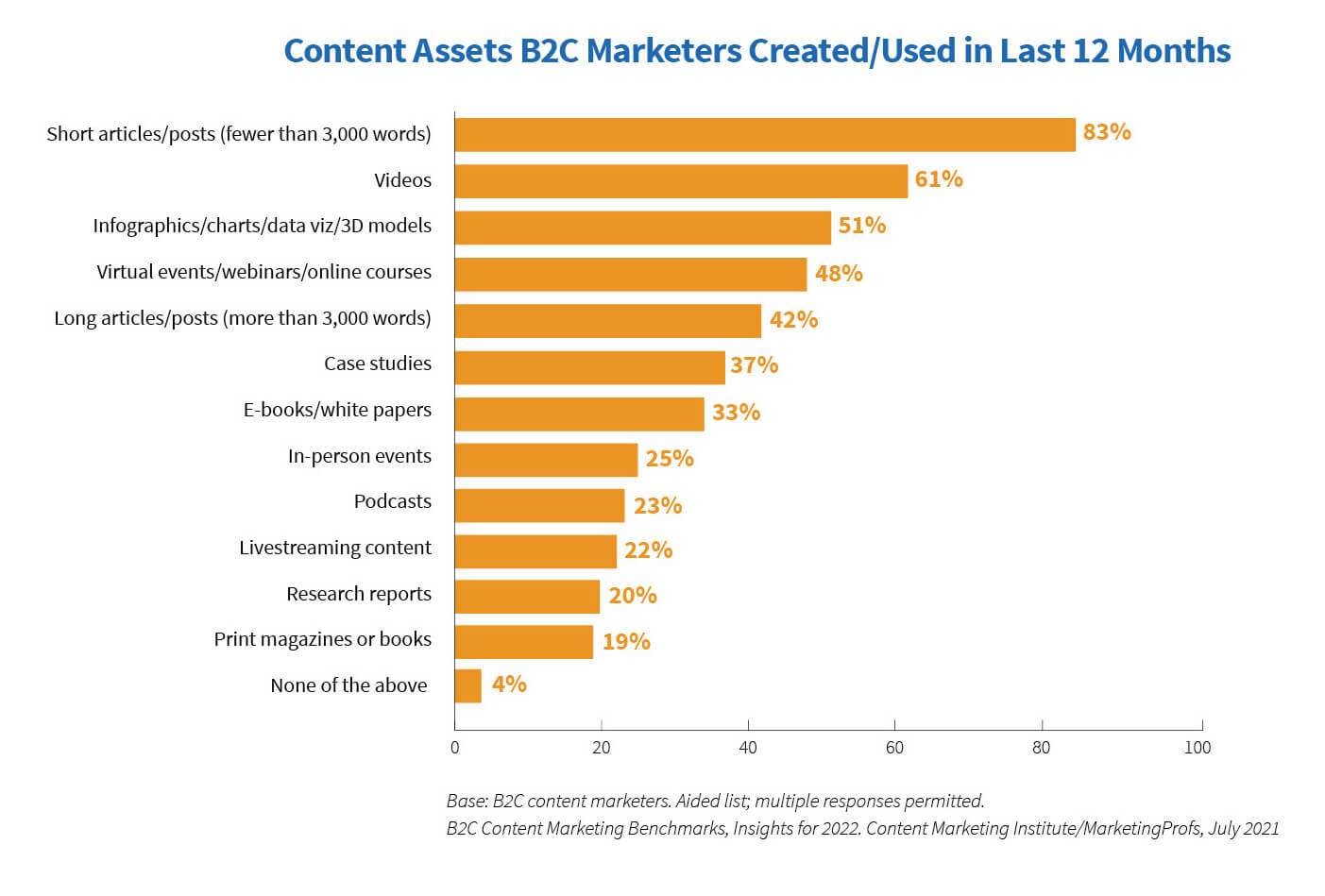 ​​
Convert – the importance of online purchase
Convert refers to techniques to increase both online purchases and multichannel sales influenced by a digital presence. Below I'll explore 2 popular trends I've seen within digital marketing for businesses, but it's worth remembering that B2B marketing and B2C marketing for conversion often share many traits, since your customers are purchasing your product/service to satisfy their needs.
7. The growing importance of E-commerce sales
Smart Insights have catalogued the growth in online sales. The latest data on online sales popularity for the UK from the ONS shows that the pandemic had a dramatic effect in encouraging people to buy online. Online sales increased to over 30% of all sales across sectors, but this has declined a little since the lockdown restrictions have eased. However, the overall trend is still upward.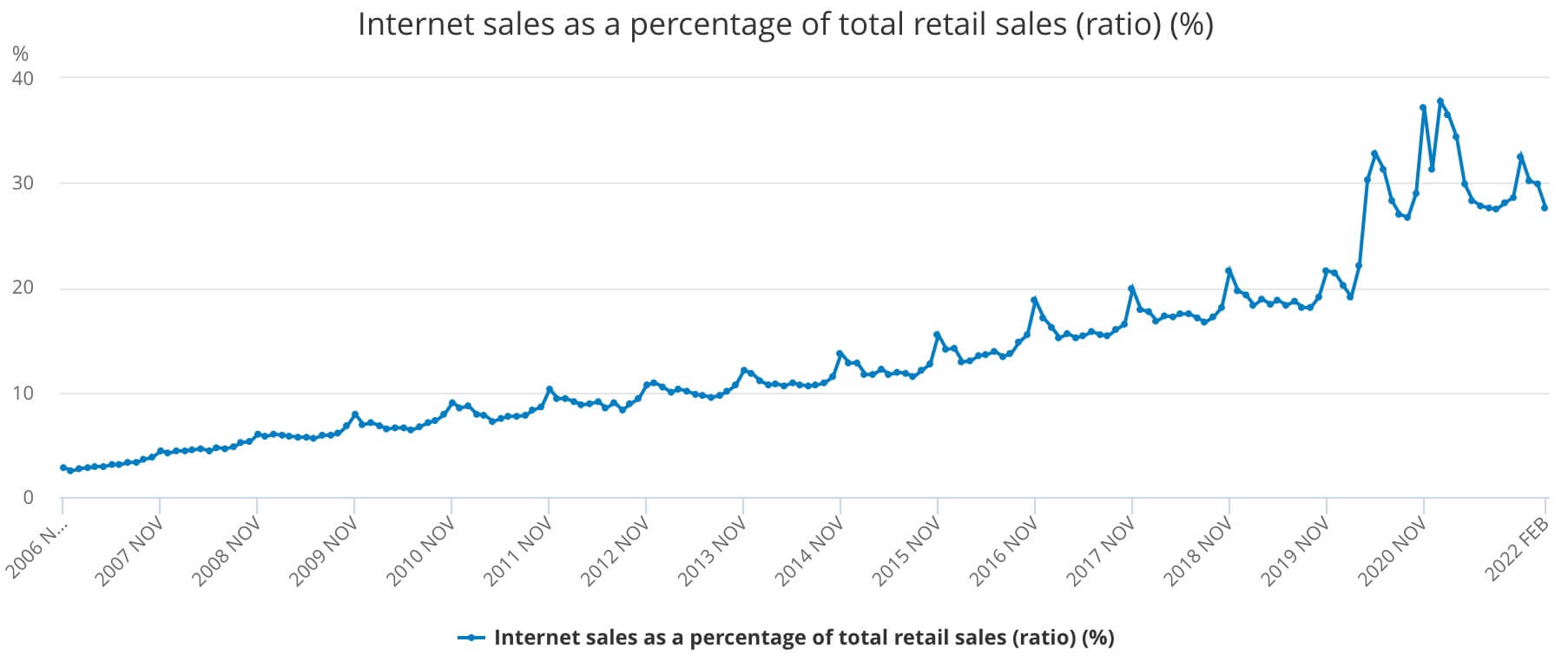 8. Digital channels support offline sales
Naturally, the importance of E-commerce will vary by sector. This survey on category of online purchase for 150,000 businesses across Europe shows the dramatic variation by industry.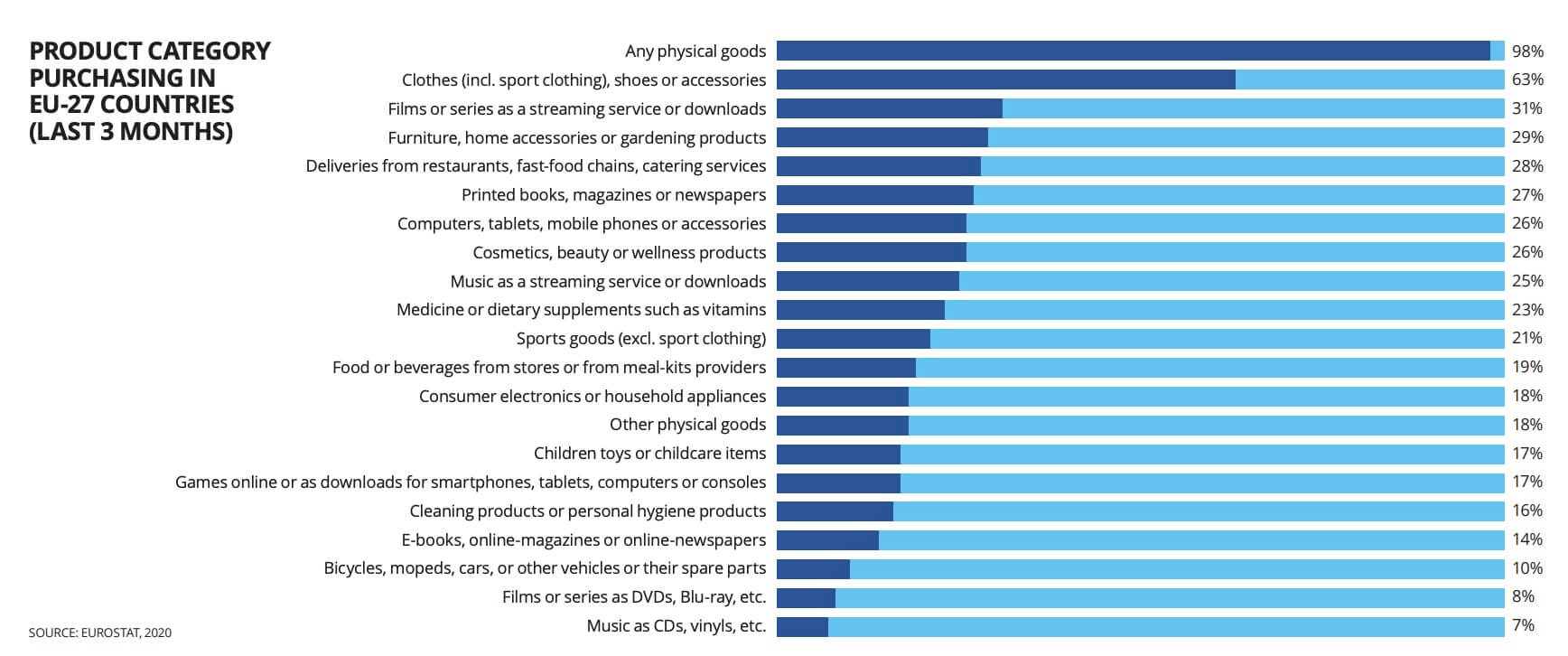 If your business operates in a sector where the percentage of online sales is relatively low (shown by the figures on the right), then there are opportunities to encourage purchase via traditional channels, for example through click-and-collect.
​​
Engage – the importance of encouraging loyalty
Engage involves techniques to increase sales amongst customers. Two key issues to consider to develop loyalty and retention are digital messaging and digital customer service.
9. How does messaging and marketing automation support customer retention?
A further advantage of digital media is that many different alternative messaging types are available to stay in touch with existing customers and prospects. These are shown in this visual from my book – Digital Marketing: Strategy, Implementation and Practice.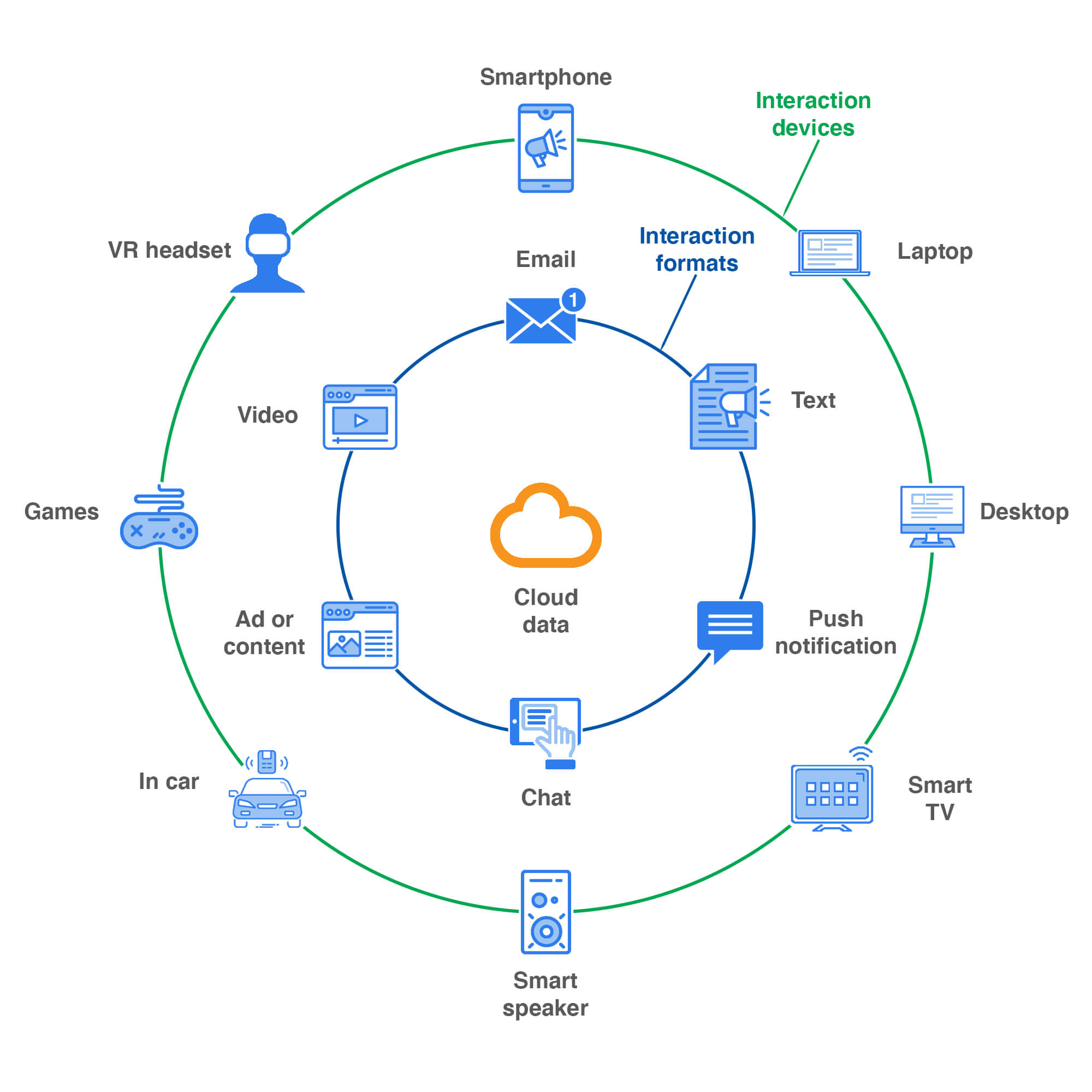 Recent research from messaging platform provider Omnisend over the US Cyber 10 (Nov. 21–30, 2021) period gives a snapshot of the importance of different messaging types. The next chart shows the type of automation email sent. We can see that the most popular are abandoned cart and welcome emails. This data shows potential missed opportunities.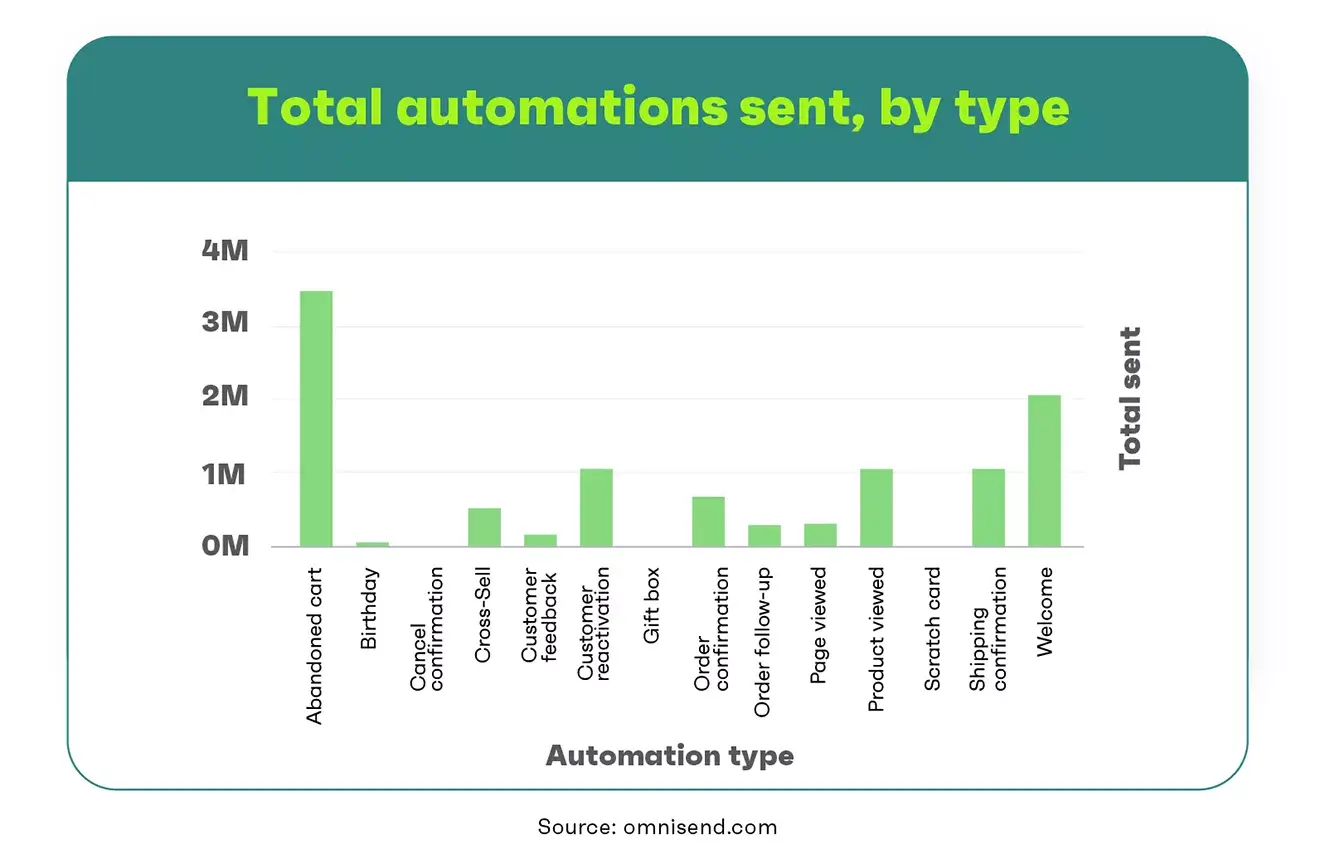 The research also shows the ongoing rise of SMS and push notifications. For push notifications, the value of scheduling in these messages is also clear
Merchants sent 47% more messages and earned 37% more sales
Merchants sent 90% more messages and earned 27.6% more sales
Automation made up only 5% of all sends, but made up 31% of all orders.
10. How much customer service occurs online?
Online customer service has also increased in step with the rise of online sales. This Qualtrics research suggests that it's important to still provide choice and this is the case across all age groups, not just amongst older people.
Although online self-service has become more popular, it's worth remembering that it is not popular with everyone and depends on the type of service task.
Whichever industry sector your business operates in, successful businesses keep a close eye on the relatively importance of digital marketing techniques and should take care to optimize the techniques covered in this guidance.
How important is digital marketing in different industries?
If you haven't already, you can read up on our 10 reasons for a digital marketing strategy, which can help you justify the need for investment in digital.
Of course, the importance of digital marketing varies by industry sector, so to help you understand the latest trends in each sector we have created a series of free in-depth guides and blogs relevant to digital to each sector. These contain research and advice relevant to each sector.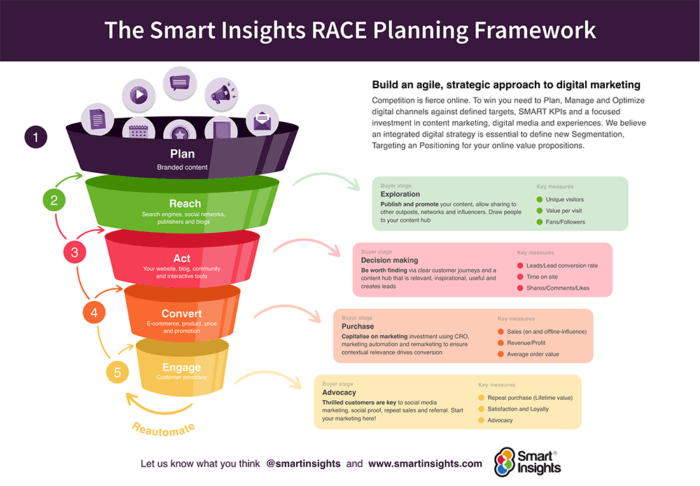 ​​